When I was a kid, we would occasionally go to the Australian Museum in Sydney for a school excursion.
My memory of it was a fairly stuffy building with old wooden cabinets displaying things like butterflies pinned to a board. Usually the only highlight was the dinosaur section… although even that seemed a bit tired.
But boy oh boy, let me tell you that A LOT has changed since my childhood many decades ago.
After a huge $57-million renovation in 2020, the Australian Museum reopened as a bright and modern space, with interactive exhibitions, better storytelling, and features that appeal to both adults and children.
Best of all, the government as made entry to the Australian Museum free, making it available to even more people!
Since then, even more galleries have been added and there's no doubt that this is now one of the best museums in Sydney.
Originally opened in 1827 as Australia's first public museum, the Australian Museum has seen a lot of changes over its (almost) 200 year story.
But at its core, it is still an institution focusing on natural history and cultural heritage, with an emphasis on Australia and the Asia-Pacific region.
You can think of it as being similar to the Natural History Museum in London or the American Museum of Natural History in New York. (Although, just to be clear, it's not nearly as big or impressive as either.)
Thank goodness the boring old wooden cabinets are gone, though, because the Australian Museum collection is fascinating and deserves better than that!
What's here?
The main visitor area of the Australian Museum is spread across three floors, with a series of galleries focused on different topics.
The ground floor has the Garrigarrang gallery about various Indigenous cultures that live on Australia's coast; the Wild Planet gallery about different types of animals (with more than 400 items on display); and the first level of a gallery that spreads up three storeys called 200 Treasures of the Australian Museum, with interesting items from the collection.
On Level 1, the 200 Treasures gallery continues, plus there's a section about minerals.
And then you'll find lots of Level 2. There's the new Wansolmoana gallery, which examines how cultures are connected across the Pacific; there's the Surviving Australia section about some of the country's most important animals (including those that are now extinct); and there's the popular dinosaur section which has full-size models and a few actual bones.
Level 2 also has the cafe and a children's play and learning area, which is called Burra.
I should also mention that back down on the ground floor is the entrance to a large exhibition space that is used for temporary shows (including some big international blockbusters).
How to visit?
Visiting the Australian Museum is really easy because it's located right in the centre of the city and has convenient public transport for people who are based in other areas.
There is no parking at the museum and the private parking lots in the CBD are expensive, so public transport is generally a better option. If you do need to drive but can walk short distances, you might be better trying to find a car spot in Darlinghurst.
Entry is free and there's no need to book just to see the general galleries. I would recommend booking in advance for any special temporary exhibitions if you're coming during a busy period (or at least looking online in advance to see if tickets are still available).
If you just want a general look at the museum, you could walk through in an hour and get a good sense of what's here – or you could spend half a day or more reading the available information.
The museum is definitely very kid-friendly and that's obviously a focus here. But adults will also get lots out of it, which makes it great for families.
If you want to avoid the crowds of school excursions, the quietest times are between 14:00 – 16:00 on Tuesdays, Wednesdays, and Thursdays.
Where is the Australian Museum?
The Australian Museum is on the edge of the Sydney CBD, at the corner of College St and William St, opposite Hyde Park.
The official address is 1 William St, Sydney, NSW, 2010.
You can see it on a map here.
How do you get to the Australian Museum?
From within Sydney's city centre, the Australian Museum is probably walking distance.
If you're coming by public transport, Museum station and St James station are the closest, although it's also close to Town Hall (which may be more convenient).
There are lots of buses that pass close to the museum along Elizabeth St.
When is the Australian Museum open?
The Australian Museum is open every day except for Christmas Day (25 December).
It is open Monday to Sunday from 10:00 – 17:00.
What is the Australian Museum entrance fee?
Entry to the Australian Museum is free for everyone. However, there is usually a charge for the special temporary exhibitions.
You can find more details at the official website of the Australian Museum.
The museum is wheelchair accessible with ramps and lifts.
There are free audio description tours that you can listen to on your own device.
The website also has information about the sensory aspects of different galleries.
Is it worth it?
The Australian Museum is excellent and you definitely won't be disappointed if you visit. The galleries are well laid out with interesting items on display and good information.
The main issue to consider when trying to decide if it's worth visiting the Australian Museum is simply about what you're interested in.
There are quite a lot of galleries about Australian animals and dinosaurs, for example – and that may not be why you came to Sydney.
But even if you have a good understanding of the country's cultural heritage and natural history, I think you'll find something of interest in 200 Treasures gallery, or in the Indigenous of Pasifika sections – even if there may be times when you feel like you're on a school excursion.
The fact the museum is free and it's close to other sights just adds to the reasons I would recommend coming.
Having said that, if you've come to see modern Sydney and make the most of things like the beaches and food, your time could be better spent elsewhere.
And if you want to learn about the city specifically, you might be better off at the Museum of Sydney.
What's new?
The Australian Museum has a large exhibition space and it tends to put on a small number of big shows, rather than a lot of little shows.
The main exhibition at the moment is:
Until 19 May 2024 – Ramses & the Gold of the Pharaohs: A collection of about 180 artefacts from Ancient Egypt, using the life of Ramses II as the focus.
The Ramses exhibition is a major show for Sydney and it has an excellent collection of Ancient Egyptian artefacts, including the wooden coffin of Ramses II which has only ever left Egypt once before.
For people interested in Ancient Egypt, this exhibition is a real treat and it's already proven to be hugely popular (even with quite a high ticket price).
I would recommend booking a ticket in advance.
What else?
Because the Australian Museum is in the city centre, it's close to lots of sights and can be easily combined with some of the other best things to do in Sydney.
Just across the road is St Mary's Cathedral and just a short stroll away is Hyde Park Barracks, one of my favourite museums in Sydney.
The Museum of Sydney and the Justice & Police Museum are also not too far away, nor is the Art Gallery of NSW – and they, like the Hyde Park Barracks, all have free entry.
Although you can find lots of places to eat and drink in the Sydney CBD, if you're at the Australian Museum it might be a good excuse to head into Darlinghurst to try some of the trendy restaurants and cafes there – or even head just a bit further up William Street to Potts Point.
THE BEST ACCOMMODATION IN SYDNEY
You may find the city centre the most convenient location, but the neighbourhoods have a bit more character. For more details, see my story about where to stay in Sydney.
BACKPACKER
With views that you won't believe belong to a hostel, the Sydney Harbour YHA in The Rocks is a pretty special hostel.
BUDGET
It's quite a rare find in Sydney, but Megaboom City Hotel has great value rooms in the centre of the city – just don't expect a large or modern space.
BOUTIQUE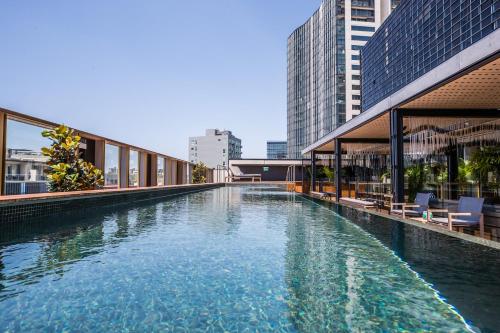 The incredible renovation of this pub has turned The Old Clare into one of Sydney's coolest hotels, complete with a rooftop pool.
LUXURY
I think the Pullman Quay Grand is the best luxury hotel because of its harbourside location and beautiful apartments.