These days, Parramatta is the geographical centre of Sydney. A bright and bustling urban centre, it's hard to imagine how it looked when it was first settled by the British.
That was a long time ago. In fact, Parramatta was the second European settlement in Australia and was founded just months after the First Fleet arrived in Sydney.
Those first colonists were having trouble growing crops and finding reliable fresh water, so Governor Arthur Phillip headed up the Parramatta River to look for suitable land for agriculture. What he found was Parramatta – although it was named Rose Hill at first.
You'll still find a lot of the original buildings from those early colonial days of Parramatta's history and, in some ways, it's an older and more complete collection of heritage than you'll find in the Sydney CBD these days. Exploring this history is one of the best things to do in Parramatta.
But, during the 20th century, the area was also heavily influenced by the influx of immigration. People from all over the world settled in Parramatta – for many of those immigrants, it was easier to find a home and a community here than in the crowded eastern suburbs.
This mix of cultures has led to a vibrant atmosphere and, in particular, a rich food scene. Eating out is one of my favourite things to do in Parramatta and you are spoiled for choice, with dozens of international cuisines. In recent years, some of Sydney's biggest names in food have opened up restaurants and shops here as well.
There's no doubt that Parramatta is seeing a renaissance at the moment, with new cultural events and institutions opening, along with hip cafes and excellent local bars. People who have lived here for decades tell me that it feels different, with a strong community atmosphere full of passion.
For a visitor, Parramatta has so much to offer. It's easy to spend a weekend exploring the heritage sites, getting some fresh air along the river or in the parks, experiencing some of the cultural activities, and eating and drinking throughout it all.
If you live in Sydney, there are enough interesting things to do in Parramatta to head out for the day – or even stay overnight at one of the new luxury hotels.
If you are visiting Sydney from elsewhere, perhaps basing yourself in Parramatta will give you a different perspective of a city you thought you knew. Sydney is not all about the harbour, the beaches, and the inner-city neighbourhoods.
Head west and you'll find another fascinating side of the city that may feel like a whole new destination. (Oh, and it's only 30 minutes on the train from the CBD, so you can still easily pop into the city if you need to.)
Let me now share some tips of the best things to do in Parramatta. I have marked them on the map below, so you can see how close everything is.
You can walk between most of the things you will want to see in Parramatta, which also makes it a very easy trip to do without a car.
Heritage sites
When it comes to things to do in Parramatta, I would suggest starting with the heritage sites. They may not represent what the city has become but they are some of the most important landmarks from the colonial period.
What's also really impressive is that they have all been very well protected and are open to visit, with exhibitions and recreations of how the rooms would have once looked.
Old Government House
The main attraction is Old Government House, which is the oldest surviving public building in Australia. It was built in 1799 as a country house for the Governor of New South Wales and was used by the first ten of them.
Old Government has been included as one of the 11 properties that make up a World Heritage Site of convict sites in Australia. It sits on a tranquil grassy hill within Parramatta Park.
Elizabeth Farm
Another very significant heritage site in Parramatta is Elizabeth Farm, which was built as a farm homestead by John Macarthur and his wife Elizabeth, after whom the farm was obviously named.
It was built in 1793, making it one of the oldest remaining residences in the country, although it was expanded over the years and today it's presented in a recreated 1830s garden. John Macarthur went on to make a name for himself as a wool pioneer.
Hambledon Cottage
Nearby is Hambledon Cottage, which was built by John Macarthur for additional accommodation on his farm. The colonial Georgian style of architecture was typical of the time and it's a great little time capsule to explore.
Hambledon Cottage is maintained by the Parramatta Historical Society, and I think it's nice that the community is looking after sites like this.
Experiment Farm Cottage
Just a few minute away is Experiment Farm Cottage on the site of the first land grant, where James Ruse proved self-sufficiency was possible by successfully farming the 30 acre site himself.
The bungalow here was actually built by Surgeon John Harris in 1835 after he bought the land from James Ruse. It is decorated with furniture and art from the National Trust's early colonial collection.
UWS Parramatta Campus Heritage Walk
Across the river, you'll find a campus of the University of Western Sydney, which includes a collection of significant heritage buildings. You're welcome to explore the Parramatta Campus Heritage Walk that goes past them.
The most famous is the Female Orphan School, which was built in 1813 and is the first purpose-built charitable institution in Australia.
NSW Lancers Memorial Museum
And, although there are quite a few other examples of the colonial heritage in Parramatta, the last one I want to highlight is the NSW Lancers Memorial Museum.
This military museum has exhibitions about the history of the regiment, which was formed in 1885, and is housed inside barracks that were originally constructed by Governor Macquarie in 1818 for the British troops.
Cultural experiences
When it comes to heritage and culture, there's much more than just the colonial era. Of course, there were thousands of years of history here before the Europeans arrived, and there are a few ways to learn more about the local Indigenous culture.
There's also a new dynamism in the artistic scene in Parramatta. There has also been a strong cultural community but it now feels much less like a poor cousin of the eastern suburbs, or more like a strong independent identity.
Parramatta Heritage and Visitors Centre
If you want to explore the area, it's worth popping into the Parramatta Heritage and Visitors Centre. There are some things on display here but it's not really the reason for visiting. I would recommend grabbing some of the maps with walking trails and other local info to help explore.
The visitors centre is also the starting point for most of the tours that are run by the local council. They don't go regularly, unfortunately, but you could plan your trip around one of them.
There are tours about the Indigenous heritage, about the World Heritage Site, and about hidden gems of Parramatta. Have a look at all the Parramatta tours here.
Riverside Theatre
Riverside Theatre has long had a reputation as an excellent arts centre and, if anything, its standing has only risen over the years.
I would recommend having a look at what is coming up and seeing if there is something that interests you for when you're thinking of visiting Parramatta. There's a good range of theatre and cinema throughout the year.
The Hunter Street Gallery of Fine Arts
The City of Parramatta Art Society was formed in 1950 and is the longest running art society in New South Wales. It's an inclusive organisation that welcomes people of all skill levels.
The best of the society's artworks are displayed at the Hunter Street Gallery, the only permanent gallery in Parramatta. All the fine art here is for sale and it's nice to see the connection to the local are in many of the works.
Gatehouse High Tea Rooms
And, there aren't many places in the country where you can have high tea in a World Heritage Site (I wonder if there's more than one?), but that's exactly what you can do at the Gatehouse High Tea Rooms.
The building was constructed in 1887 and the classic sandwiches and scones high tea here is a throwback to the colonial era of the time. It's perfect for special occasions or just for a lovely way to relax after exploring Parramatta Park.
Where to eat in Parramatta
When it comes to it, just sitting down and having a meal is one of the best things to do in Parramatta. It's a foodie's heaven here and you'll find restaurants offering cuisines from dozens of countries.
It can be hard to know where to start when it comes to the best places to eat in Parramatta.
Church Street
The best place to start is probably the famous Church Street, which is also known as 'Eat Street'. This is where there's the highest concentration of restaurants in Parramatta. Some popular long-time establishments include:
Big names
In recent years, some of Sydney's biggest names in food have opened here, part of an effort to offer an alternative to the CBD or inner east, where these brands first emerged. Have a look for:
Local favourites
Even though there's lots happening around Church Street, the truth is that it's lost some of its local neighbourhood vibe. Some of the best food in Parramatta is actually found at smaller restaurants in the side streets around the CBD.
Here are some recommendations from Parramatta locals:
Little India
And, if you're after some Indian (or other South Asian) then you're in luck because just a short walk from Parramatta station is Harris Park, which is also known as Little India.
There's a fantastic selection of Indian restaurants along Wigram Street, offering some of the most authentic meals outside the subcontinent. I think it's awesome that many of them are in the original suburban houses.
Where to drink in Parramatta
It's not just food that Parramatta has become known for. There's also a sophisticated coffee culture and a decent selection of interesting new bars that have opened up.
For great coffee (like, REALLY good coffee), you will want to head to one of these:
Of course, you'll find the large pubs and bars in Parramatta that you can find all across the city, so there's no shortage of places for a drink.
But for something a bit cool and special, I would recommend these two places:
With all the construction of new skyscrapers and public squares, I get the feeling we'll be seeing some other cool places open up soon.
How to get to Parramatta
It's really easy to get to Parramatta from the CBD – or from anywhere else in Sydney, for that matter.
Using public transport, the easiest way is to take the train and there is a regular express service from Central station that takes about 30 minutes. From the airport, you'll need to change at Central but it's still only 40 minutes on the train.
But I think the best way to get to Parramatta is on the ferry from Circular Quay. It takes longer – about an hour in total – but the spectacular views as you cruise along the Parramatta make it all worth while.
Something to consider is getting off the ferry a stop earlier – at Rydalmere – because from there you can stroll along the lovely dedicated walking/cycling path the last few kilometres.
THE BEST ACCOMMODATION IN PARRAMATTA
Although it's easy enough to get to Parramatta from various parts of Sydney, there are also some lovely places to stay, so basing yourself here is a good option.
BACKPACKER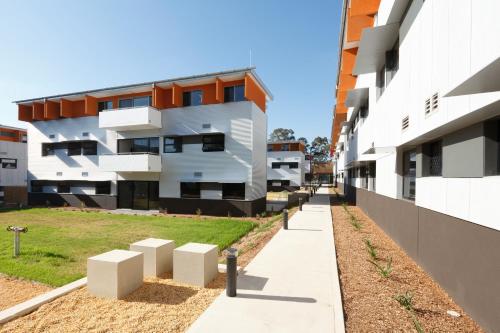 SELF-CONTAINED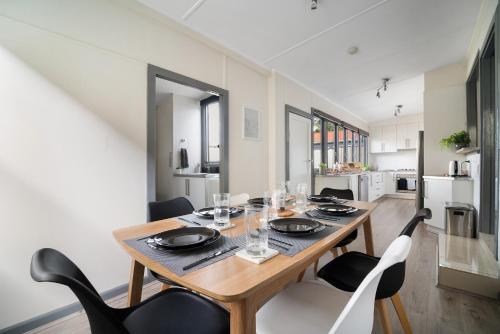 For large groups, this 3-bedroom house has a modern design, comfortable beds, and lots of amenities included.
BOUTIQUE
The makeover of the Holiday Inn & Suites on Marsden Street has created an elegant atmosphere with affordable rates.
LUXURY
One of the newest options in Parramatta, the luxurious rooms at SKYE Hotel Suites are worthy of five stars.