Broome is one of the most remote towns in Australia. 2,200 kilometres' drive from Perth, and 1,900 kilometres' drive from Darwin, it could easily feel like you were in the middle of nowhere…
Yet, there's something about Broome that is so embracing, you quickly forget the vast red desert and blue ocean that surround it. When you arrive, you'll discover that there are so many things to do in Broome, you'll regret not giving yourself longer to explore.
The reason Broome exists is because it was founded by European settlers in the 1880s as a base for the pearling industry in this part of Western Australia. Of course, Indigenous people were already here, and I'll tell you more about ways to learn about the heritage shortly.
Originally the pearling industry used these Aboriginal people as indentured labour (a shameful part of our history!) but gradually it started to attract workers from across the world – particularly Asia. Many of their descendants are still here, giving the town a strong multicultural atmosphere.
As you start to plan what to do in Broome, you'll realise that amongst this heritage is a vibrant modern culture. Art galleries, new bars and restaurants, and local producers have created a youthful community that nestles comfortable within the older buildings and attitudes.
And then there's the nature. Although there are lots of things to do in Broome itself, it's the epic landscapes surrounding it and the natural wonders nearby that are often the highlights of a visit to Broome. From the water, to the coastline, and into the ochre colours of the Kimberley region, you can't come here without venturing out of town.
To help you plan your trip, I've put together my recommendations for the best things to do in Broome. As you'll see, there is lots to see and many of these suggestions will take at least half a day, so plan your trip wisely and leave yourself lots of time to explore!
Town centre
For tourists, there are three distinct parts of Broome – Chinatown, Town Beach, and Cable Beach.
For this guide, I'm combining Chinatown and Town Beach when I refer to the 'town centre' because geographically they merge together on the eastern side of the peninsula. The town centre is where you'll find the supermarkets, main shops, and some of the large accommodation. But it's also where you'll find most of the heritage and cultural attractions.
Chinatown
The name can be a bit misleading because this isn't the kind of Chinatown you'll find in most cities. The name actually refers to the people who lived here during the height of the pearling industry. (It was actually originally called 'Japtown' but the name was changed after the Second World War.)
Chinatown is a dense few blocks where you'll find historic buildings, popular pubs, and modern restaurants. It's worth exploring to get a sense of the heritage of Broome – there are plaques with information and other interpretive signs around town.
In particular, you might be interested in the pearl retailers along Dampier Terrace, selling extremely expensive jewellery that seems a bit out of place compared to the loud pubs across the road.
And I also suggest you take a stroll through Johnny Chi Lane, where the small shopfronts were once used for gambling, opium dens, and massage parlours. They've now been converted into boutique stores showing a selection of local and other interesting products.
Sun Pictures
One of the best things to see in Broome's Chinatown is Sun Pictures, the world's oldest picture gardens still in operation.
What is a picture gardens, I hear you ask? Well, it's a cinema where the main building has some undercover seating, then deckchairs outdoors, and then a grassy lawn to sit on. In the hot Broome evenings, sitting outside to watch a movie is such a relaxing (and unusual) way to enjoy the show.
Sun Pictures cinema plays a lot of new releases, so it's worth checking the schedule to see what will be screening when you're in town.
Town tour
Although there are lots of things to see in Broome, it's the stories behind the sites that make them so interesting. It's a fascinating town with many layers of history over the generations, from the original Indigenous inhabitants, to the pearlers from across the world, right up to modern life.
Taking a tour when you first get here will give you a great understanding of the geography and the culture of Broome, which will make your visit much more rewarding.
For a tour in the morning, I would recommend this tour with Broome And Around. For an afternoon trip, I would recommend this tour that includes sunset drinks at Cable Beach.
Broome Historical Museum
Although it's quite small, the Broome Historical Museum is the perfect place to learn a bit more about the town's heritage.
The museum is spread across three buildings, including the Old Customs House and the historic Sailmaker's Shed. Of course, there is lots about the pearling industry, but there are also exhibits about the Indigenous heritage, domestic life in Broome, and World War II.
Art galleries
There is a burgeoning art scene in Broome, with artists inspired by the vibrant colours of the Kimberley and the other expansive natural wonders found in the region. You'll see in many of the works how the landscapes intersect with Aboriginal stories and life in a remote area.
There are quite a few galleries to visit, where you can see (and buy) some local art. One of my favourites is the Sobrane Gallery, and I would also recommend Broome Time Art Gallery, Black Stump Gallery, Nagula Jarndu Designs, and Krim Benterrak Art Studio.
Broome Courthouse Markets
If you visit Broome on the weekend, then you'll be able to pop into the Broome Courthouse Markets, which are on every Saturday and every Sunday from April to October.
Held in the gardens of the town's historic courthouse, the Broome Courthouse Markets have more than a hundred stalls selling local products and serving some great food. It's an excellent way to find some souvenirs, with loads and art and craft, as well as clothes and jewellery.
There are also markets on Thursday night at Town Beach from June to September.
Matso's Brewery
It calls itself Australia's most remote brewery, but Matso's has made a name for itself across Western Australia and the Top End (you'll even find it for sale in some places in Sydney and Melbourne.
Matso's Brewery is famous for its flavoured beer – things like mango or chilli. The most popular product is the ginger beer (which is what you tend to find for sale all across Australia).
You can do a tour of the brewery, if you are interested in seeing the operations, but most people just visit for a drink and a meal. The food is excellent and there are tables indoors and out in the garden. You can obviously buy glasses of beer, but I would also suggest the tasting paddle, so you can try a few different flavours.
Small bar tour
Traditionally, Broome was a town where the social life revolved around the pubs, with different establishments being the preferred watering hole for different types of workers. Many of these pubs still exist – The Roey (Roebuck Bay Hotel) being the most famous.
But there are now smaller bars starting to open up and the nightlife scene in the town centre of Broome is slowly changing. To discover some of the new spots, you can take a small bar walking tour with Salty Plum Social.
As well as visiting a few bars, you'll explore the Chinatown neighbourhood and learn a lot about the history and culture of Broome. It's more than just an opportunity to drink, there's a lot of heritage to cover as well.
Cable Beach
After Chinatown and Town Beach, the third main neighbourhood for tourists in Broome is Cable Beach. The beach itself stretches along the western side of the peninsula and then up the coast for a total of 22 kilometres.
Water sports
As one of the best beaches in Australia, it's no surprise that there are plenty of things to do at Cable Beach. Of course, swimming is an easy option, although it's not recommended between December and April because of the stingers.
Aside from swimming (and sun baking), you can go fishing, kayaking, or surfing. Stand-up paddle boarding has become quite popular recently as well.
One thing to note is that the tide in Broome is legendary for being huge! It can change by up to ten metres sometimes, so it's definitely worth getting to know when low and high tide are before you plan anything in the water.
4WD on the beach
Speaking of the enormous Broome tides, the locals love it when low tide coincides with sunset because it means they can take their cars onto the sand for afternoon drinks. You'll see people bringing down huge set-ups, including barbecues, and making the most of the beautiful colours.
You'll need a 4WD to go onto the beach, which you can access from Cable Beach Road West, and then head over the rocks. You can drive down there at other times of the day as well (make sure you watch the tides) but sunset is definitely the best.
Sunset camel rides
Sunset is also the perfect time to take one of the famous camel rides along Cable Beach, which is one of the most popular things to do in Broome. The camel ride goes for about an hour and you'll go down the beach, turn around, and come back.
I'm always a bit cautious about activities that involve animals (and try to avoid anything I think may be unethical) but the animals here are clearly cared for well, and haven't been mistreated in their training.
The tour guides will tell you all about the animal you're riding because each of them has their own personality. My camel, Khan, is one of the laziest and we had a very easy and comfortable walk. I would recommend booking with Red Sun Camels.
Sunset Drinks
As someone who grew up on the east coast of Australia, seeing the sun set over the beach is still a novelty, and I sometimes forget how beautiful it is. The sunsets over the Indian Ocean in Broome are epic and finding a good spot to see it each night is important.
You can just sit on the beach, or the park at the end of Cable Beach Road West is another popular spot. But if you would like something with a few more facilities, there are a few good bars.
One of the best known is the Sunset Bar at the Cable Beach Club, although it's often only open to in-house guests if the resort is busy. Just nearby is another great option, Zanders, which also does good food. And a few nights a week you can also go to the Broome Surf Life Saving Club (which has drinks at club prices!).
Roebuck Bay
Dominating the geography on the southern and eastern sides of the Broome is Roebuck Bay, the enormous bay that is home to a huge amount of wildlife. It was named after William Dampier's ship, the HMS Roebuck, and recently became a marine park called Yawuru Nagulagun/Roebuck Bay Marine Park.
There are quite a few things you can do in the Roebuck, some of them unique to Broome.
Dolphin and whale watching
The waters of Roebuck Bay aren't that clear but that's not because it's dirty, but because the strong tides are pulling in the colours of the land a couple of times a day. It's also pulling in the nutrients, making it a rich feeding ground for lots of marine life.
During the whale migration season (July to September) about 35,000 humpback whales go along the shore – which is more than double the number that migrate along the east coast. Heading out with Broome Whale Watching, you're almost guaranteed to see some of them.
If you're visiting Broome outside of the whale season, don't despair, you can go on one of their Snubfin Dolphin Tours. The snubfin dolphin is such a cute animal that, within Australia, you'll only find in the waters of the Top End. They're quite shy so won't come and play with the boat, but there are lots of them to see in Roebuck Bay.
Kayaking
There are also a few tour operators that will take you out kayaking in Roebuck Bay, which is a wonderful way to get up close to the animals in these waters. Even in peak season, the bay is never busy, so it feels both relaxing and adventurous.
As well as the dolphins, there are also turtles and even dugongs. I also saw a sea snake in the water here – but don't let that scare you, they're not interested in eating humans!
Fishing
With such rich waters and abundant marine life, Roebuck Bay is a wonderful place for fishing. Thankfully, commercial netting has been banned here since 2013, so not only has it helped the local environment, but it means recreational anglers are likely to catch something.
The big Threadfin Salmon is one of the best known species in the bay, but there's also Trevally, Queenfish, Triple Tail (among others). If you have your own equipment, you might be able organise things yourself – otherwise there are a few decent fishing charters in Broome.
Staircase to the Moon
One of the best things to see in Broome is also one of the hardest things to see – and that's the Staircase to the Moon. Well, I say 'hard' because it only happens a very limited number of times a year, but you'll easily see it if you're in town on one of those days.
Broome's Staircase to the Moon is a phenomenon where the full moon rises over the exposed tidal flats of Roebuck Bay. The reflection on the flats look like a brilliant staircase (or so say the locals).
You can check the dates here. Although there are quite a few places you can see it from, I would recommend the Mangrove Hotel, which has a perfect view as well as cold drinks and good food!
Around Broome
I think it's quite incredible how many things there are to do in Broome itself, but I would also recommend looking around the region to find some of the most interesting experiences.
In the next section I'll share some ideas for day trips – all these suggestions are still relatively close to town and won't take too long to reach.
Willie Creek Pearl Farm
I've talked so much about pearling in Broome, it's probably no surprise that I'm going to recommend you head out and learn a bit more about the pearling industry. Luckily, there's an excellent tour you can do that takes you out to the Willie Creek Pearl Farm, one of the main farms in the region.
Willie Creek Pearl Farm is about an hour out of town (you can take the tour bus or drive yourself) and the tour they run here is excellent. You'll get a thorough and fascinating explanation of how pearls are grown, you'll head out on a boat to see an example of the farming techniques, and the group will then open an oyster to see what's inside.
Our group's oyster had a beautiful pearl but apparently it was only worth about $900. The group before found an oyster worth almost $12,000! Unfortunately you don't get to keep it, but there's a shop (of course) with reasonable prices.
You can book the tour from Broome here. If you don't have time to go out to the farm, there's also this 1.5-hour pearling history tour in town run by Willie Creek Pearl Farm, where you'll even get to taste some pearl meat.
Mangrove Discovery Experience
For thousands of years before Europeans settled Broome, the land around the town was home to the Yawuru people. One of the most important ecosystems for the Indigenous people was the mangroves, and so that's where Narlijia Tours focuses its cultural discovery experiences.
Narlijia is run by local, Bart Pigram, who shares the Indigenous history of the region and the Dreamtime stories that go along with it. His tour through the mangroves will also introduce you to the food that can be found here.
Gantheaume Point
Just a short drive from the centre of Broome, you'll find Gantheaume Point, a stunning spot to appreciate the dramatic coastline and the range of colours that you find in this part of the Kimberley region.
Climb over the rocks, look down at curious shapes erosion has created, and follow the path to get different views back towards Broome, where the red cliffs meet the turquoise ocean.
One of the most important things here, though, are the footprints of dinosaurs that were preserved from more than 130 million years ago! They are visible at the bottom of the cliff at very low tide, but there are replicas to see in a more convenient spot near the path.
Another popular spot just near Gantheaume Point is Riddell Beach, a 400-metre stretch of sand that's visited by the locals but usually very quiet because most tourists don't know about it.
Broome Bird Observatory
All the same things that make the waters around Broome good for marine life, also make it a popular area for wildlife. There are more than 300 species of birds that either live here, or visit during their migrations.
For birdwatchers, the region around Broome is a treasure trove and a good place to start is the Broome Bird Observatory, on the shore of Roebuck Bay and about 30 minutes' drive from the town.
The organisation runs quite a few tours (but not daily, so check the website) to different ecosystems to find a variety of birds. There are roosts to watch from and expert guides who can share a lot of knowledge about the species.
Malcolm Douglas Crocodile Park
And if you want to see more than just birds, one of the most popular Broome attractions is the Malcolm Douglas Crocodile Park, started by legendary adventurer Malcolm Douglas (who passed away in 2010).
As the name suggests, there are lots of crocodiles here and the daily feeding at 3pm is pretty famous. But you'll find lots of other animals here, including a cassowary, kangaroos, emus, and wallabies. Visiting the Malcolm Douglas Crocodile Park feels like a quintessential Top End experience!
Day trips from Broome
You don't necessarily need a car to do day trips from Broome, with a few good options that can be done as tours. But, if you do have your own vehicle, there's a spectacular landscape to explore around northwest Australia.
Horizontal Falls
The most famous day trip from Broome is to Horizontal Falls, the phenomenon that David Attenborough described as "one of the greatest natural wonders in the world".
The Horizontal Falls are formed when the massive tides change and a huge amount of water tries to squeeze through two small gaps in the cliffs separating lakes. The water can't get through fast enough, so the surface levels of the lakes are different, and the water rushes down at an incline.
The journey to see the falls is half the adventure because you can't just drive there. The best (and most popular) option is this spectacular tour from Broome that flies you to the lake on a seaplane, where you'll use a luxury pontoon as your base. From there, you'll take a speedboat into the falls, as well as do a separate scenic cruise, and have a cooked meal.
The other option is to do this longer tour that includes Cape Leveque (more on that next) and a few other attractions that are possible to access because you go by bus in one direction. Regardless, the Horizontal Falls will be the highlight of the day – and possibly your whole trip to Broome!
You can read my review of the Horizontal Falls tour here.
Cape Leveque
Cape Leveque is at the northernmost tip of the Dampier Peninsula, a rugged and pristine part of the Kimberley where you can really see the contrasts between the red pindan soil, the white beaches, and the turquoise water.
One of the best known images from Cape Leveque is of the eroded rocks along the shore, which create a wall of twisting ochre shapes. But there are a lot of other things to do here – from swimming, fishing, snorkelling and boating.
There's also a rich Indigenous culture here and a few of the local communities have ways that you can visit and learn more about the heritage and continuing way of life. The aquaculture centre at One Arm Point is a good example.
The road from Broome to Cape Leveque was recently sealed the whole way, so it's now only a two hour drive, making it an easy day trip (although you can also stay there overnight).
Bungle Bungles
Broome is on the western edge of the Kimberley and, as I'm sure you know, it's an enormously vast region.
If you're doing a long driving trip through the Kimberley, hopefully you'll get a chance to visit some of the natural wonders along the day. However, if you're only doing a short trip to Broome, there's still a way to see things like the Bungle Bungles – and that's on a day trip flight.
There are a few tours that Broome Aviation offers, but I think the most epic is the one out to Purnululu National Park, where you'll get a 4WD tour of the Bungle Bungles. It's a long (and not cheap) day, but a fantastic experience!
Derby
And the last day trip from Broome that I want to recommend is actually sort of not a day trip. It's to Derby, a small town about 200 kilometres east of Broome.
There are some interesting things to see here, like the historic gaol, the Boab Prison Tree, and the Norval Gallery. But I'm not sure it's worth the 2-hour drive in each direction, if you have limited time.
However, Derby is the start (or end) of the incredible Gibb River Road, a 4WD dream, so if you're planning to do some adventuring, then a day trip to Derby before you set off into the Outback is a great thing to do.
And ultimately that's the thing with Broome. You can easily come here for a few days and happily fill your time exploring the nature and the culture. It's a great spot for a holiday. But it's just a small taste of what you'll find in the Kimberley across northwest Australia, so visiting Broome as part of a longer road trip is how you'll appreciate it the best!
THE BEST ACCOMMODATION IN BROOME
There are two main areas to stay in Broome and it takes about ten minutes to drive between them. Staying at Cable Beach puts you close to the water, while staying in town means better access to shops and restaurants.
BACKPACKER
It feels more like a tropical resort than a backpacker hostel, which is why Beaches of Broome is so popular!
FAMILY
BOUTIQUE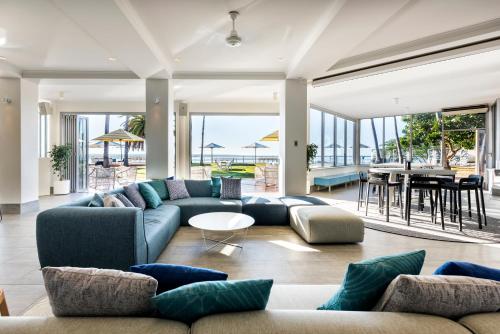 With great food and drink, the Mangrove Hotel gets busy in the evenings – but you can always retire to your wonderfully renovated room.
LUXURY