The Southern Highlands has long been the country playground for Sydneysiders and, as the biggest town in the region, it's no great surprise there are lots of things to do in Bowral.
Growing up in Sydney, I always thought of Bowral as a destination for older people – it had antique furniture, homeware stores, and high teas. And, while all of those things still exist, it's also evolved in recent years.
These days, Bowral has become much more of a primary residence for a lot of people, as opposed to just a weekend holiday house destination. And that means the community has grown and strengthened.
In the centre of town, you'll find new restaurants, cafes, and bars that have a more modern and youthful energy (partly because they are run by more modern and youthful people than you may have found in the past).
And then, around town, there are also new businesses that have brought a different style to the region. It's opened up Bowral and the Southern Highlands to a broader demographic, I feel.
Having said that, though, the Southern Highlands are still what they have always been – lush green rolling hills with charming little towns and picturesque farms between them.
With the higher altitude, it's much cooler than the coast and you really feel that in winter (although the sunny days are glorious). It's still a place where you enjoy a crisp walk during the day and a bottle of wine by the fire in the evening
You can visit Bowral as a day trip from Sydney (it's only about 90 minutes drive) or even as a day trip from Canberra (it's about two hours). But you won't have time to see much of the Southern Highlands region.
I would recommend staying for at least one or two nights (it makes a nice weekend trip if you stay Friday and Saturday nights, for example).
When you're here, you'll realise how many things to do in Bowral there actually are – from eating and drinking, to exploring the history, discovering some of the new businesses and local experiences, and getting out amongst the nature.
Museums
Although there are lots of things to see in Bowral, the main museums are a good way to start, to see some of the iconic history and culture of the region.
The Bradman Museum
From small beginnings, the Bradman Museum in Bowral has grown into a large complex that now includes the International Cricket Hall of Fame. It's an acknowledgement that the centre is about more than just Don Bradman.
There is a gallery dedicated to Bradman but the other exhibitions cover an introduction to cricket, stories about some of the game's most important players, significant moments or eras in its history, and the current state of the game.
The museum has become a bit of a pilgrimage site for cricket fans from across the world but even people without a strong interest will get something out of a visit.
Milk Factory Gallery
Right in the heart of Bowral, the original milk factory was built here in 1921. But since 2005 it has been used as a space to exhibit art from creators in the region and further afield.
Exhibitions change regularly at the Milk Factory Gallery so it's worth popping in to see what's on the walls at the moment. There's usually a good range of different mediums and artists with various backgrounds.
Bowral Art Gallery
Operating for more than 60 years, the Bowral Art Gallery is an institution in the region. It's not particularly large and it won't take you too long to visit, but there's plenty to see here.
The art gallery supports local artists, giving professionals and enthusiasts a chance to exhibit some of their work. There are working studios within the gallery and also regular classes that you could join if you have an interest.
Heritage
Let's look now at the heritage of Bowral and the Southern Highlands because there's a lot of interesting history here.
The traditional owners of the land, the Gundungurra and D'harawal people, lived here for thousands of years before Europeans first formally settled the area in 1819. The first settlement was Bong Bong, near where Moss Vale now is. The second settlement was Berrima.
Historic Berrima
Visiting Berrima is a great thing to do from Bowral – it's just a ten minute drive away. When Berrima was founded in 1831, the idea was to make it the major town in the region. That's why you'll find the large sandstone courthouse and gaol from the 1830s.
In the end, that didn't happen and the train line went through Moss Vale and Mittagong instead. But historic Berrima still has one of the state's best preserved Georgian villages and you'll see many of the important heritage buildings just walking along the main street.
The gaol is in use again so you can't visit that, but there's a good exhibition in the courthouse. At the other end of town, there's also the local museum.
National Trust
There are three National Trust properties in the Southern Highlands and each shows a different style of heritage.
In Berrima, there is Harper's Mansion, built in 1834. It's a great example of what the town could have been if it had expanded as planned.
Just south, in Sutton Forest, is Golden Vale Homestead. This grand sandstone home was built in 1870 and set in about 200 acres, much of it laid out as an English style garden.
Retford Park
And then, there's the most impressive – Retford Park in Bowral. This large four-bedroom residence in pink Italianate style was built in 1887 by Samuel Hordern and then bought in 1964 by James Fairfax, who turned it into a sumptuous country residence.
The house was set in an enormous rural estate but a lot of the land has now been sold off. Still, there's a large garden with lots to see. Inside the house is an impressive collection of art and antiques that belonged to James Fairfax.
He passed away in 2017 and bequeathed it all to the National Trust so it could be open to the public. (It's currently closed because of Coronavirus and will reopen later in 2020).
Mary Poppins statue
Another little bit of Bowral history to look out for is the Mary Poppins statue in Glebe Park. If you're wondering why it's here, it's because the creator of Mary Poppins, author PL Travers, lived in Bowral as a child from 1908 to 1917.
The statue shows Mary Poppins in an iconic pose, flying with her umbrella held aloft in one hand. It's quick and free to see the artwork and may be a nice little diversion for the kids.
Local experiences
Although there's been a lot of urban development in the Southern Highlands, and many people who visit just for a day trip stay only in a town like Bowral, the region is still has lots of important agricultural land.
If you drive along the roads between the towns, you'll see a lot of farms (and realise how pretty they are here – especially at sunset or when the fog rolls in). But there are also some good ways to try some of the local produce.
Farm tour
To get out on the land, you can visit Redleaf Farm for a tour of this fascinating farm. There are Highland cows, Saddleback pigs, sheep, chickens… And actually a whole menagerie, including peacocks and a miniature donkey called Hector.
Redleaf Farm has a waterfall and a swimming hole – as well as two old train carriages that have been converted into incredible self-contained accommodation that are perfect for a special couples retreat or family experience.
It's a beautiful spot with lots of different ways to experience it.
Wine tasting
There are some wonderful wineries in the region and so an afternoon (or morning, even) of wine tasting is a great thing to do around Bowral.
You can use the Highlands Tour Co to put together an itinerary and drive you between the tastings, if you want to make it easier. Of you can do it yourself, of course.
One of the most popular wineries around Bowral is Centennial Vineyards, which offers a lovely tasting. My favourite is Bendooley Estate, which has a fantastic space for tastings. It's part of the large complex that blends a book shop with a casual cafe and a more upmarket restaurant.
The region is cool climate and high altitude so the pinot noir and riesling are some of the specialties. Other good wineries to visit in the Southern Highlands are Artemis Wines, and Cherry Tree Hill.
Bowral Beekeeping
For something that's been getting quite a buzz recently (sorry), there's Bowral Beekeeping. You don't need to be an active beekeeper to get involved in the activities here – and there are lots of things to do.
You can take a tour to get up close with a colony to learn all about the lives of bees, you can do a honey tasting, or you can join the extended experience to do an inspection of a flow hive.
Southern Highlands Pie Trail
Another of the local specialties in the Southern Highlands is the humble pie – done not so humbly. The local bakers take great pride in always trying to upstage each other with new creations and the annual Southern Highlands PieFest is where they are officially judged.
You can still get involved any time of the year with the Pie Trail, a map of about 30 local outlets that all offer pies.
I would recommend the Eden Pie or lamb and rosemary from Gumnut Patisserie, a chicken with leek and camembert from the Robertson Pie Shop, a simple steak pie from Polly's Pies, or the Ned Kelly (a breakfast pie with beef, egg, and bacon) at Heatherbrae's.
Shopping
One of the most popular things to do in Bowral is to wander the streets and do a bit of shopping – window or otherwise. There are dozens of wonderful shops here, offering antiques, homewares, and clothes.
A lot of the arts and crafts is homemade locally, and you'll find some real treasures – while other stores pride themselves on curating the finest collection of goods from across the country.
Green Lane
A good place to start is at Green Lane, a little precinct that has a selection of dining and shopping options. The leafy courtyard gives you access to the popular restaurant Harry's on Green Lane, decorated with plants, books, and other travel memorabilia.
For something a bit quicker, you can grab a coffee at Plantation and then browse the various shops that sell plants, pots, candles, jewellery, European homewares, and even garden furniture.
Antiques
Next door to Green Lane is the most famous of the antique stores in Bowral, Dirty Janes, which is really a market full of smaller vintage sellers with a fascinating and eclectic mix of items, from tiny fittings to enormous set pieces. (The high tea here is also very popular!)
People often make a trip specially to Bowral just for the antiques because there are so many good stores here (although they can be a bit pricey). A couple of other good spots to try are Lancelot Hill Antiques and The Bronte Tram – although it's worth noting you'll also find antique stores at other towns in the Southern Highlands, if you're looking for something in particular.
Boutiques
There's no shortage of small shops in Bowral offering all sorts of niche products and, even if you're not in the market for anything, they're worth popping into to appreciate the interior design and decorations.
A few shops of note that may be of interest include the designer clothing at Arkke, the kitchenware at Cookshop Plus, homewares at Barbara's Storehouse, and (my favourite) stationery at Bespoke Letterpress.
Gardens
Once you've seen the grand historic homes that exist around Bowral, you won't be surprised to find out there are also quite opulent gardens in the region – particularly the English style, which suits the Southern Highlands climate.
You're able to see some of the private gardens when you visit heritage sites (like Retford Park) but there are also a couple of public gardens worth popping into.
Corbett Gardens
Right in the centre of town, Corbett Gardens dates back to 1911 when the local tourist association bought it so it could be public. It's a lovely spot for a short stroll or for a rest with a coffee.
Where Corbett Gardens really comes alive, though, is at the annual Tulip Time Festival when there are more than 75,000 tulips on display! There's an entry fee when that's on.
Southern Highlands Botanic Gardens
One of the lovely things about the Southern Highlands Botanic Gardens is that the site is a work in progress and changes every time you visit. Not all of the 15 hectare gardens have been developed yet, but there's still lots to see.
The landscaping is broken up into different sections, including gardens for each season, a nursery, and a playground for children. In winter, the plants make the most of the cool climate, while there are plenty of flowers in spring.
Nature
I've mainly focused so far on the town of Bowral itself and the things you can do in the urban centre, or nearby properties. But, of course, the Southern Highlands are such a scenic region and getting out into the nature is a wonderful thing to do when you're visiting Bowral.
Mount Gibraltar Reserve
Just a five minute drive (or 40 minute walk) from the centre of town, past the Bowral Lookout, is Mount Gibraltar Reserve, at the top of a collapse volcanic core that's 150 million years old.
It's the highest point between Sydney and Canberra (but still not that high – just 863 metres above sea level) and has lovely views across Bowral and the region. The eucalyptus forest is home to lots of wildlife and there are walking trails and picnic areas here.
Fitzroy Falls
Although it's about 20 minutes away by car, I'm mentioning Fitzroy Falls because I think this is one of the best natural spots in the Southern Highlands and is definitely worth a trip from Bowral for half a day.
Fitzroy Falls itself is a spectacular waterfall about 80 metres high that drops down a sheer sandstone escarpment. There are paths on either side that you can take to good viewpoints to take in the whole waterfall.
Fitzroy Falls is within Morton National Park and you can continue along the walking trails to get to some other smaller waterfalls and incredible views across the valley. (Another option for spectacular waterfalls is Belmore Falls, just a bit further on.)
Cecil Hoskins Nature Reserve
If you're looking for another option closer to Bowral, Cecil Hoskins Nature Reserve is a beautiful park that doesn't have quite as many visitors. At its centre is a wetland environment created when a weir was built here in the 1920s.
The water has attracted over 90 species of birds, so it's a great spot for birdwatching. There are also some short walks and a picnic area, which makes a great place to stop if you've got your own lunch.
Where to eat in Bowral
When it comes to food, you really are spoiled for choice in Bowral and the surrounding area in the Southern Highlands. You'll find a huge range of options and it's pretty easy just to spend your whole visit just eating and drinking!
I'll offer a few suggestions of mine to help, but don't be afraid to ask the locals for their recommendations as well.
For delicious (but slightly casual) meals, try the Grand Bistro, which is run by a lovely couple who used to own the Flat White cafe in Woollahra in Sydney. The Press Shop is a cute little cafe that is also popular for brunch. And the Imperial Hotel has great pub food and a cosy atmosphere.
If you are looking for something less casual, there's the excellent restaurant at Bendooley Estate, the well-regarded Italian at Onesta Cucina, or – my favourite – the inventive Eschalot in a heritage building in Berrima.
For coffee, I would recommend Rush Roasting Co, which has cafes in Bowral and Moss Vale. You'll also see their coffee at other outlets through the highlands.
THE BEST ACCOMMODATION IN BOWRAL
Although you'll find nice rooms in all the Southern Highlands towns, there is some particularly good accommodation in Bowral.
BUDGET
Bowral is generally not cheap but you'll get good value rooms at the Oxley Motel, although it is a bit dated.
SELF-CONTAINED
For a family or large group, the three bedrooms at Belle in Bowral give you lots of space in a well-appointed house.
BOUTIQUE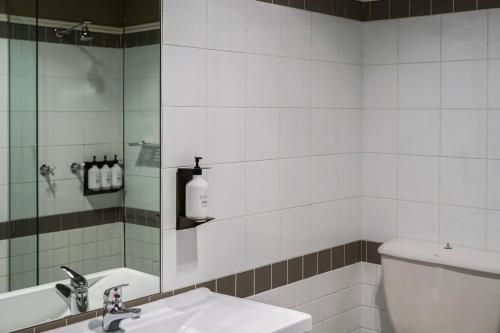 The beautifully designed rooms at Bowral Boutique Motel are very comfortable – and the garden seating is a bonus!
LUXURY
For a classic Southern Highlands experience, Milton Park Country House is on a sprawling estate with historic gardens and tennis courts.