A lot of people seem to have memories of visiting Port Macquarie as a child on a family holiday. It was a good place to stop on a drive between Sydney and Brisbane for example. Or, of course, it was just right for a relaxing summer break by the coast.
For a long time, I thought of Port Macquarie as just one big holiday park – beaches, caravans, and motels. But it turns out there's much more to it than that, and there are lots of things to do in Port Macquarie.
Visiting Port Macquarie recently, I've realised that the city has matured… although maybe it's just me who has matured. Either way, what I discovered was a relaxing coastal escape that also has a sophisticated dining scene and lots of things to do.
You can easily spend your time here at the beach, enjoying the wonderful water and long sandy expanses. But you can also explore the heritage of Port Macquarie, head out into the nature surrounding the city, visit local wineries, and fill the days seeing the other sites in Port Macquarie and the nearby communities.
Only four hours' drive from Sydney, and a very short direct flight from cities like Canberra, Sydney, and Melbourne, getting to Port Macquarie is really easy but you'll immediately feel as though you've arrived on holiday.
To help you plan a visit to Port Macquarie, I've put together this list of the best things to do in Port Macquarie. You can easily fill a whole week doing things here. But my tip would be not to stress too much about being busy.
Take your time to walk along the coast, hang out on the beaches, go for a drink at sunset, and try some of the good restaurants. Relaxed yet stylish, there's lots to see in Port Macquarie.
The Coast
Port Macquarie is on the coast so let's look first at some of the activities on, or around, the water.
Go to the beach!
First and foremost, Port Macquarie is a beach destination and it's one of the highlights of the city. Right in the centre, there's town beach, popular with surfers but also good for families. You can generally walk there from most central accommodation, which makes town beach a great option for a quick swim during the day.
Going down the coast you'll find longer and less busy beaches that make for a good outing for the morning or afternoon. they have stunning views along the coast with small rocky headlands covered in Bush
Still relatively close to town, from north to south, you'll find Oxley Beach, Flynns Beach, and Nobbys Beach, and Shelly Beach.
Beyond that, there's Lighthouse Beach, a nine-kilometre stretch of sand that is never busy and is protected by tropical bushland. This is a wonderful spot to get away from the crowds.
Port Macquarie is a great surf spot but don't worry if you don't know how to use a board — you can get some lessons from the local surf school.
Breakwall artworks
If you're walking along the water from the main part of Port Macquarie to Town Beach, you'll go along the breakwall, where it's impossible to miss the painted rocks. What started out as an art competition in the 1990s has become a symbol of the city.
The rocks are painted with a collection of artworks, messages, tributes, and much more. You'll see paintings from groups of friends who visit Port Macquarie every year, you'll see some memorialising lost family members, and there are even a few marriage proposals.
There are so many that it's unlikely you'll have time to see them all. But don't rush your walk along the breakwall. Take the time to have a look at a few of them and you'll get a bit of a local insight into Port Macquarie.
Coastal Walk
The beautiful coastline of Port Macquarie is worth admiring and one of the best ways to do that is with the nine-kilometre coastal walk that starts in the centre of town and heads south past a series of beaches, ending at Tacking Point Lighthouse.
The path is well developed with wooden boardwalks along some sections and some short detours to viewpoints on the bluffs. It would take about two hours each way (probably longer because you'll want to stop at a few scenic outlooks) so a lot of people just do smaller sections.
Towards the end of the walk, you get to the Sea Acres National Park, which is a beach wrapped in a rainforest. You don't find a lot of rainforest on the coast in this part of New South Wales (there's lots inland) so this protected pocket, full of birds and other animals, is quite a special little place to visit. There is an easy walk on a boardwalk through the canopy that gives you the best perspective.
At the end of the coastal walk, Tacking Point Lighthouse is worth a special mention. It was built in 1879 and is the 13th oldest lighthouse in Australia. The lighthouse is only eight metres high because its position already has such elevation, but it's a great spot for photos nonetheless.
Koala Hospital
The Port Macquarie Koala Hospital was established in 1973 and, although it has gradually grown over the years, it really came to prominence after the bushfires over the 2019/2020 summer when it took in a lot of burnt and injured koalas.
It treats koalas in need of medical attention and aims to rehabilitate them back into the wild. However, many of them can't go back into the wild – if they have burnt their claws too badly, they'll never be able to climb a tree again, for instance.
Visiting the hospital is free and it's quite small. But you'll see some of the rescued koalas in their enclosures (usually either sleeping or eating), and there's also a window into the main treatment room so you can see procedures taking place. It's become one of the most popular things to do in Port Macquarie.
On the same site as the Koala Hospital is Roto House, a late-Victorian building from 1891 that has been beautifully preserved. It was lived in right up until 1979 but is now a museum showing items and styles from throughout its history.
River cruise
Port Macquarie doesn't just have the beach – it also has the majestic Hastings River, which meets the coast right at the city. (I saw a dolphin frolicking in the water here when I last walked along the shore.)
There are plenty of ways to see the Hastings River and some people prefer to go kayaking, do some stand-up paddle boarding, or even rent a small boat to zip around perhaps do some fishing.
But one of the easiest things to do is take a cruise on the Hastings River. There are a few companies that offer cruises and they each have various options, including sunset cruises or dolphin-spotting. I would recommend either PortJet or Cruise Port Macquarie.
The City
There are lots of things to do in the Port Macquarie city centre, so let's have a look at some of the best options.
Heritage tour
Port Macquarie was founded as a convict colony in 1821 and the history of its time as a penal colony is fascinating. There are still some original buildings, plus the foundations of others, but the best way to learn about it all is with a heritage tour.
Local heritage consultant, Mitch McKay, leads tours with Port Macquarie Hastings Heritage, taking you through the most important sites or telling the tales of the city through the people buried in the historic cemetery.
Some of the highlights are St Thomas' Anglican Church, founded in 1828 and one of the oldest in Australia. It's particularly notable for the pews surrounded by wooden boxes, which were to protect the free settlers from the convicts.
There's also the Old Port Macquarie Courthouse, built in 1869. And two heritage buildings from 1896 that were originally pilot cottages have become the Mid North Coast Maritime Museum.
The Glasshouse
The Glasshouse, in the centre of the city, is easy to spot because it's made from… well, glass. The large arts centre houses several interesting spaces, including a theatre for performances.
What's probably most interesting for visitors is the regional gallery, which has different exhibitions throughout the year, normally with a local or regional focus.
But there is also a small museum with displays of heritage items and the original foundations of cottages from the early years of the convict settlement.
Port Macquarie Museum
Right in the centre of town, near the Glasshouse, is the Port Macquarie Museum. It may not seem like much from the outside, but it's much larger than it looks and has more than 2,000 items on display (chosen from a collection of more than 20,000!)
It's a wonderful way to learn more about the local stories here, with exhibitions about important historical events, the changes in in the city over the years, the main industries, and even the development of tourism here.
The region
Although there are lots of things to do in Port Macquarie itself, the region is well worth exploring as well. Within just a few minutes, you can get to some interesting sights. Then, go a little further, and you'll find small communities to explore as well – perfect for a little day or half-day trip.
Take a ride in a helicopter
With the dazzling coastline and beautiful nature surrounding it, one of the best places to see Port Macquarie is from the air. Luckily there's an easy way to get this viewpoint – with Affinity Aviation.
Affinity offers a range of helicopter rides you can choose from, including short scenic trips, transfers to a local winery or restaurant, or even an excursion to waterfalls where you can hang out for a while before coming back.
Arriving somewhere in a helicopter makes you feel like a bit of a celebrity, but some of the packages are surprisingly affordable, so it's worth having a look at some of the options.
Wineries
You may not think of the New South Wales Mid-North Coast as a wine region, but there are actually some great winemakers here – and visiting a couple of them is one of the best things you can do in Port Macquarie.
I would recommend visiting Cassegrain, which is quite a large wine producer. They grow some varieties locally, like semillon and chambourcin, but most of the grapes are sourced from across the state and made here.
Cassegrain offers a free tasting and there's a large variety of wines to purchase. The family is inspired by its French heritage and uses a lot of the traditional methods. When you visit, you might also want to have lunch at the excellent onsite restaurant, twotriplefour.
Another great winery to visit is Bago. The first chardonnay vines were planted here in 1985 and there's a reasonable selection of wines you can taste. But one of the main reasons people come is for the enormous hedge maze that has more than two kilometres of pathways!
Ricardoes
Another local institution is Ricardoes, a farm where you can pick your own strawberries within the white greenhouses. It's a really popular family activity (and good for a rainy day because the greenhouses are protected from the weather.
There are five types of strawberries, and the farm also grows tomatoes. You can wander around yourself but there are also guided tours each day that will give you a lot more information about the operations here.
Wauchope
There are quite a few little communities in the region around Port Macquarie, but I just want to make special mention of a couple of them.
The first is Wauchope, a charming town on the Hastings River. Traditionally, it's economy was based on the timber industry, which is why you'll find a theme park here called Timbertown – based on the logging heritage.
But Wauchope, being based in the hinterland, is also a good jumping-off point to explore the national parks around it – many of which are part of the Gondwana Rainforests World Heritage Site.
Dunbogan
South of Port Macquarie, on the coast, is Dunbogan, a town of no more than a thousand people (it's probably really a village). But it's becoming a bit of a destination in itself.
The main attraction here is the Dunbogan Boatshed, a historic building that's been converted into a cafe. It also offers boat rental, kayaks and stand-up paddle boards, and will soon be running river cruises.
While Dunbogan itself is small, it's a stunning part of the coast and offers a quieter perspective than Port Macquarie. There's also something pretty special about a boutique cruise along the water, eating oysters directly from the farm, surrounded by the beautiful landscapes.
THE BEST ACCOMMODATION IN PORT MACQUARIE
There's a decent range of accommodation in Dubbo and, although there are a lot of motels, you'll also find some charming bed and breakfasts just out of the centre.
BACKPACKER
SELF-CONTAINED
BOUTIQUE
The Mid Pacific still looks like a motel from the outside, but it's had a fabulous makeover and is in the centre of town.
LUXURY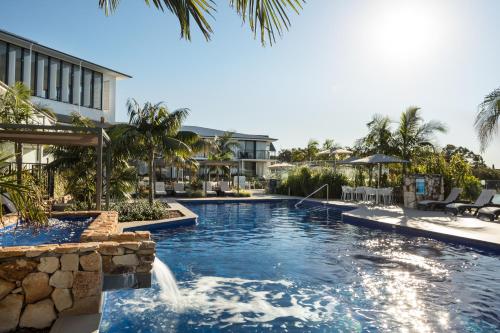 When it comes to luxury in Port Macquarie, nothing surpasses Sails by Rydges, which has a good range of rooms to choose from.