I don't think you can describe Mudgee as a 'hidden gem' anymore. This Central Western town has been well and truly discovered. But, it's still a gem, at least.
What Mudgee has managed to do is maintain its heritage, while also cultivating one of the best food and wine scenes in New South Wales. You'll find high quality but with a relaxed and informal atmosphere.
One of the most popular things to do in Mudgee is wine tasting and I'll give you more details about that shortly. The wineries around Mudgee have become a huge drawcard for the region – and have had an even bigger impact than you first realise.
You'll now also find an excellent local brewery and local distillery.
You'll find top chefs from across the country wanting to come and work at restaurants attached to the wineries.
You'll find boutique shops and trendy cafes in town, all offering even more for the visitors that flock here.
A few locals I chat with tell me that they stay home on the weekends because Mudgee has become too busy on the weekends with visitors, but they don't say it with any malice. There's a certain pride that comes from knowing that their town is so popular.
Although there are quite a few places to stay, they book up quickly (especially for weekends). Here are my tips for the best accommodation in Mudgee.
But, of course, Mudgee has always been popular with the locals. The centre of town has a wonderful collection of historic buildings and the main street has a pleasant cohesive feel about it. In spring, the cherry blossom trees make it even prettier.
There are also a lot of things to do around Mudgee and the town makes a good base to visit the region's national parks and some lovely historic towns. I think that's one of its charms – you can go exploring during the day and then know there is great food and wine for the evening.
You can probably see why Mudgee is such a popular weekend trip from Sydney and other places. But, if you can, I would suggest coming during the week when it's a little less busy.
Also, try to stay for a few nights so you can get to all the best things to do in Mudgee without feeling too rushed. This isn't a place where you want to feel like you're on a tight itinerary!
Things to do in Mudgee
So, with all of that said, let me share some of my suggestions for the best things to do in Mudgee.
Some people like to focus on just one aspect of the town – perhaps the food and drink, for example. Some visitors prefer just to hang out in the centre and not venture out to the farms and the national parks. Others want to get a bit of everything.
Whatever your style, you'll find plenty to do and probably still leave with a plan to return!
Historic sights in Mudgee
Mudgee is the second-oldest settlement over the Blue Mountains (after Bathurst), having been founded in 1821. Obviously a lot has changed since then but the centre of Mudgee has retained that 19th century colonial feel.
Strolling through the streets, you'll get a sense of the town's heritage and there are quite a few interesting historic buildings. Having said that, none of them are major sights in themselves.
But I recommend making an effort to see the Mudgee Post Office, designed by architect Alexander Dawson and built in 1862. Parts of the sandstone St Mary's Catholic Church date back to 1857.
There's also Mudgee Library, built in 1880 originally as the town hall; the railway station from 1884; and lots of beautiful buildings along Market Street.
If you have a particular interest in the heritage, there's the Colonial Inn Museum, which has about 60,000 items on display!
Art galleries in Mudgee
I know you want me to talk about the food and drink in Mudgee – and we're almost there. But first I want to also mention the arts scene in town, because it's been growing recently.
In the old railway station (a beautiful building in itself), there is an art gallery with a range of arts and crafts made by locals. Almost everything is for sale.
It's more of a co-operative than a professional gallery and at least one of the artisans will probably be there for a chat. It's quite a nice way to learn a bit about the town from a local.
Also in town, there's Brett Niven Ceramics, which is a full working pottery studio where you can even take a class with an artist. There's also Mudgee Art House, a cafe and art hub where work is often exhibited.
And, if you're exploring the region, there's Wayout Artspace at Kandos, where artists do residencies and stage exhibitions. Run by regional artists, the emphasis is on cultivating experimental and contemporary art.
Wineries in Mudgee
Now, onto the main attraction – the Mudgee wineries!
There's a long history of viticulture here in Mudgee, with the first grapes planted around 1858. But the industry dwindled for quite a while and didn't really pick up again until the 1960s.
Although there are some nice white wines, the Mudgee region is better know for red varieties and that's what you'll find at most wineries – although you'll also discover interesting and unusual offerings at some of them.
There are about 40 cellar doors in the region, so it can be difficult to know which wineries to visit in Mudgee.
I'm going to suggest a few of the most popular that you can't go wrong with – but, of course, I think it's also fun to pop into some you haven't heard of, or ask other people for their suggestions as you travel around.
Lowe Wines: My favourite is Lowe Wines, which has a reputation for traditional methods, some organic wines, and other interesting farming techniques. The setting is a delight, with relaxed tables and barrels overlooking the vineyards, and knowledgable staff who will be able to tell you all about the wines.
Bunnamagoo Estate Wines: Near to Lowe Wines is Bunnamagoo Estate Wines, one of the largest wineries in the region. There are inside and outside tables and an excellent selection of wines to taste. The sparkling is both trying and unusual for the region.
Logan Wines: One of the most popular wineries with visitors is Logan Wines, which has a modern and elegant tasting room with spectacular views. The wine selection is interesting, with a mix of typical Australian flavours and European styles.
Craigmoor Wines: Established in 1858, you won't find a winery much older than this one in Mudgee (although it's changed owners and names since then). Craigmoor Wines has a traditional feel but that doesn't mean there aren't interesting things happening with the wines.
Others wineries: And, if those four suggestions aren't enough, you may also want to consider Moothi Estate, Burnbrae Wines, Robert Stein Winery, and Pieter Van Gent Winery.
Mudgee wine tours
Of course, you don't have to organise it all yourself. A nice way to explore the cellar doors of Mudgee is with a wine tour – which also means nobody needs to be the designated driver!
There are a few options for wine tours in Mudgee. You can travel around in a Jeep for a small personalised tour with Debbie Shorter, or you can join a group with Mudgee VIP Wine Tours.
More drinks
When it comes to drinking in Mudgee it's not just about the wine. In recent years both a distillery and brewery have opened up, giving people a lot more options in the town.
The Mudgee Brewing Co is right in the centre of town and has an excellent selection of craft beers. One of the most popular styles is a strong stout called Mudgee Mud, although I think the pale ale and porter are also worth trying.
You can get a tasting paddle to try a variety of beers or just enjoy a schooner of your favourite.
The Baker Williams Distillery is a little out of town and is normally a good spot to combine with a wine tour. Set up in 2012, it has a focus on premium spirits and liqueurs. The owners, Nathan and Helen, use local ingredients and local suppliers where possible, meaning it is an authentic Mudgee experience.
You can do tastings at the distillery, which has a small rustic atmosphere. It's well worth visiting to break up all the wineries or just to try something a little different.
Shopping in Mudgee
As well as the centre of Mudgee seeing an increase in the number of trendy cafes and restaurants, there have also been a lot of new shops that have popped up on the main shopping strip of Church Street in recent years.
In fact, boutique shopping is now one of the most popular things to do in Mudgee for some people, and it's easy to spend a morning strolling through the stores.
As you walk along, you'll spot a few small clothing stores by local designers. But it's the homewares that the town has a reputation for these days.
You may prefer just to browse for shops yourself – most of them are all within a couple of blocks around Church Street and Market Street. But a few suggestions I would offer are Whatever Mudgee, Cedar Cicada, and Mac & Co.
Eating in Mudgee
Wine and food go so well together that's it's no great surprise to see that the dining scene has boomed in Mudgee over the past decade as the wineries have attracted more attention and visitors.
Top chefs, perhaps looking for a tree change, have moved to the Central West to establish cafes and restaurants, meaning you'll find world-class food in town and the surrounding region.
I would recommend planning to have at least a couple of meals at some of the better-known cafes and restaurants, rather than just finding popping in somewhere convenient when you're hungry. The good news is that there's a wide range of options, depending on your budget and tastes.
For casual cafe-style food in the centre of Mudgee, I would suggest Alby & Esthers, Eltons, or the Market Street Cafe.
In the evenings, you'll get fantastic food (and lots of tasting options) at either Roth's Wine Bar or the Mudgee Brewing Co.
And, a bit out of the centre, a lot of the wineries have excellent dining options that can be experiences in their own right. For a special meal, I would recommend Zin House or Pipeclay Pumphouse. For a more casual winery meal, there are the burgers at 53 Food Co.
Nature near Mudgee
The scenery around Mudgee is stunning and I'm sure you'l love spending time at the wineries and driving around the countryside.
For nature lovers, there are some other places worth highlighting because you can actually use Mudgee as a base to explore some wonderful national parks and other parts of the bush in the region.
The top spot to mention is Wollemi National Park, which is part of the Blue Mountains World Heritage Site. There are heaps of things to explore, with scenic canyons, towering cliffs, wild rivers and serene forests.
Other areas worth visiting are Dunn's Swamp, Munghorn Gap Reserve, and Goulburn River National Park.
Short trips from Mudgee
As well as the national parks, one of the other things you can do in the Mudgee region is a day trip (or half-day trip) to the historic towns nearby.
The old gold-mining town of Gulgong is a wonderful place to visit and it still has its 19th-century charm, with the main street lined by heritage buildings with original verandahs and iron-lace balconies.
Another option is Rylstone, which has a bit more of a rural feel to it but also has a lot of heritage, more with a colonial pastoralist style.
As well as doing a bit of a tour of the town, I would suggest having yum cha at 29nine99, where you'll find some of the best dumpling in New South Wales!
Not too far from Rylstone, you can go for a walk and see a bit more of the wilderness at Ferntree Gully.
THE BEST ACCOMMODATION IN MUDGEE
With so much heritage in Mudgee, it's no surprise you get elements of that in much of the accommodation. But there's a good range and you should find whatever you're looking for, if you book early.
BUDGET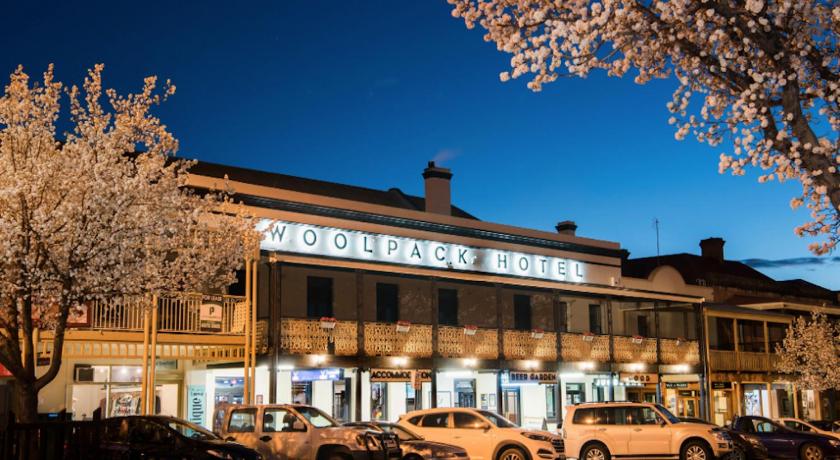 With basic pub rooms right in the centre of town, you'll get affordability and convenience from the Woolpack Hotel.
MOTEL
BOUTIQUE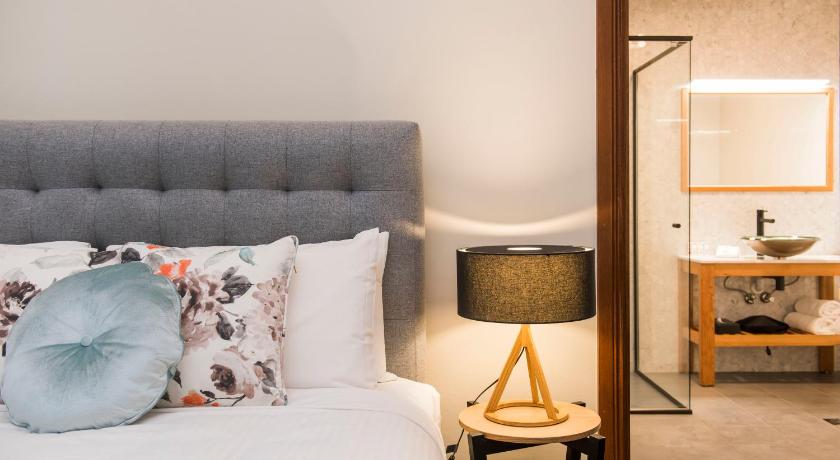 The wonderful Parkview Hotel has made the most of its heritage features but still offers modern comfort.
LUXURY
Set within large gardens, the Parklands Resort has luxurious rooms and is just a couple of minutes from the city centre.