The sweeping coastline of the bay changes so quickly, a stunning panorama with such an incredible collection of landscapes – it's no surprise there are lots of things to do in Jervis Bay.
At the northern end are the dramatic cliffs of Point Perpendicular, with a historic lighthouse at the top and (apparently) pock marks from where the Australian Navy used it for target practice.
At the southern end is Booderee National Park, a protected area with secluded beaches and a busy seal colony.
And in between are popular tourist towns like Huskisson, bright sparkling sand like Hyams Beach, and camping spots right near the water.
Jervis Bay is just beautiful, in a way that makes it stand out from the rest of the New South Wales South Coast, which is also gorgeous. But the beaches here just take it to a whole new level and much of it seems so remote and secluded, even though Jervis Bay is only 2.5 hours' drive from Sydney or Canberra.
What helps is that so much of the area's nature has been protected and there has been very little dense development along the coast. The biggest towns are still tiny and they seem to end and merge into national parks within a few minutes.
So, when it comes to things to do in Jervis Bay, it's all really about the natural beauties – the beaches, the national parks, the hikes… and, of course, the bay itself.
If you are staying at Jervis Bay for a bit longer and you want to use it as a base to explore the area, it's also very easy to do some day trips from Jervis Bay to the wineries, same inland towns like Berry, or other spots along the coast.
To help you plan your trip, let me share some tips for the best things to do in Jervis Bay.
Beaches
It's said that the beaches in Jervis Bay have the whitest sand in the world. I mean, it's something that's pretty hard to prove, so I guess they might. Anyway, they're definitely very white along the southern part of the bay.
If you're coming to the area to relax, then just hanging out at the beaches is one of the best things to do in Jervis Bay. They look a lot different to the golden sands that you usually see along the east coast.
In my opinion, the best beach in Jervis Bay is the one that's in front of you. There are so many along the coast and they're all good, you might as well just walk to one that's near your accommodation.
If you want to venture further, there are some fantastic beaches in Booderee National Park, which I'll mention separately in a moment, but here are the rest of the best beaches in Jervis Bay.
Hyams Beach
This is probably the region's most famous beach because Hyams Beach is the one that has been declared as having the whitest sand in the world (sorry, Maldives).
At the southernmost point of the bay before you reach Booderee National Park, it's quite sheltered so is perfect for families. There's a store and cafe at one end of the beach but there's not much else here, so it's worth bringing some food and drink.
Head north a little and you'll reach Chinamans Beach, which may be closer to where you parked your car (if you can find a spot!).
Nelsons Beach
The trees between the street and the sand make Nelsons Beach feel like you're on a desert island. Well, if it wasn't for all the other people under their sunshades, that is.
If you're staying in Vincentia, this is the easiest beach to reach, also with beautiful white sand and calm water – and it's not quite as busy as Collingwood Beach, which is another option and one of the biggest beaches walkable from Huskisson.
Callala Beach
If it was in another region, Callala Beach would be hailed as a highlight – but in Jervis Bay, it tends to get lost amongst all the other beautiful stretches of sand. But this 5.5km beach is enormous so is great for a long walk or to find a spot away from anyone else.
By car, Callala Beach takes a while to reach from Huskisson because you have to drive around the river. But the Husky Ferry can pop you over the river so you don't even need the car. Just pack a hamper and have a fun little day trip.
Honeymoon Bay
And if you really want to get away from it all, there's Honeymoon Bay on the unpopulated eastern side of Jervis Bay. This small picturesque spot is very sheltered and is great for snorkelling.
Because there's a camping site here, you're unlikely to have the beach to yourself, but it certainly feels like you're in a much more remote area than the centre of Jervis Bay, which is about 45 minutes' drive away.
Booderee National Park
Booderee National Park, at the southern end of Jervis Bay, is not technically part of New South Wales and is its own tiny territory (a little quirk so that Canberra has its own legal sea access). But putting aside the trivia, visiting Booderee is one of the best things to do in Jervis Bay.
A park pass to enter Booderee National Park is $13 per car and is valid for 48 hours. You can buy it at the entry or buy online in advance here.
It's easy to spend a whole day here (or more, if you feel like camping). Other than the small settlement and naval base at Jervis Bay Village, the whole area is protected national park – so this is all about being amongst nature.
Beaches
I think the beaches here are even more beautiful than the more popular ones because they've got the same bright white sand, without any of the urban development. Also, because you need to buy a parks pass to visit, less people come here.
Murray Beach is one of the most popular options, with crystal clear calm water and a beautiful stretch of sand with bush leading right up to its edge. From here, you can across to Bowen Island where a small penguin colony lives.
The other beach in Booderee National Park that I would recommend is Cave Beach, on the other side, where you'll get decent swell, making it popular with surfers. There a viewpoint just off the path coming down to the beach, where you'll get a fantastic perspective of this bit of coast.
Booderee Botanic Gardens
It's also worth visiting the Booderee Botanic Gardens, which are the only ones in Australia owned by Aboriginal people. You can follow the trails to the different sections, where there are signs with information about bush tucker and medicinal uses of plants.
Kangaroos will peacefully hop across the grass and there's lots of other wildlife to spot. On the Scribbly Lawn, there are electric barbecues and picnic furniture – a perfect spot for lunch.
Trails
There are great walks in Booderee National Park. For something short(ish), the Telegraph Creek Nature Trail is a 2.4km loop with signs explaining the vegetation you'll see along the way.
One of the best options is the 5.4km loop trail called Munyunga Waraga Dhugan, which has a lot of information panels along the way about the culture and nature of the park.
Or you can challenge yourself with a day-long walk around the St Georges Headland, which is either 11.4 kilometres direct or up to 20 kilometres with detours along the way.
Walks
The best walks of Jervis Bay aren't just in Booderee, and heading out on a trail is a wonderful way to see a bit more of the beautiful landscape of the region.
White Sands Walk
The beautiful squeaky white beaches may be beckoning for a swim – but they can also be the backdrop for a fantastic walk. A trail known as the White Sands Walk hugs the edge of the bush from Greenfield Beach down towards Hyam Beach.
If you combine the trail with the Scribbly Gum track, it makes a nice loop that is about 2.5 kilometres long. Of course, you can extend it and go along Hyams beach, or head north to one of the other ones.
Mangrove Boardwalk
This is just a short walk – but that might be just the kind of thing you're looking for. The Mangrove Boardwalk starts near the Maritime Museum at the north of Huskisson. From here it leads up Currambene Creek.
The boardwalk is only 1.4 kilometres long. Wandering along it, it;s easy to spot wildlife like birds and crabs, as well as different types of mangroves, of course!
Gosangs Tunnel
For a very different walk, you can drive over to Beecroft Peninsula, on the other side of Jervis Bay, to find this one-hour (return) walk at Abraham's Bosom Reserve.
The trail takes you through shrubbery to Gosang's Tunnel, a small hole in the rocks that you can climb through for about 20 metres. At the other end are striking sea cliffs where you can sit on a rock ledge and look for the whales swimming along the coast.
Boat trips
With so much water, it's no surprise that many of the best things to do in Jervis Bay take place out in the bay itself. There are plenty of boat trips that can take you for different types of cruises – from the relaxing to the invigorating!
Jervis Bay Marine Park
There are so many beautiful things about Jervis Bay and a lot of them can't be seen from shore. To get the most out of your time here, it's worth heading out onto the water at some point to see the sights.
With this 2-hour cruise of the Jervis Bay Marine Park, you'll easily be able to see some of the beaches that are quite inaccessible. You'll also get an up-close view of the rocky headlands and dramatic cliffs that protect the bay.
You'll definitely see some birds and marine life on the cruise. And, if you're lucky, you might even spot some bottlenose dolphins too!
Dolphin and whale watching
The clean calm water of Jervis Bay attracts animals like dolphins all year round. While, when the whales are migrating, these mammoths of the sea swim close to the coast and are easy to spot. (Sometimes they even come into the bay and hang out for a little while.)
Obviously there are lots of places along the east coast of Australia to see the whales but Jervis Bay has some excellent tours.
Focusing on the dolphins, there's this 1.5-hour dolphin cruise within the bay. Or, during whale season, head out into the coastal waters on this 2-hour whale watching cruise. Seeing whales up close is quite an extraordinary experience.
Swimming with whales
But for something extra special, how about going swimming with the whales!
There are only a few operators in Australia that are licensed to take you swimming with the whales and Dive Jervis Bay is one of them. You'll go out on the boat and, when you see the whales approaching, jump in the water with a snorkel and goggles.
Sometimes the whales will swim around you, sometimes they'll pass close by, sometimes they'll even stop and play a bit. You never quite know what you'll get and that's part of the adventure. It's quite amazing just to be in the same water as them!
The whale season is from about April to July as they're heading north, and then from around mid-August to November as they head south again.
River cruise
As well as the bay, there's Currambene River, which flows down through the Shoalhaven and comes out at Huskisson. To explore some of this, you can take a boat upstream.
I would recommend this 2-hour sunset river cruise which is nice and relaxing and will take you through a distinct ecosystem. There are pelicans, stingrays, and other interesting animals to spot along the way. You're even allowed to bring your own food and drink with you.
Day trips from Jervis Bay
And, while there are plenty of things to do in Jervis Bay itself, you can also easily access some of the other highlights in this part of the Shoalhaven region.
Milton
Milton may be a country town but it has an upmarket style. It's surrounded by fertile farmlands and a lot of the excellent produce that's grown around here ends up in the town's restaurants.
For breakfast or lunch, there's the very popular Milk Haus cafe, with a little garden farm attached. There's also a microbrewery, a fromagerie, wines, and even artisan breads at Flour Water Salt.
There are great country pubs in Milton, as well as antique stores and small art galleries. It makes for an interesting cultural break away from the coast.
Wine tasting
The region around Jervis Bay is also home to a number of wineries and, because of the maritime climate, the product is quite different to a lot of the other wines in New South Wales.
To do some wine tasting, I would recommend heading up to the area around Shoalhaven Heads, where there is a collection of good wineries quite close to each other.
In particular, you might like to taste some wine at Coolangatta Estate, Mountain Ridge Wines, or Two Figs Winery.
Look out for a specialty of the region here called Chambourcin, a variety sometimes called the "South Coast Shiraz". It's relatively light but with a bit of a mocha cherry taste.
Berry
Finally, another good choice for a day trip from Jervis Bay is the small town of Berry, not too far inland from Shoalhaven Heads.
The main street of Berry has charming heritage buildings but the crowd makes it feel quite fashionable (it's a popular day trip destination for Sydneysiders). There are a lot of homewares stores and other local products.
The Garden is a great choice for lunch, you can choose from almost 50 types of tea at the Berry Tea Shop, or indulge your sweet tooth at the famous Berry Donut Van or the Berry Chocolatier.
Cameron and Troy, who run the chocolate shop, also show people the best local produce and wineries with their Foodscape Tours around the region.
THE BEST ACCOMMODATION IN JERVIS BAY
The Jervis Bay accommodation is quite spread out, although there's a lot around Huskisson and Vincentia. Holiday homes are popular for long stays, but I'll recommend some easier options here.
HOLIDAY PARK
A large site with a pool, playground and water access, Jervis Bay Holiday Park is a perfect option for families and casual holidays.
MOTEL
Right in the centre of Huskisson, the Jervis Bay Motel has modern comfortable rooms with easy access to restaurants.
BUSH COTTAGES
In a relaxing site amongst the gum trees, Bay and Bush Cottages has a series of cool unique accommodation options.
BEACH COTTAGES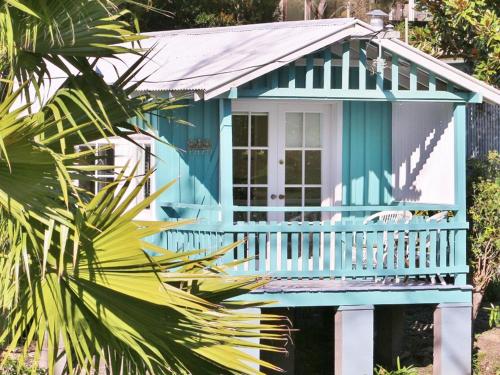 The series of seven cute cottages at Hyams Beach Seaside Cottages are well-equipped and right on the coast for a wonderful boutique experience.