Up in the mountains, about two hours' drive from Melbourne, a little pocket of Victoria's history has been perfectly preserved and hidden away amongst the forest.
The old gold mining town, once a bustling hub of a rush to riches, feels sleepy today but is a wonderful destination for visitors, because there are plenty of things to do in Walhalla.
It wasn't until 1998 that the town of Walhalla was connected to the electricity grid. This was the year that Apple released the iMac yet, until December, residents here still needed to have their own generator if they wanted to use one.
It was the last town in Australia to be connected, so why did it take so long?
The first reason is simply geography. Although it's not too far from Melbourne, Walhalla feels isolated – at the end of a windy narrow road, up in the mountains, it is surrounded by peaks and bush. It's not near anything else, not on the way to anywhere, with no good connections to the rest of the state.
The second is population. Walhalla has less than 20 full-time residents. Admittedly, there are quite a few houses here that are holiday homes and are occupied on the weekends. And, these days, a fair few tourists come to visit.
But when politicians are making decisions about things like infrastructure, they see 'less than 20 residents' and make decisions accordingly. The cost of installing electricity just wasn't worth it for a long time.
The history of Walhalla
It wasn't always this way, though. There was a time when Walhalla was one of the most important places in Victoria. And it was all because of one thing. Gold.
In 1862, prospectors discovered gold all through the rocks in this part of mountainous wilderness. With the Victorian Gold Rush at its peak, people were clamouring for opportunities to strike it rich, and there was a feeling this could be the big one.
It was such inaccessible terrain, though. A new settlement right near the discovery was needed to support the mining industry and so Walhalla was born.
As it turned out, this was the big one. It was the largest single reef of gold in all of Victoria and people flocked to Walhalla. Business boomed and at the height of the operations, the town had more than 4000 inhabitants.
A golden era can't last forever, though. The glitter finally fades. And so in 1914 the last of the major mines closed in Walhalla. By this time, though, the amount of precious metal taken from the ground was worth US$950 million in today's terms.
Most of that money flowed into Melbourne, creating the grand buildings along imposing boulevards that you still see today. But Walhalla was not completely ignored, and some of the wealth was spent making the town a comfortable home.
These days, most of the things to see in Walhalla relate to these Gold Rush years, with plenty of heritage left in this gorgeous little community.
Main sights
When you visit Walhalla, you'll have a few options of what to see and do. But, regardless of how long you've got, I would recommend making some time for these key Walhalla attractions.
Long Tunnel Extended Gold Mine
To really understand the gold mining days, head underground to see what the miners saw for those long hours while they toiled away in cold and dark conditions.
You'll get a fascinating insight on a guided tour of the Long Tunnel Extended Gold Mine, which has its entrance not far from the centre of town. Although the tour down the tunnel is only a few hundred metres long, it'll take about an hour to see it and hear all the stories.
Of the gold mines in Walhalla, this one had a mixed history of success. For many years it was unprofitable because the concentration of gold was too low in the quartz that was being mined.
Investors threw in money, like many do during periods of boom, but saw no return and lost it all. But there was always hope for the venture. Eventually, after slowly moving the main tunnel in several directions, they hit the mother lode (pun intended).
When all was said and done, the mine had about 8.5 kilometres of underground tunnels and shafts and went almost a kilometre deep. About 14 tonnes of gold had been extracted and those investors that had stuck with it had become extremely rich.
The tours only take place once a day during the week, and a few times on Saturdays and Sundays, so it's best to book in advance.
Walhalla Goldfields Railway
All the gold being mined here had to get out somehow, but it's not easy terrain to navigate. For many years, it was an arduous task taking mining materials up and down the mountains along a narrow track.
A train had long been planned it took so long to get built that it was only ready a few years before the mines finally closed. It possibly gets more use from tourists these days than it did back in the day!
You can ride a small section of the Walhalla Goldfields Railway, starting at the Walhalla station, travelling downhill over half a dozen bridges, through the valley surrounded by eucalyptus, over a fast flowing river.
Twenty minutes later, at the next station, the train turns around and heads back up. The scenery is stunning and, along with the heritage, makes the trip worthwhile. You'l also be able to have a good chat with the volunteers who run it.
Cut into mountains in parts and crossing over deep gorges, you can't help but think of the isolation of Walhalla as you ride the train back into town.
Walhalla Ghost Tours
As the name suggests, this is one of the spookiest things to do in Walhalla – but don't let that scare you off. Because the story of the town is best told through the people who lived here during the Gold Rush… and this is their opportunity to do just that!
There are plenty of heritage buildings in Walhalla that are said to be haunted and you may just come across one of them – perhaps the Trembath Ghost in the Print Shop, the Poltergeist Horses of Church Hill Road, or the Phantom Band of the Rotunda.
Or your guide will just take you through the history of Walhalla and some of the key identities who once lived here. In a town of so much character, there are lots of stories to tell.
The Walhalla Ghost Tours run on Saturday nights to cater to the weekend visitors who come up from Melbourne. On other nights of the week, you may be able to arrange a special tour if there's a large group of you.
Heritage sites
Just taking a stroll down the main street is one of the best ways to see Walhalla. There are enough original (or restored) heritage buildings here to give you a wonderful sense of the Gold Rush era, when thousands of people would've lived in the community.
Amongst all the things to do in Walhalla's heritage district, there are a few particular places that I want to make special note of.
Walhalla Corner Store & Museum
One of the main heritage sights in Walhalla is the Corner Store, at the top of Main Street, which would once have been a hive of activity when the town was full of miners. It still has lots for sale, but these days it's mainly souvenirs, books, and other items related to the town.
This is also where you'll find the Walhalla Gold Museum, which gives you a glimpse of how things were here a century ago, with many old artefacts and other items related to life here a century ago. In keeping with the tradition, entry is by gold (coin, that is).
Further down the road is the current General Store which, although in a heritage building, sells the modern items you would expect to find in a shop these days like food and newspapers.
The Old Post Office
The old Walhalla Post Office was built in 1886 and is one of the few public buildings that survived the fire in 1888 that destroyed much of the town. It has been restored recently to look almost like its original condition, and the wallpapers inside are considered to be particularly important.
As well as the main post and telegraph office rooms, there's an attached residence where the postmaster lived. The verandah around the building was added later to cope with demand as the town grew and the post office became a very busy spot.
Historic Fire Station
After the devastating fire of 1888 that destroyed most of the town centre, the Walhalla Volunteer Fire Brigade was formed. In 1901, the Fire Station was built to house its equipment.
The quirky thing about the fire station is that it's actually built over the top of the creek, with the water flowing underneath. It may look strange now, but it was done this way because there wasn't enough land anywhere else in the centre of town at the time.
Walhalla Cemetery
It's often said that you can learn a lot from cemeteries, seeing how people died and at what age. The Walhalla Cemetery is no exception.
More than 1100 people were buried here and, looking at the headstones, you can see that it wasn't an easy life being a miner here. "Oh! Let my sudden doom a warning be to all," says one of them of a man who died in a mining accident in 1880.
It's an interesting looking cemetery, rising up a slope and surrounded by natural bushland. There's a staircase to go up and then narrow dirt tracks have formed around the graves.
Walking trails
Most of the sights in the town centre are close to each other, so you don't need to go too far to see everything. But Walhalla is surrounded by breathtaking scenery that is worth discovering – and there are a few walks where you can do that.
Walhalla Tramline Walk
As the name suggests, the Walhalla Tramline Walk traces the old tramline that used to run through town. It's an easy trail that you can make shorter or longer (up to about five kilometres), because you'll need to turn around and come back again at some point.
Part of the Tramline Walk goes through town, but it also takes you past the old mines, through campgrounds, and up to the Chinese Gardens. It's a lovely way to see a bit of the surrounding bush without going too far.
Poverty Point Bridge Walk
For a longer walk, the Poverty Point Bridge Walk is a great one to try. You can even walk from Walhalla to the official start of the trail at the Thomson Bridge Campground, about four kilometres out of town.
The Poverty Point Bridge Walk follows the Thomson River, through dry forest and pockets of lush tree ferns, with the glimmering water nearby the whole time. You'll even spot remnants of heritage like old tramways and dry stone walling.
Once you reach Poverty Point Bridge (also know as the Old Steel Bridge), you can cross over and walk back on the other side of the river. It's eight kilometres return.
Great Walhalla Alpine Trail
The Poverty Point Bridge Walk is just the start of the Great Walhalla Alpine Trail, which in turn is just part of the Australian Alpine Walking Track, which goes for a whole 650 kilometres!
But the Great Walhalla Alpine Trail is only 40 kilometres, and can give you a taste of what the epic long-distance walk might be like as it goes through the snowgums, past wild rivers and along ridges with beautiful vistas.
The trail starts from Walhalla and ends at Mt Baw Baw, in the national park (that I'll talk about in a moment). The walk is designed to be done in two days, but it crosses roads a couple of times, so you could make arrangements to do a shorter version.
Walhalla Goldfields Rail Trail
The final option I want to mention, the Walhalla Goldfields Rail Trail, is technically a cycling trail – so great if you have a bike – but can also be done by foot.
It's only seven kilometres each way and follows part of the narrow gauge railway track that used to connect Walhalla with Moe. It finishes at Erica, which is a lovely destination in itself, which I'll cover in the next section.
In the region
Although I think there are enough things to do in Walhalla itself, there are also a few highlights in the region that you can visit while you're here, using the town as a base or spending a day here before you head off to your next destination.
Rawson
Just 12 kilometres drive from Walhalla, the small mountain retreat of Rawson is a popular base for outdoor activities like bushwalking, mountain biking, and fishing, with easy access to some of the region's natural attractions – especially the collection of large granite tors known as Mushroom Rocks.
Rawson has a population of less than 300 people, after originally being founded in 1977 to house workers constructing the Thomson Dam. There are a few nice places to eat and drink, but it's quite a sleepy place most of the time.
Erica
Close to Rawson, just five kilometres away in fact, is the township of Erica. It has more accommodation than Rawson and is another popular base for people exploring the region.
A popular attraction here is the Erica Mountain Bike Park, which has more than 30 kilometres of trails. Erica also has some heritage buildings in its centre and even a chainsaw museum at the local pub.
Baw Baw National Park
So, as I mentioned, you can walk the 40 kilometres to Baw Baw National Park from Walhalla… but most people would just drive, and it's only about 40 minutes away.
In winter, snow covers much of the park, and trails through the twisted snowgum forests are great for cross-country skiing and snowshoe hikes. But Baw Baw National Park is particularly pretty in spring as the wildflowers bloom.
There's rafting and kayaking in the river, hiking trails, and some Indigenous cultural sites, making this a wonderful alpine park any time of the year.
Staying in Walhalla
In some ways, Walhalla is sleepy – things are quiet here and never in a rush. There's really just one street and only a couple of shops.
But that doesn't mean there are lots of things to do in Walhalla – especially with so much history.
It's worth staying overnight so you've got time to explore properly and enjoy the quiet bush surroundings. It's also a great stop on a road trip from Melbourne to Sydney.
One of the great things is that much of the Walhalla accommodation is a little slice of history itself. Walhalla's Star Hotel is the town's centrepiece when it comes to accommodation and, even if you're not staying here, you might want to pop in for a drink or an evening meal.
To help you plan your stay, I've put together a list of my top suggestions for the best Walhalla accommodation.
The town does have electricity these days but that hasn't changed the town too much. Don't worry – if you're trying to get away from the stresses of modern life, you'll be pleased to hear that it still has very limited mobile phone or internet coverage!
THE BEST ACCOMMODATION IN WALHALLA
Although it's a small town, there are quite a few places to stay in Walhalla – and they all come with a little bit of history.
GUESTHOUSE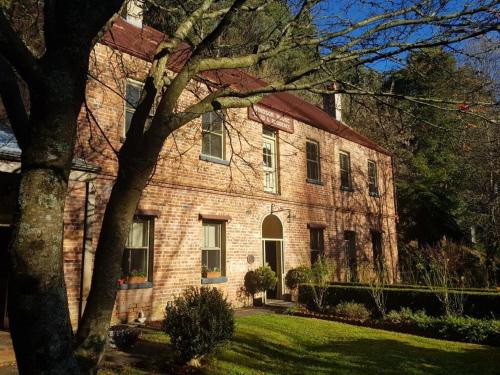 Built in 1890, Windsor House is one of the last original properties in Walhalla and offers five rooms for B&B accommodation.
SELF-CONTAINED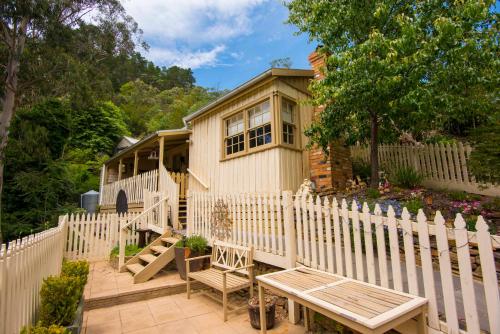 Although it's been renovated, the 1896 cottage known as Walhalla Mill House is a self-contained property and can sleep up to 4 people.
COTTAGE
On the outskirts of town, Stringer's Cottage is a compact self-contained property that's full of charm and authentic heritage.
BOUTIQUE
The most popular option in town, Walhalla's Star Hotel has an original facade but has been rebuilt with boutique suites and an excellent restaurant.