Few people see Cobar as their destination – but many will pass through this small NSW Outback town.
Set right on the Barrier Highway, it's about halfway between Dubbo and Wilcannia and makes a perfect stop to rest for the night, particularly for people do a road trip from Sydney to Broken Hill.
At first glance, Cobar might not seem like much, but there's a fascinating mining heritage (still the town's main industry), a real remote character, and some lovely nearby natural sites.
If you haven't seen it already, you may be interested in my story on the best things to do in Cobar.
When it comes to accommodation in Cobar, there isn't a huge selection and not much of a range of styles. But there are definitely some options that are better than others.
It's worth choosing wisely, even if this is just a quick stopover for you – and if you know what date you'll be passing through, I recommend booking in advance so you don't arrive in the later afternoon and find your top choice is unavailable.
Coming up, I've got my top tips for where to stay in Cobar. But first, you can see what's available on this map:
Now, let me share my suggestions for the best Cobar accommodation.
Best overall
As you can tell from the map, there's only about half a dozen options for places to stay in Cobar, and most of them are motels. They all have safe comfortable rooms but there's one that stands out amongst them all
The first thing that you'll notice is that the Oasis Motel has had a recent renovation and everything is much fresher than you may expect. It's funny how a fresh coat of paint and some new bedding can make a huge difference.
But it's more than just the refresh that makes the Oasis Motel my top suggestions for accommodation in Cobar. There's a level of attention to detail that you don't always find at the other places – thorough cleaning, little treats in the fridge, friendly staff.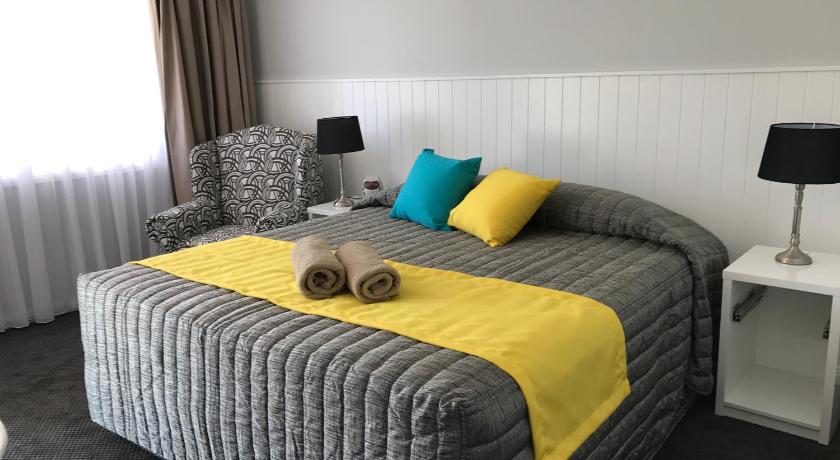 The rooms have a good size bathroom, large desk space if you need to do some work, and reasonably fast wifi.
Oasis Motel is also in a great location right in the centre of town, there's parking onsite, and there's also a basic pool to have a dip on a hot afternoon.
A night in Cobar is normally a quick stopover for drivers, but that doesn't mean it can't be enjoyable and you'll be happy with the warm welcome and good night's sleep you'll find here.
Other motels
When it comes to the rest of the accommodation in Cobar, most options are motels – but that's fine, because it's the kind of thing you're looking for at a pitstop like this. You want to be able to park outside the room and walk to somewhere for dinner, for example.
Here are the other main motels in Cobar for you to consider when you're looking for somewhere to stay.
Crossroads Motel
Because it's off the highway, Crossroads Motel is a bit quieter. It's got clean comfortable rooms and a pool to cool off in.
Copper City Motel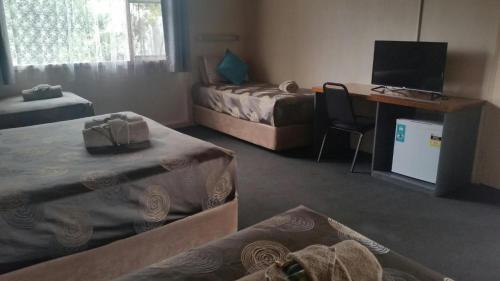 Although I think the other motels are better, Copper City Motel is fine and often has the cheapest rate, so it's a good option if price is an important factor.
Other options
Other than motels, there are really only a couple of other places to stay in Cobar that you can consider.
Cobar Caravan Park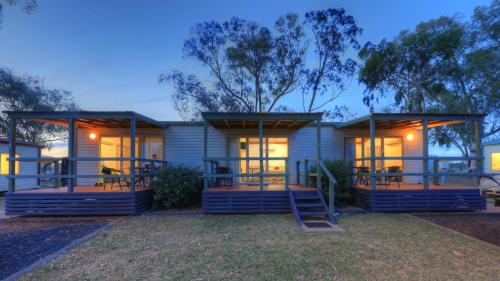 Obviously this is the place to go if you've got a caravan, but Cobar Caravan Park also has nice self-contained cabins – some are pet-friendly and have an extra bedroom for the kids.
And finally, I'm going to mention the Great Western Hotel, which is one of the town's icons (said to have the longest pub balcony in NSW).
It does have some rooms but you can't book them online in advance (and they're not the best in town). It's handy to know in case of emergency so you can always try there if you're stuck.
What I would say, though, is that the pub food at the Great Western is fantastic (huge portions!) and so it's worth popping in for dinner at the very least.