On the long outback drive on the Barrier Highway in New South Wales, Cobar stands out as a town of note.
Between Nyngan and Broken Hill, the dirt turns red and the trees get shorter. The landscape is impressive but the towns are, for the most part, just convenient spots to grab some petrol and stretch your legs.
Except for Cobar. There are plenty of things to do in Cobar and it's worth more than just a rest stop.
If you're going to stay overnight, I've got some tips here for the best accommodation in Cobar. There aren't many options so it's worth booking in advance.
The story of modern Cobar (because, of course, the Indigenous story goes back thousands of years) is all about mining and it begins when copper was discovered here in 1870.
The town grew quickly and, at its peak, Cobar would've been home to about 10,000 people – with 2,000 of them directly working with the mine, one of the largest operations in the world at the time.
But copper lost its value after the First World War and Cobar could've gone the way of many other old mining towns. Luckily the ground here was a treasure trove – gold was discovered here, and a gold mine was opened in 1934.
Since then, mines have opened and closed, with operations focused on gold, zinc, lead, silver… and even copper again!
When you visit Cobar today, you'll quickly realise that mining is still an important part of the town. Lots of people who live here work in the industry, and lots of businesses rely on miners. And running through it all is a strong community spirit.
When it comes to things to do in Cobar, there are a few sights related to the mining heritage, and spending some time around town will give you a sense of the community these days.
Then there are a few spots just out of Cobar that'll get you up close to the natural landscapes and Indigenous history.
I would recommend a full day in Cobar to do it all in a relaxed way. To help with your planning, let me share my tips for the best things to do in Cobar.
Fort Bourke Hill Lookout
The best view in Cobar is from the Fort Bourke Hill Lookout, just out of town. From the viewing platform, you can look down into the New Cobar Gold Mine.
The mine is still operational and you'll likely see some vehicles going in and out of the hole at the bottom of the snaking path. About 200 dump trucks full gets pulled out each week.
From the lookout, which is about 300 metres high, you'll also be able to see out over town and get a perspective of the local landscapes.
The Fort Bourke Hill Lookout is a good place to start your visit for an overview of Cobar – and it's just a short drive out of town.
Peak Gold Mine
If you drive a little further out of town, you'll come across another operational mine – the Peak Gold Mine.
You can't see as much action here because most of the work is happening underground or in buildings, but there is a short heritage trail here called the Golden Walk.
The trail takes you past some old mining shafts and rusting equipment that has been put on display. There are also some information signs and a small lookout at the end, which gives you a view into the main mine site.
Although it's not one of the most interesting things to do in Cobar, it gives you a bit more of an impression of what the mining industry is like here these days.
(There is a note saying that there are plans to redevelop the Golden Walk and improve it for tourists.)
Mining Heritage Museum
The first copper mines founded in Cobar in 1870 were later merged to create the Great Cobar Copper Mine. It's in the centre of town and the welcome sign is built on its slag heap.
You can't see much of the mine these days but the administration building that was constructed in 1912 is still here, on the side of the main road.
In fact, this building is now used as the Great Cobar Heritage Centre, a museum that tells the story of mining in the region and the related expansion of Cobar.
Unfortunately it is closed until mid-2021 for a redevelopment but you can still spot a few things out front and in the outside area beside it.
Cobar Miners Heritage Park
Across the road from the heritage centre is the Cobar Miners Heritage Park, an outdoor area with an interesting collection of items from the region's mining history.
The park is a memorial for the people who have been killed working in the mines, but it is also designed to be educational.
You'll see a restored stamper battery from the Mount Boppy Mine; a 15-metre-high poppet-head from the New Cobar Mine; and a loader from the CSA Mine.
Heritage Walk
All these years of mining have led to the town of Cobar becoming relatively prosperous and it's certainly got a lot more going on than many of the other Outback settlements in this part of New South Wales.
Many of the buildings are historic and have interesting heritage value. You can walk around yourself and see a lot of them, or you can follow some suggestions.
Pop into the information centre when you arrive and grab a free map with the most important buildings marked, and then head along the marked-out Heritage Walk for the best route.
One of my favourite buildings along the way is the Great Western Hotel, which is said to have the longest pub balcony in New South Wales, or the longest wrought-iron balcony in the Southern Hemisphere (depending on who you ask).
Regardless, it's a really interesting building and, inside, you get huge meals and cheap beer. It's a great stop for lunch or dinner and it's usually buzzing.
The Big Beer Can
Speaking of pubs, you won't want to miss the Grand Hotel and it's contribution to Australia's collection of 'big things'. This is where you'll find the Big Beer Can, sitting on top of its verandah.
The Grand Hotel is on the main street and is hard to miss. I suspect that even people who are just passing through stop for a photos because it's one of the best things to see in Cobar.
Centenary of Federation Walking Track
As well as the Heritage Walk in Cobar, there's another trail that's been developed. It's called the Centenary of Federation Walk and goes from the centre of town, out into some of the surrounding land.
It's a lovely path for a walk (if it's not too hot) and you'll get to see a bit of the residential part of town, some of the nature, and some remnants of old mines.
A casual walk along the path would take about two hours but a fast walker could do it in less time.
New Reservoir
One of the main places the Centenary of Federation Walk takes you to is the New Tank, or the 'Newey' as the locals call it, in a typical Aussie way.
This reservoir is a popular spot with locals for swimming, kayaking and other watersports. As a visitor, you're more than welcome and it would be a great spot for a dip after exploring in the heat.
There's also a dirt track around the reservoir which is good for motorbike or mountain bike riding.
Old Reservoir
Before there was the New Tank, there was the Old Reservoir a bit further out of town. It's much larger and is also a really popular spot for locals.
As well as kayaking, there's often enough water to take a boat out on the Old Reservoir. And there are a lot of tracks around here that are good for motorbike riding.
While you're out at the Old Reservoir, follow the signs to Devil's Rocks. This interestingly-shaped rock formation was an important site for the local Indigenous people.
It was considered an evil place and important ceremonies were performed here.
Mount Grenfell Historic Site
And, finally, one of the best things you can do from Cobar is a little excursion to Mount Grenfell. It's about 70 kilometres away and can also be visited when heading along the road to Broken Hill (it's about 30km off the highway).
Mount Grenfell has one of the most important collections of Indigenous rock art in the country. On the caves, there are about 1300 different images, telling the stories of life in the region for millennia.
The rock art is the highlight and it's really worth the trip to see it. But there's also a 5km walking trail that will take you through some of the bush. The landscapes here are stunning.
As you can see, there's a lot that you would miss if you just drove straight through town, like so many people do. There are heaps of things to do in Cobar and it's a great place to have a break if you're doing a longer road trip.
THE BEST ACCOMMODATION IN COBAR
There are only a few places to stay in Cobar, and they all have fairly basic motel-style facilities. But some are better than others, so I recommend booking in advance to secure a room in your preference.
CARAVAN PARK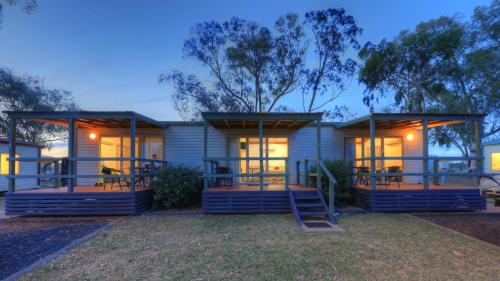 Of course it has sites for caravans, but the Cobar Caravan Park also has nice studios and apartments.
BUDGET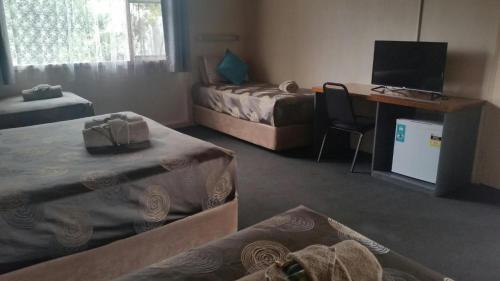 MOTEL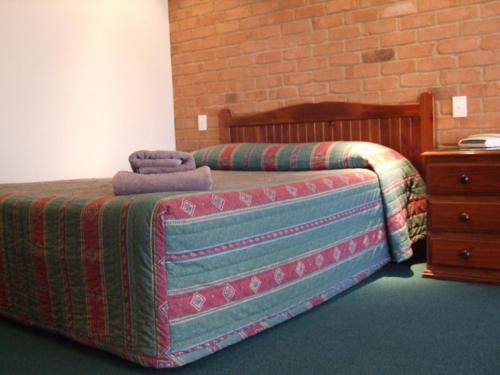 MOST POPULAR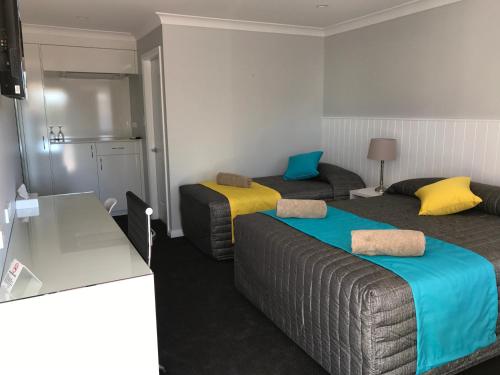 And the Oasis Motel has recently been renovated so is probably the nicest option in Cobar at the moment.