When you visit Braidwood today, it's hard to believe that only recently there was a fight to stop it being protected.
When the NSW Government announced a proposal to add the entire town of Braidwood to the Heritage Register, there was a lot of opposition from people who wanted to see more development and modernisation. But, in the end, those wanting to protect its charm were victorious, and the town was heritage listed in 2006.
I think we should ll be grateful things turned out this way. Because, from a visitor's perspective, the best things to do in Braidwood are entwined with its heritage.
The main street of Braidwood is a beautiful tableau of colonial buildings and historic landmarks – just wandering along the blocks in the centre is like stepping back in time.
And, although what makes Braidwood particularly interesting is how modern touches and businesses have been incorporated into this heritage, it's the story of this region (and the 19th-century colony of NSW, as a whole) that is captured so well here.
Why is Braidwood's heritage important?
Braidwood was the first town in eastern Australia to be heritage listed in its entirety – and this is for a good reason. Before visiting Braidwood, I think it's useful to understand why, because it'll help you appreciate what you'll see here.
The story of Braidwood as a town begins in the late 1830s, when the urban design was dictated by the NSW Governor in Sydney. The idea was to have consistency in the colony's regional settlements, and so the town was laid out with wide streets in a Georgian grid pattern.
About ten years later, in 1851, gold was discovered in the region and the population boomed, while heaps of new buildings went up as a consequence. Hotels, churches, a brewery, and a bank were all among the new constructions that appeared in the fledgling settlement.
While many other towns in New South Wales had this same colonial layout and density of important buildings, few of them retained the style over the decades (or centuries!) of development and modern changes. But Braidwood, for various reasons (including a long recession in the 20th-century), didn't see much new building work, which is why the 19th-century streetscape has been so well preserved here.
It means that what's left here in Braidwood is an excellent (and rare) example of an early colonial town, the way they were administered from Sydney, and the fabric of how it relates to the surrounding pastoral lands.
Not everything to do in Braidwood is about the heritage, but it's certainly a focus, and one of the reasons it's a popular tourist town. But there's lots more here beyond that these days.
Tree-changers have brought a refreshing atmosphere to Braidwood that has seen a revitalisation of the shops along the main street. There are some great art experiences, a new focus on the local food scene, and some cool local businesses to visit.
The locals don't like it being compared to somewhere like Bowral or Berry in the Southern Highlands, and I don't think either is a fair equivalence (Bowral is much busier and Berry is much more touristy). But there are certainly some similarities, so I can see why people say it.
Anyway, I'll let you make up your own mind on that. To help, these are my tips for the best things to do in Braidwood.
Heritage sights
As I've mentioned, the whole town is heritage listed so, when it comes to historical sights, there's not shortage of places to see in Braidwood!
Just walk down Wallace Street and you'll find plenty of interesting buildings, each a thread in the story of the town. If you're interested in a deep dive into the history, then you might like to follow this official Heritage Walk, which includes some of the best Braidwood sights.
There are a few particular places I'll point out, though, to give you some ideas of where to start.
Braidwood Museum
To get a good sense of the town, perhaps start at the Braidwood Museum, run by the local historical society. There's lots of information here about the different eras of Braidwood's growth.
In the collection, there are personal items from early settler families, as well as quite a few artefacts from the gold rush era. There's even a horse-drawn cart with a bullion box that has an exciting bushranger connection!
The building itself is quite interesting too, because it was built as the first significant hotel in Braidwood in the 1840s – although it has been expanded over the years (and even used as flats until it was bought by the society in 1970).
Royal Mail Hotel
At its zenith, there were more than a dozen hotels (pubs) in Braidwood, each with their own characteristics and clientele. A few of them remain today and it's worth having a drink in one of them to get a slice of heritage (and the beer doesn't hurt either!).
The Royal Mail Hotel is not the fanciest these days, but it does have one of the most interesting stories. It was founded in 1890 and served as a staging point for coaches in the gold rush. And in 1969 it was used to film the 'Ned Kelly' movie starring Mick Jagger!
Another great pub is the Braidwood Hotel, which has a Georgian style and an iconic pink exterior. It's definitely a nicer pub and I'll mention a bit more about it in the food and drink section below.
St Bede's Catholic Church
As the main Catholic church in Braidwood, St Bede's is hard to miss with its central location right on the main street. It was built in 1866 and is a beautiful building with lovely grounds.
The bell tower, separate from the main building holds the original bell but is an interesting modern construction that reminds me of the region's mining history. The church isn't always open unfortunately, but it's worth going inside if you can.
Also of interest is St Andrew's Anglican Church, on a side street. Construction started in 1881 and it's built out of granite from the Braidwood region. A quirky feature is the gargoyles at the top, which is quite uncommon for a country church.
National Theatre
It's rather cute that this small regional hall is called the 'National Theatre', but I see it as something charming rather than entitled. There's certainly plenty of history here to make it an important heritage site in Braidwood.
It actually started as a rollerskating rink in 1921 but a couple of years later it became 'The New Electric Theatre', and was the stage for vaudeville acts, films, and even boxing tournaments.
Now, the small visitor information centre is at its entrance and there are regular events like screenings and markets held inside.
Art
There's long been an interesting art scene in Braidwood, with the regional setting attracting people in the creative industries looking for a relaxed escape from the cities.
Studio Altenburg was originally a big driver of this change, but since it was established in the 1970s, new waves of artists have arrived, bringing a range of styles.
Studio Altenburg
You can't talk about art in the town without starting with Studio Altenburg, which is one of the best places to visit in Braidwood.
It was founded in 1978 in an old bank building (from 1888) by Christoph Altenburg, a member of Austria's Habsburg family who had come to Australia for a quieter life (where he was Chris, not Prince Christoph).
He passed away in 2008 but the gallery has continued with new owners, showcasing artists from across the country in constantly changing exhibitions. There's also a well-stocked gift shop within the building.
Other galleries
While there are lots of artists who now called Braidwood home, most don't have their own public studios. It's why you may need to look to some of the town's galleries to find what is on offer.
One of the most popular is Fyre Gallery on the main street. It specialises in works on paper and textiles. Since 2005, it has presented regular exhibitions of local and international artists.
It's also worth mentioning the Braidwood Regional Arts Gallery (BRAG). It's more of a community centre than a professional gallery, but it often has exhibitions from its 130 local members. There are some real gems, so be sure to have a look at what's happening when you're here.
Mona Farm
A relatively new entrant to the Braidwood scene is Mona Farm, an expansive and luxurious estate with six large guesthouses among landscaped gardens. (You could rent just one of them for a weekend, or use the whole property for a wedding, for example).
The reason I'm mentioning Mona Farm in this section is because it also hosts one of Australia's largest private art collections. The contemporary art is hanging on the walls of the guesthouses, so you need to be staying here to see it, but it's quite a special way to see some incredible pieces!
Shops
Walking down the main street doesn't just show you the main historical sights of Braidwood, it also takes you past many of the town's shops – and there are some interesting ones here that are worth noting.
Keep in mind, Braidwood is the main centre for a lot of rural properties in the region, so quite a few of the stores here serve a practical use. But others are aimed a bit more at the visitors who pass through on their road trips.
You'll find most of the best Braidwood shopping by just walking down the main street. But here are a few specific suggestions to look out for:
THE BEST ACCOMMODATION IN BRAIDWOOD
There's only a small selection of places to stay in Braidwood, but there are some really interesting and high-quality options.
BUDGET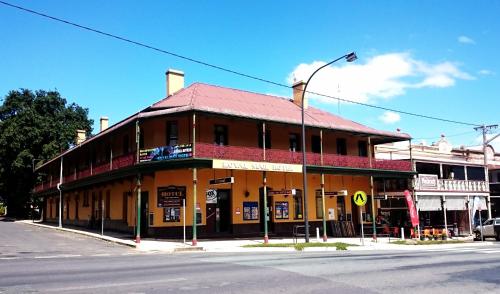 There's nothing special about the rooms at the Royal Mail Hotel, but they're really the only affordable choice in town.
TINY HOME
The 'tiny home' trend has well and truly hit Braidwood, and I think Farm Tiny is the most convenient of the choices here.
LUXURY
The whole setup at Mona Farm is pure luxury and, for travellers just passing through, the Old Stables is the most convenient of the guesthouses here.