A long white (and empty) sandy beach, lush tropical rainforest, relaxed coastal cafes, and waterfalls with swimming holes in the hills. This is Mission Beach in Far North Queensland, a tropical escape where you'll find cassowaries crossing the roads and fruit stalls along the side of them.
If you're flying into Cairns for a relaxing holiday, it's understandable that the last thing you may want to do is jump in the car and drive another couple of hours to Mission Beach. But believe me when I say that it's worth it.
Cairns itself is buzzing city and you can easily base yourself there to explore the reef and the other great tours from Cairns (like rafting and canyoning). With good food and new bars, it feels cosmopolitan, with a bit of vibrancy.
But Cairns is quite a big city – and a very popular tourist destination. You'll be surrounded by large hotels and busy malls, and I think it's worth getting out of town at some point to find somewhere quieter.
Many people head north to Port Douglas and it's also lovely place to go. There are lively bars and restaurants, a nice beach, easy access to the rainforest, and a wide range of accommodation options.
But Port Douglas also has a lot of development. While it doesn't have the tall buildings and in-your-face large hotels of Cairns, you'll never quite forget that you're in a busy tourist town.
And this is why Mission Beach is so appealing. You feel relaxed as soon as you arrive, slipping into the slow pace of village life.
You'll almost have a vast stretch of beach to yourself, you're right on the door of the rainforest, yet there are excellent dining and accommodation options in Mission Beach.
Visiting Mission Beach
Firstly, it's worth giving you a quick explanation about the name of the region. There is a village called Mission Beach but, when we talk about Mission Beach in a general tourism sense, we're actually talking about a stretch of coast of about 14 kilometres that includes four villages in total – Bingil Bay, Mission Beach, Wongaling Beach, South Mission Beach (from north to south).
The largest is Wongaling Beach, which has a population of about 1200 people, and this is where you'll find a supermarket and a few other main shops. The other villages all have less than 1000 residents.
It doesn't really matter where you base yourself in Mission Beach because you'll likely have a car and be able to easily get between the villages. Even if you're not driving, it's only a 30 minute walk between the villages of Mission Beach and Wongaling Beach, for instance.
For the best accommodation in Mission Beach, I would recommend Castaways Resort, with a waterfront location and a fantastic restaurant. For other options, I've got some more tips at the end of the article.
There are quite a few things to do in Mission Beach and I'll go into some more detail about that shortly. But one of the reasons people enjoy coming here is for the relaxation. It's a beautiful area to take things slowly. Don't be afraid just to explore the environment at your own pace.
But Mission Beach is also a good spot to use as a base to visit some of the sights in the region, and for activities like rafting and diving. I'll get into that a bit more soon too.
Getting from Cairns to Mission Beach
The easiest way to get from Cairns to Mission Beach is to drive. Even if you don't have a car, I would recommend renting one for the trip, because you'll be able to explore the region once you're here.
The bonus is that the road trip to Mission Beach from Cairns is actually a highlight in itself. This is not a boring arduous drive – if you stop a few places along the way, you'll discover some of the best of the Cassowary Coast.
I would recommend stopping at Babinda, for example. This charming little town has some delightful cafes for a meal or a coffee – the cream buns at the Babinda Bakery are famous!
While you're there, head a bit further up the road to the Babinda Boulders, where you can go for a swim in a large natural pool and take a walk along the path for views across the spectacular rapids.
Further south, you can also stop at Josephine Falls for a swim and to have a look at the beautiful series of waterfalls.
And then you'll also pass through Innisfail, which has a wonderful collection of Art Deco buildings. All of these stops can take a whole day, and I think it's a good way to make the drive from Cairns an enjoyable part of the visit.
If you don't have a car, there are a couple of companies that will do a taxi transfer from Cairns, but they are quite expensive.
There is a bus service twice a day run by Greyhound Australia that costs just $18 each way, if you book in advance.
And there's a Queensland Rail train five times a week that leaves from Cairns but only goes to Tully ($33 for an adult), so you'll still need to arrange a taxi or a transfer with your accommodation.
The fact that it is a little tricky to get to Mission Beach without a car is perhaps one of the reasons that it has stayed so chilled, while other parts of the coast have become busier.
Things to do at Mission Beach
While it's known for its relaxing atmosphere, there are still lots of things to do at Mission Beach – certainly enough to fill your time when you're staying here. From the sparkling coastline to the verdant rainforest, these are my top tips for what to do in Mission Beach.
The beach
With a name like Mission Beach, of course one of the best things to do here is hit the sand. There are 14 kilometres of coastline here and almost all of it is lined with beautiful golden beaches.
With the tropical palms along the edge of the beach, and the deep blue water on the other, I love just walking along the beach and soaking up the North Queensland environment. It's rarely too busy on the beach, so you'll also be able to find a spot for a sunbake.
The water is warm and you'll be keen for a dip, I'm sure. You'll find some smaller and more secluded beaches around Bingil Bay – Brookes Beach and Garners Beach, for example. For families, you may prefer to head to North and South Mission Beach where there are life guards during busy periods.
As well as life guards in those stretches, there are stinger resistant enclosures to protect you from the dangerous jellyfish in the warmer months. Make sure you get advice about swimming anywhere during that period.
Crocodiles are less common at Mission Beach than further north, but you still need to be careful here. Rather than give you any specific advice about whether it's safe to swim, I recommend you always ask a local for the latest safety warnings.
Kennedy Walking Track
Even if you're not keen on swimming or sun baking, there's a fantastic way to enjoy the beaches of Mission Beach – and that's the Kennedy Walking Track.
The trail is about four kilometres each way and takes you along the beaches and through the fringes of the rainforest. Looking inland, you'll see epic ferns and maybe some wildlife; looking to the water, you'll get rocky headlands and views across to the islands.
The Kennedy Walking Track officially starts at the southern end of South Mission Beach and heads along Lugger Bay until it reaches a nice viewpoint on the headland. You can then continue along the extension to Hull River, which is another three kilometres each direction.
Dunk Island
Look out across the water and you'll be able to see Dunk Island, one of the gems of Mission Beach. It's definitely worth adding a visit to your itinerary.
This small tropical island once had a resort here but it was so damaged in a 2011 cyclone that it hasn't reopened since. It means there are very few people and you can explore it almost as though you've got it to yourself.
Dunk Island is mostly national park and it has walking trails through the forest – the best is the steep 7 kilometre (return) trail to the top of Mount Kootaloo for stunning views.
One of the other popular things to do in Dunk Island is go snorkelling off the coast to see the fish and corals – or you may just prefer to relax on the beach.
You'll need to bring everything with you for the day – including food (there are water taps to fill up, but I recommend bringing some, just in case).
To get to Dunk Island, you can take this water taxi from Wongaling Beach for $40 return (children aged 4-14 are $20).
Great Barrier Reef
Although Cairns is famous for trips to the Great Barrier Reef, Mission Beach is actually closer and makes for a great base to explore this natural wonder. The disadvantage, though, is that there isn't a lot of variety in tour options.
The best way to see the Great Barrier Reef from Mission Beach is with Mission Beach Dive, a local operator that offers serious dive trips – or just a fun day out on a boat.
The custom built Reef Goddess boat is very comfortable and not as hectic as some of the large tourist boats out of Cairns. The full day snorkel trip will take you to a couple of scenic underwater locations on the outer reef.
See some cassowaries
Back on land, cassowaries live all along the North Queensland coast but one of the easiest regions to spot them in the wild is Mission Beach. (There's a reason this region is called the Cassowary Coast.)
These beautifully terrifying creatures are a stark reminder that birds evolved from dinosaurs, with their blue and red necks, sharp claws, and distinctive headpiece.
There is no particular spot where you're guaranteed to see a cassowary in Mission Beach but keep an eye out and ask the locals for any recent sightings. There are quite a few and there's a good chance you'll be able to find one.
Just remember not to get close to a cassowary. They can be very dangerous if they feel threatened or are protecting their young. Normally, though, they're quite wary of humans and will just walk away from you.
Charley's Chocolate Factory
The humid climate and the rich soil around Mission Beach are ideal for certain types of agriculture and one of the things that can thrive here is cocoa. It's why Chris and Lynn Jahnke decided to plant cocoa here in 2012.
But rather than just grow the cocoa, Charley's Chocolate Factory does every part of the process until it becomes a chocolate bar, ready for you to eat. Don't expect a big factory, though – this is a relatively small and sustainable operation, which makes it all the more fascinating!
Of course, you can buy some chocolate at stores around town, but there's also a tour of Charley's Chocolate Factory that is really interesting (particularly for kids, who may not realise where their favourite treat comes from).
The tours are run just twice a week, so check the Charley's Chocolate Factory website for more details.
White water rafting
It's said that some of the best white water rafting in all of Australia is just near Mission Beach, on the Tully River.
As you float down through World Heritage rainforest, there are some incredible grade 3 and 4 rapids to navigate, with the kind of names you would expect from this kind of white water (Alarm Clock, Zig Zag, and Minefield, for example).
Of course, the rafting trips are fully guided with plenty of safety equipment and instructions. It's a fun day out for everyone!
I would recommend either a half-day or full-day trip with Wildside Adventures.
Skydiving
And if you're looking for even more adventure, why not jump out of a perfectly good plane!
From Mission Beach, you can do Australia's highest jump – starting at 4,500 metres (15,000 feet) for about 60 seconds of freefall.
Of course, the view is incredible as you look out across the water with its islands and the Great Barrier Reef, plus the rolling mountains covered in rainforest.
You can book a tandem skydive here, with Skydive Australia, with a guaranteed landing right on the beautiful sandy beach!
Sights around Mission Beach
As well as the things to do in Mission Beach itself, the coastal location is a good base to explore some of the other highlights of the region. Having a car is particularly useful to be able to get to some of these other attractions around Mission Beach.
Paronella Park
Paronella Park is one of the quirkier attractions in North Queensland – an enormous garden of castles, fountains, and artworks that seems so out of place that it takes on an even more magical atmosphere than its landscaping presents.
The story of Paronella Park is one of love and sacrifice. It was founded by Spaniard José Paronella, who opened it to the public in 1935, who would come to watch movies, have picnics, see the museum, and all sorts of other festivities.
When José died in 1948, his wife Margarita continued the dream and the park stayed in the family until 1977. That could've been the end of it, but it passed between a few owners until Mark and Judy Evans bought it in 1993 and turned it into the wonderland you find today.
It's easy to spend a few hours at Paronella Park, starting with the free guided tour and then exploring all its little quirks yourself. You can buy a ticket in advance here, or save some money with this combined ticket with the nearby Mamu Tropical Skywalk.
Mamu Tropical Skywalk
The Mamu Tropical Skywalk takes you through the whole range of the rainforest, from the floor up into the canopy, on a series of elevated walkways that lead through the Wooroonoon National Park.
As well as the main elevated walkway, there's an observation tower that offers spectacular views across the landscapes, teeming with life in an environment that's been named as a World Heritage Site.
The whole walk – including through a forest track – is about 2.5 kilometres long and takes about an hour. There are information signs along the way, as well as an audio guide, so you'll learn lots about the rich ecosystem of the rainforest.
You can book a ticket in advance here, or there's the combined ticket with Paronella Park, that will save you a bit of money.
Innisfail
The Queensland town of Innisfail doesn't normally get much attention, but it's actually a lovely little place that is worth a visit for at least a few hours.
The most notable thing about Innisfail its its architecture, because the town is full of striking Art Deco buildings – in fact, it has the highest concentration of them in Australia.
Wander the colourful streets and you'll see many of them – but make sure you don't miss the Johnstone Shire Hall. The Innisfail Museum gives you some background about why there are so many, as well as other interesting history.
Josephine Falls
If you feel like a swim but the beach is not your thing, one of the best places to visit around Mission Beach is Josephine Falls in Wooroonooran National Park.
The water for these falls flow down from rain on Queensland's highest peak, Bartle Frere, and is so crisp and fresh. The waterfalls are generally note too strong, so you can swim and play in the pools that are formed amongst the rocks downstream.
On a warm day, people often bring along a picnic and hang out here for a few hours. It's definitely worth a bit of time and, especially if you're spending most of your holiday on the beach, it's a nice change.
Where to eat at Mission Beach
Although it's not big, there are quite a few good places to eat in Mission Beach, because there are enough hungry visitors who don't want to cook in the evening!
I've got a few suggestions for my favourite food spots in Mission Beach, but don't be afraid to try some of the others or ask the locals for their recommendations.
One little warning I would give, though – a lot of the cafes and restaurants close relatively early after lunch, so make sure you don't spend too long at the beach if you're hungry!
Bingil Bay Cafe: The wonderful Bingil Bay Cafe is open for breakfast, lunch, and dinner and is one of the few places you can go to all day (although it closes at 8pm). It does a delicious menu with pizza and seafood as the specialties (you won't be disappointed with the seafood laksa!).
There are tables inside and outside, plus a quirky design that offers good vibes and a welcoming atmosphere.
Shanti Cafe: In the heart of Mission Beach, Shanti Cafe is a relaxed space that is great for breakfast and lunch, with modern dishes and great coffee.
Spicy Thai Hut: If you feel a craving for some Asian food, then Spicy Thai Hut is the best in town. It's got authentic dishes and a large comfortable seating area that makes the most of the warm weather.
Buko: There's no doubt that Buko is the nicest restaurant in town, with healthy breakfasts, lunches that suit the climate, and dinners as akin to fine dining as you'll find anywhere along the coast.
Buko is within the Castaways Resort, but you don't need to be a guest to eat here. The menus change regularly to make the most of seasonal produce so I would always recommend going with the chef's suggestion!
THE BEST ACCOMMODATION IN MISSION BEACH
I would recommend being near the beach if you don't want to be constantly jumping in the car to head to the water or restaurants.
BACKPACKER
There's always something happening at the Jackaroo Treehouse, a fun hostel surrounded by rainforest.
BED & BREAKFAST
You're likely to see a cassowary in the garden of Licuala Lodge, which has a fabulous location and feels like a home away from home.
SELF-CONTAINED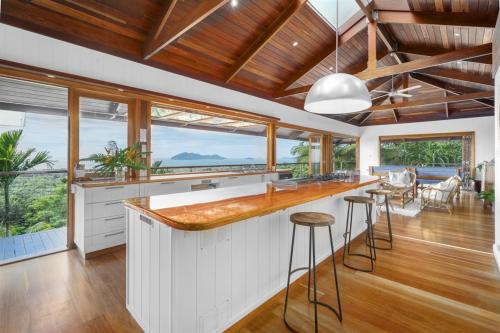 For a reasonable price, you can rent Stu's Lookout, an incredible 4-bedroom house with a modern design and an epic view!
LUXURY
The best resort-style accommodation in town, Castaways Resort has a waterfront location, a lovely pool, and a fantastic restaurant.