It may be the islands that are the real attraction of the Whitsundays, the beautiful patches of lush green in the turquoise water. But, for many people, it will be the town of Airlie Beach that will be their base for a trip to the Whitsundays – and thankfully there are lots of things to do in Airlie Beach.
Of the 74 islands of the Whitsundays, only eight are inhabited and the resorts and hotels on them are generally quite expensive and can get booked up in peak seasons.
Airlie Beach, the closest town on the mainland to the islands, has a much wider range of accommodation and is a very convenient place to stay. For this reason, it's the launchpad for many of the tours and experiences across the region.
In other words, you don't need to be staying on the islands to visit the islands.
There are plenty of things to do at Airlie Beach itself and the mainland around it but, when you're planning your trip, I would suggest you also think about all the activities on the water as Airlie Beach attractions as well.
There are some famous parts of the Whitsundays that you'll hear people talk about – Whitehaven Beach, for instance – and lots of tours will take you there. But remember that there are 74 islands in total and lots of areas that are really beautiful but won't have the crowds.
Before I go into some more details about the best things to do at Airlie Beach, I would suggest that you have a think about what kind of trip you want to the Whitsundays. Do you want to just visit the famous parts or do you want to explore a bit more? Is it about relaxing or discovering fun experiences.
There are lots of options to explore this Queensland gem and some of the most interesting things to do at Airlie Beach are not necessarily the most obvious.
Let me run you through some of my favourites:
On the mainland
Although it's the water and the islands of the Whitsundays that are the big attractions, the mainland also has a lot to offer. So I want to start by suggesting a few things to do in Airlie Beach that you can easily do from your accommodation.
Airlie Beach Lagoon
When you get to town, it's hard to miss the Airlie Beach Lagoon, the large pool complex right on the waterfront. It has a large pool for swimming laps and smaller areas for playing around and for kids to stay in the shallows.
The best thing of all is that it's completely free. And, even more than that, there are lifeguards and other staff there to make sure everyone stays safe and happy.
With grassy knolls to sunbake and other areas to sit in the shade, it's a wonderful way to relax at Airlie Beach and enjoy the views across the water.
Boathaven Beach
If you would prefer to swim in the sea, but don't want to make the trip out to any of the islands, the nicest of the beaches in Airlie Beach to visit is Boathaven Beach, just a few minutes walk east of the main street.
Boathaven Beach is a true all-tide beach, which is very useful when you see how much the water goes out during low tide at the main beach (I don't really recommend swimming there).
Bicentennial Walking Track
Another beach option is Cannonvale Beach, which is at the end of the easy Bicentennial Walking Track, which goes along the coastline from Airlie Beach.
It's only four kilometres long and is pretty much flat the whole way, so it's hardly a hike. But it has beautiful views the whole way along and passes cafes and restaurants where you can stop for a drink or a meal.
You can have a swim at the end – and it's worth doing for that – or you can just enjoy the lovely stroll.
Conway National Park
Conway National Park takes up most of Cape Conway and many parts of it are easily accessible from Airlie Beach.
There are steep rock cliffs, hoop pines along the coast, and even dense tropical rainforest. The hikes in Conway National Park take you to all of these – as well as mangroves and woodlands.
From Airlie Beach, you can walk to the start of the Conway Circuit Track, which is a 30 kilometre trail that's not actually a circuit. This is a multi-day hike with camping areas along the way.
An easier way to see the park is to drive for about 10 minutes towards Shute Harbour, where you'll find a couple of walks near the coast and the popular hike up to the top of Mount Rooper for great views across the water.
Restaurants and nightlife
Speaking of eating and drinking, Airlie Beach has a vibrant dining scene and a busy nightlife with a great range of options. The town attracts a diverse group of tourists and the restaurants reflect that – from cheap takeaway to fine dining.
For a healthy (and delicious) brunch, I would recommend Cafe One 3, which is very popular with the locals.
With fresh seafood and a rum bar, Fish D'vine is an Airlie Beach institution.
For sophisticated casual where woodfired pizzas are the specialty, there's Sorrento Restaurant and Bar.
And one of the top restaurants in Airlie Beach is The Rocks at the recently redeveloped Coral Sea Resort hotel.
There are also quite a few pubs and clubs along the main strip. Most of the nightclubs are aimed at the backpacker market, but the pub at the Airlie Beach Hotel is a fun gathering place for everyone.
Bowen
And, although it's not in Airlie Beach itself, you may want to consider doing a day trip to Bowen, a small town about an hour's drive north. It was at one point considered to be the capital of North Queensland, so has plenty of heritage – but it's the beaches that are the real highlight.
You can also stay for a night or two, because there are plenty of things to do in Bowen, including a couple of lovely walking trails. If you're doing a road trip north, certainly consider stopping in on your way.
On and in the water
The water at Airlie Beach is dazzling and you won't be able to resist getting in it (or on it, at least). It sometimes seems like the whole town has been designed to enable your water experiences, so there are quite a few options to choose from. Here's what I would recommend.
Snorkelling
Although you could go snorkelling off the beaches on the mainland, it's a much better idea to head out a little further to the islands and the reefs. After all, you didn't come all this way to not see the Great Barrier Reef, did you?
There are lots of tours from Airlie Beach that take you out to different parts of the Whitsundays and many of them will involve some snorkelling. I would particularly recommend this tour with Ocean Rafting – make sure you choose the Northern Whitehaven option.
Even if you've never done it before, it's so easy to put on some goggles and a snorkel and find yourself in the underwater wonderland. If you're not a confident swimmer, you can even do it with a lifejacket or other flotation device.
Scuba diving
Of course, to see even more of the Great Barrier Reef and the marine life, you'll need to do some diving in the Whitsundays. For either beginners or accredited divers, there are some great operators based in Airlie Beach.
For simple day trips, the diving operators in Airlie Beach tend to partner with other boat tours. This is quite handy if you're in as group where not everyone wants to dive. For example, you can add on a dive to this Cruise Whitsundays tour.
If you know what you're doing, you can hire scuba gear from Aquadive and do the rest yourself. Or a fun way to do some serious diving is on this three-day sailing trip in the Whitsundays.
Jet ski
For a bit of a thrill, get up some speed on a jet ski in the waters of the Whitsundays. It's a super fun way to explore the islands and see the landscapes around Airlie Beach.
There are a few options to go jet skiing from Airlie Beach but I would recommend this trip with Whitsunday Jetski Tours. It's about two hours long and will take you out to Daydream and South Molle Islands, with lots of interesting info from the guide.
If you're lucky, you'll even spot some turtles and dugongs – and during the migration season, possibly humpback whales!
Learn to sail
If the sight of all the boats gets you inspired, the Whitsundays is a great place to learn to sail! Of course, this isn't something that you can just do in a couple of hours, but you might like to set aside the time to do this properly.
The introductory course takes two days, and the next level up takes five days. But if you have a love of being out on the water, it's a wonderful way to have a holiday!
You can find out more information at Mainstay Sailing, which is the operator I would suggest at Airlie Beach.
Sunset cruise
After a busy day (or not so busy day, even), why not unwind with a relaxing sunset cruise in the Whitsundays. The colours are incredible as the sun goes down, painting the sky with oranges and purples, the islands glowing all around you.
There are a few different options, depending on exactly what kind of boat you would prefer. For an easy option, there's this casual cruise on a converted catamaran, which doesn't go too far from shore.
I really like this catamaran tour, which includes all the food and drinks on a comfortable boat. And there's also this sunset cruise on a proper sailing boat, which has a fantastic ambience.
The best tours
Unless you've got your own boat (wouldn't that be nice?), you're going to need to go on tours to explore the Whitsunday Islands and get to some of the best spots. Luckily there are lots of different boat tours and you should definitely join at least one of them – it's one of the best things to do in Airlie Beach.
To help you plan, and so you can book in advance to guarantee a spot when you're visiting, here are my tips for the best tours from Airlie Beach.
Cruise Whitsundays
One of the biggest tourism companies at Airlie Beach is Cruise Whitsundays and it has a range of boat trips, allowing you to choose something that's right for you. There's a catamaran for a whole day, a relaxed trip to Whitehaven Beach, a half-day cruise, and much more.
You can see all their options here, where you can also book them. The tours are quite mainstream which is great for families and relaxed travellers.
Ocean Rafting
If you're looking for a bit more adrenalin, then Ocean Rafting might be the answer. Don't be fooled by the name – it's not really a raft. You'll actually be on a speedboat that is able to zip you between the islands much faster than other types of boats.
The best tour is this one and what I love about it is that you'll experience a few different activities. As well as the boat ride itself, you'll do a hike in the national park on Whitsunday Island, spend time on Whitehaven Beach, go snorkelling, and even get lunch included.
If you've only got one day to do a general tour from Airlie Beach and you don't mind being a bit active, this is the one I would recommend.
The Thundercat
Another speedboat tour that I would recommend is the Thundercat, which also takes you out to Whitsunday Island and to the famous Whitehaven Beach.
You'll get to go hiking in the national park, snorkelling (with equipment included), and see some of the beautiful scenery on the water and the islands. It's a full day tour and they pack in as much as possible!
Lunch is also included and the guides are lots of fun. You can see more here about the Thundercat speedboat tour from Airlie Beach.
Whitsunday Paradise Explorer
There's a lot more to the Whitsunday than just the nature – there's also a strong cultural element and you can explore the Indigenous heritage with a special tour from Whitsunday Paradise Explorer.
On the Ngaro Indigenous Cultural Tour, you'll be on a small boat with an Indigenous guide who will show you some of the sites on the islands that are significant to the local Ngaro people. You'll also hear lots of stories and be able to get involved in some traditional activities like spear fishing.
The story of the Ngaro people after European settlement is quite unpleasant because they were rounded up and moved from the Whitsundays to Palm Island in the mid/late 1800s. But it's great the heritage is being kept alive with tours like this.
Multi-day sailing
If you've got a bit of time, a really fun way to see the Whitsundays is on a sailing ship for a few days. Most of the tours from Airlie Beach tend to be aimed at a younger crowd, but they're suitable for anyone who's fit enough.
A really great option is this sailing trip with ProSail where you can choose from either two night or three nights. It's amazing how much more relaxing it is knowing that you don't have to go back to a hotel that afternoon, and that you're just going to sleep on the boat.
There is no set itinerary for these trips because it depends on the weather, the tides, and even the interests of the group. But expect lots of swimming, snorkelling, sailing, and chilling out!
Scenic flight
And, if you think the Whitsundays look good from the ground, just imagine how they look from the air! Luckily, you don't have to imagine anymore – because one of the best things to do in Airlie Beach is take a scenic flight.
The flights are fantastic because they head all the way out over the main islands to the outer reef. You'll see the grassy hills and beaches, but you'll also get an incredible view down to the reef, through the beautiful clear water.
You can book the flight here (with free pick up from your accommodation). The highlight for many people is seeing Heart Reef, the small island in the shape of a heart that everyone falls in love with. But I thought it was really special to see some whales swimming nearby!
The famous islands
There are a lot of islands in the Whitsundays (74, to be exact) and the main tours from Airlie Beach tend to only focus on a few. Most of the other islands are uninhabited, so offer really special natural experiences if you can get there. The islands with resorts are also wonderful to visit for their resort activities.
Whitsunday Island
The largest island in the group is Whitsunday Island, and this is one of the main ones that boat tours from Airlie Beach visit.
On the southeastern side of the island is the famous Whitehaven Beach, considered to be one of the most beautiful beaches in Queensland with its bright white sand and long sweeping arc.
The inlet at the northern end of the beach also offers some of the most iconic images of the Whitsundays, with swirls painted by the course of the water contrasted against the sand.
A popular part of the island is around Hill Inlet, where a walking trail takes you up to stunning viewpoints. There are a few other walking trails on Whitsunday Island, including the five-kilometre-return hike to Whitsunday Peak.
Long Island
The closest island to the mainland is Long Island, which perhaps doesn't get as much attention as it should. At nine kilometres long, it has some epic walking trails that you can tackle, plus little beaches along the way to stop and swim.
There's a boat transfer from the mainland that only takes about 20 minutes and, while it's mainly used by guests of the island's accommodation, there's no reason why you can't use it to go over and explore independently.
Having said that, you might actually want to consider staying at the accommodation at Long Island. Long Island Resort in Happy Bay at the north of the island has been abandoned for years and is rather eerie, but there are two other good options.
There's the Palm Bay Resort, which offers self-catering and is a very affordable option (particularly for families) that gives you a tropical island experience for a fraction of the price.
And at the southern end is the Elysian Retreat, which is secluded, small, very eco-friendly, and super luxurious. It's one of the most exclusive resorts in the Whitsundays, although many people have never heard of it.
Hook Island
Hook Island is another of the largest islands in the Whitsundays group and it has some impressive natural aspects.
The beaches here are beautiful and you might find some boats anchoring near the swimming spots. The northern coast has some impressive coral reefs, so is popular with snorkellers and divers.
There's an Indigenous cultural site on the island – a cave that has Ngaro artwork on it. A walking trail from Nara Inlet takes you to a viewing platform at the cave's entrance.
There used to be affordable accommodation on the island at the Hook Island Wilderness Resort, but that's been closed for quite a few years now unfortunately.
Hamilton Island
You know where there is accommodation? At Hamilton Island, the most famous and most populated island in the Whitsundays. This is a true resort island, with its own marina and even its own airport (you can fly direct from as far as Sydney and Melbourne).
Aside from the obvious things to do on Hamilton Island like swimming and hiking, the island has lots of other activities including quad biking, golf, and a bowling alley.
You can visit Hamilton Island for the day and use the resort facilities with the Whitsunday Islands Hopper Pass from Airlie Beach, which is a great way to experience the luxury without staying there. (The pass also includes Daydream Island.)
But you might want to consider staying on Hamilton Island – and it does have a range of accommodation options.
The Palm Bungalows have self-contained units that are good for families or groups. The Reef View Hotel has standard hotel rooms with beautiful vistas across the water. For a more boutique experience (with no children), there's the Beach Club. And then there's the ultimate luxury at qualia, one of the best resorts in Australia.
Daydream Island
Another of the famous resort islands in the Whitsundays is Daydream Island, but it's much smaller than Hamilton Island and is less than a kilometre long.
There's not too much forest left on Daydream Island because much of the land is used by the two resorts at either end. But the beaches are lovely and it still has a relaxed tropical feel.
One of the resorts is for overnight guests, and you can find lovely rooms at the Daydream Island Resort, if you would like to stay.
The other one is for day guests, who can use the pool, sun lounges, restaurant, and bars. Because this area is focused on day visitors, it can feel more welcoming than Hamilton Island. The transfer and day pass is included in the Whitsunday Islands Hopper Pass from Airlie Beach.
Hayman Island
I also want to mention Hayman Island which is a private resort island that had a rather large refurbishment a few years ago. It's now a five-star accommodation that you can't get to as a day visitor.
If you're looking for a secluded and special place to stay, this is certainly it. You can see the various room options here, which offer a range from luxury to uber-luxury!
One of the things I do really like about Hayman Island is that the resort only takes up a small part of the island, so there's still plenty of nature here to explore.
Other things
If all of that isn't enough, there are a few other things to do in Airlie Beach that I want to mention. This is certainly a place that has no shortage of activities, regardless of whether you want a relaxing or an active holidays.
Drive out to Cedar Creek Falls, about 30 kilometres from Airlie Beach, where you'll find a waterfall and a natural swimming pool. It's a wonderful place to refresh on a hot day, and gives you a bit of a change of scenery to the islands.
Rather than take a boat out to Whitsunday Island, you can go on this helicopter tour that will give you a scenic ride above the water and then land on Whitehaven Beach, to see the sand up close.
While the planes and helicopters are very comfortable, some people feel the need to jump out of them apparently – and so, if you want to go skydiving, there are options for that in Airlie Beach too. I would recommend this tandem skydive for an exhilarating experience with an incredible view!
And to get away from the crowds, you can head about 50 kilometres from Airlie Beach to Hydeaway Bay, a real hidden gem. A tiny coastal hamlet on a long stretch of white sand, this feels like a remote beach holiday where you can go swimming and snorkelling all day long.
THE BEST ACCOMMODATION IN AIRLIE BEACH
You don't need to be on one of the islands of the Whitsundays to find beautiful accommodation with a coastal view. There's plenty here on Airlie Beach.
BUDGET
Set amongst tropical gardens, Nomads Airlie Beach may not be the most modern, but it's got a fun coastal feel to it.
GUESTHOUSE
It's the friendly welcome that makes Airlie Guest House so popular – but the homely vibe and beautiful views certainly help too.
SELF-CONTAINED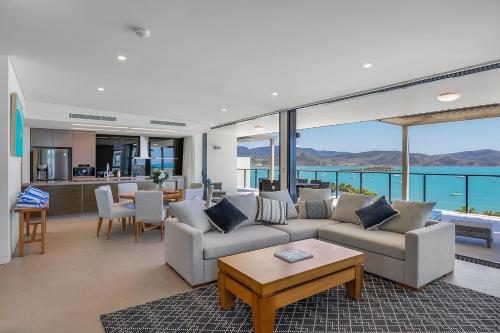 You'll have the best of everything at Mirage Whitsundays, with self-contained apartments in one of the most luxurious accommodations.
LUXURY
The location is perfect and the pool is divine at the Coral Sea Marina Resort, which has a luxury – but casual – atmosphere.