There's no doubt that Queensland is pretty epic – and driving up the Queensland coast is one of the best ways to explore the state, with a Brisbane to Cairns road trip taking you to incredible beaches, tropical islands, quirky communities, and a whole lot more!
The drive from Brisbane to Cairns is about 1700 kilometres and takes about 20 hours on the road in total, so you're going to have to stop at a few places along the way. Luckily, there are plenty of amazing places to stop between Brisbane and Cairns.
As you head north, you start by passing some of Queensland's best beaches along the Sunshine Coast, before reaching Hervey Bay and Fraser Island. The route then goes through cities like Bundaberg, Rockhampton, and Mackay, before reaching the glittering Whitsundays.
Heading further north, the rainforest starts to appear and the Great Barrier Reef becomes even more of a presence, through Magnetic Island, Mission Beach, and then up into the final destination of Cairns.
There's certainly no point rushing a Brisbane to Cairns road trip. To be honest, if all you want to do is get between the cities, you're better off flying. The drive to Cairns should actually be seen as a good opportunity to experience the best of the Queensland coastline.
There'll be plenty of crocodiles along the way (although you may not see them), plus a few cassowaries. You'll see kangaroos on the beach, vibrant coral on the reef, and maybe some whales depending on when you're doing the drive.
And, although the natural beauty of Queensland is important, the Brisbane to Cairns drive is also a good way to learn more about life in the north of Australia, from the sugar cane farmers, the early settlers, and the Indigenous cultures that have been here for thousands of years.
How long does it take to drive from Brisbane to Cairns?
The drive from Brisbane to Cairns is about 1700 kilometres and would take about 20 hours if you just drove straight through. However, most tourists see the advantages in stopping along the way and develop a much longer Brisbane to Cairns road trip itinerary.
For a holiday driving up the Queensland Coast, it can take anywhere from 4 days to 10 days of actual driving, plus all the extra days to explore the places where you stop and stay a few nights.
Is it worth driving from Brisbane to Cairns?
If you want to see the best of Queensland, then it's definitely worth driving from Brisbane to Cairns. It's along this stretch of coast that you'll find most of Queensland's natural wonders, plus the scenery between them is beautiful.
There's also plenty of heritage and cultural attractions on the drive from Brisbane to Cairns, and you're going to miss most of them if you just fly between the two cities, or don't take the time to stop regularly along the way.
Where should I stop driving from Brisbane to Cairns?
There are a lot of places to stop along the drive between Brisbane and Cairns, and no set itinerary that everyone follows.
The most popular stops on Brisbane to Cairns road trip are the Sunshine Coast, Hervey Bay, Airlie Beach, and Mission Beach. But other good places to stop driving are Bundaberg, Rockhampton, Cape Hillsborough, and Townsville.
Is there a train from Brisbane to Cairns?
Yes, there is a train from Brisbane to Cairns and it's called The Spirit of Queensland. The train goes five times a week (in each direction) and takes about 24 hours to get between Brisbane and Cairns.
Although the train does stop at quite a few of the main attractions along the Queensland coast, the arrival and departure times can be quite inconvenient, so I wouldn't advise using the train to try to replicate a road trip from Brisbane to Cairns. But it could be useful if you just wanted to stop at just one or two places along the way (such as Hervey Bay or Airlie Beach).
For every traveller, a road trip between Brisbane and Cairns is going to be slightly different. That's because you can make as many stops as you want, and take as long as you want.
If you're in a hurry (but still want to see a few things), you could do the drive to Cairns in a comfortable four days. Some people will take two weeks. Some will take two months!
With this itinerary for a Brisbane to Cairns road trip, I've put together a plan that has nine days of driving. But that doesn't mean your trip will take nine days. You'll want to stay a couple of nights in at least a few of these places – particularly Airlie Beach, Hervey Bay, and Townsville.
So, I would recommend you aim to do the Brisbane to Cairns drive over the course of two weeks. You may even want to add in a couple more stops than just the ones I've included (I'll give you some other options as we go through the details).
Most of the road trip stops that I've chosen are because they highlight the best things to do along the Queensland coast. For this reason, you'll see that some days only have relatively short drives between destinations. Don't worry. Embrace this. You'll be grateful for the time you're not on the road!!
There are also a couple of stops I've included for practical reasons, to break up uncomfortably long stretches of driving. There are still things to do at these destinations, but I'll point them out so you can make a decision about whether you would prefer just to push through and spend more time elsewhere.
You can see the route that I'm going to recommend on the map below:
As you can see, the route is really straightforward – you just keep driving north up the highway! The key to designing the perfect Brisbane to Cairns road trip is about knowing where to stop.
With this itinerary, you'll be able to snorkel on the Great Barrier Reef and sleep on a tropical island. There'll be a rum tasting, and kangaroos on the beach at sunrise. You can take a speedboat to the whitest or white beaches, and four-wheel-drive on the sand amongst the dingoes.
There are so many adventures on this route and it truly is one of the best Australian road trips. So, let's get into it!
Day 1
Brisbane – Noosa
2 hours of driving (140 km)
The start of the drive will see you head north out of Brisbane, possibly dealing with some peak hour traffic if you leave in the morning, through the suburbs, and finally out to the highway up to the Sunshine Coast.
This region is popular with Brisbane residents for day trips and weekenders – and it's easy to see why. It's not just the proximity, but the variety of things to do, from the lush hinterland, down to the beautiful beaches, and plenty of fresh produce (particularly fruit) along the way.
There are some things to see even before you reach the Sunshine Coast, including the Glass House Mountains and Australia Zoo at Beerwah.
On today's drive…
Depending on where you want to stay the night, there are quite a few different turn-offs from the main highway you can choose. If you stay on the highway until Woombye, you'll be able to see the Big Pineapple (great for Aussie road trip photos). And if you continue on to Eumundi, the famous Eumundi Markets are on Wednesdays and Saturdays.
Although the name evokes images of beaches, the Sunshine Coast hinterland is just as interesting (in fact, there's almost more to do). Stroll through quaint villages, find local crafts at the boutique stores, do some tastings with local producers, and settle in for a delicious lunch.
If you've got time, do a detour through towns like Maleny and Montville to see this side of the region, with waterfalls and mountain views. I've got some specific suggestions of what to do in my story about places to visit on the Sunshine Coast.
Along the beaches of the Sunshine Coast, you are spoiled for choice for towns to stay the night in. Caloundra, Mooloolaba, and Coolum are all good options. But I'm going to suggest you head for Noosa.
Partly it's so you can explore the region without backtracking to your accommodation – but it's also because this is the most famous part of the Sunshine Coast and you want to see the best of the best, right?
For the trendy shops of restaurants, head to Hastings Street, or take a dip at Noosa Main Beach. Noosa National Park is particularly nice towards sunset, and there are plenty of water activities from parasailing to jet skiing.
You can find more details in my story about things to do in Noosa.
THE BEST ACCOMMODATION IN NOOSA
There's a decent range of accommodation in Dubbo and, although there are a lot of motels, you'll also find some charming bed and breakfasts just out of the centre.
BACKPACKER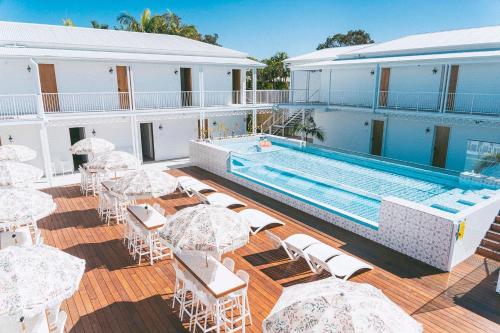 You're unlikely to have seen a hostel quite as nice as Bounce Noosa, which feels like a trendy beach club.
FAMILY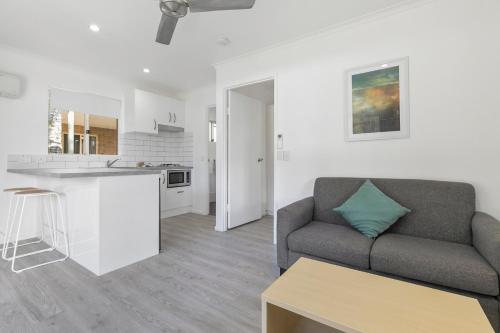 With one, two, and three bedroom villas, Ingenia Holidays has plenty of space for the family, who will enjoy the pool and games spaces.
BUNGALOW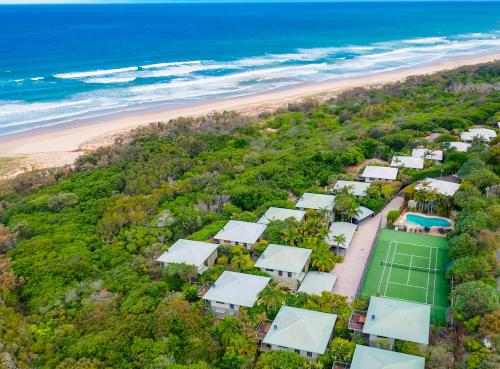 Although the Retreat Beach Houses is a bit out of town, that's the point, because these bungalows are set amongst forest right on the sand.
LUXURY
Day 2
Noosa – Hervey Bay
2h 20m of driving (190 km)
Leaving the Sunshine Coast, you'll get your first real taste of rural Queensland, as you drive up through a mainly agricultural part of the state. Cattle farms are one of the main businesses in the region, particularly the further you get from the coast.
My suggested drive for today isn't too long and takes you to Hervey Bay, which has plenty of things to do in itself, but is probably best known as the launching pad to K'gari (Fraser Island). If you haven't been before, I highly recommend spending a couple of days on Fraser Island, and it's worth factoring that into your road trip plan.
If you're not interested in Fraser Island or the other Hervey Bay attractions, you do have the option here to skip this stop and continue straight to Bundaberg (which is only a 3h 20m drive from Noosa).
On today's drive…
Although today's drive from Noosa to Hervey Bay is easy to do in one sitting, Gympie is a nice place to stop for a coffee, if you feel like a break.
This heritage town boomed after gold was found nearby in 1867, and you can still see the legacy of this wealth in the buildings of the main street.
As well as wandering through Gympie to see the interesting heritage sites, there's the Gold Mining Museum, the Woodworks Museum, and the opportunity to do some fossicking yourself at Deep Creek.
Hervey Bay is famous for its whales and this is certainly one of the best places in Australia to do some whale watching, as the giants of the sea play in the protected waters here from July to October.
There are plenty of other things to do in Hervey Bay, though, including boat tours to find turtles, dolphins and dugongs, relaxing on the beaches, or some more active water sports like kayaking or windsurfing.
And, of course, there's K'gari (Fraser Island). You can visit Fraser Island from Hervey Bay as a day trip, which is a good way to get a taste of this World Heritage Site. But if you can organise to spend the night over there, you won't regret it!
THE BEST ACCOMMODATION IN HERVEY BAY
The accommodation in Hervey Bay feels very beachy (lots of white tile floors), but there's something for every budget. The nicer hotels tend to be closer to the water.
BACKPACKER
Set in tranquil tropical gardens, the Woolshed Eco Lodge is the friendliest hostel in town, with private and dorm rooms.
MOTEL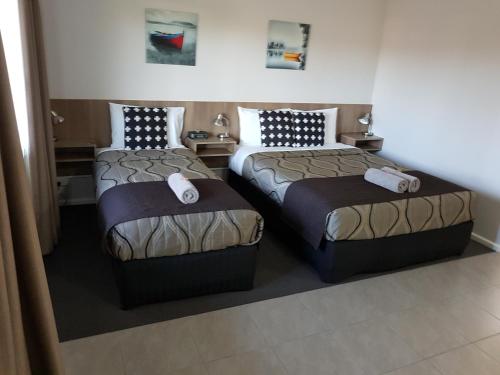 As the name suggests, Main Street Motel is in the middle of town and has large comfortable rooms for a great price.
FAMILY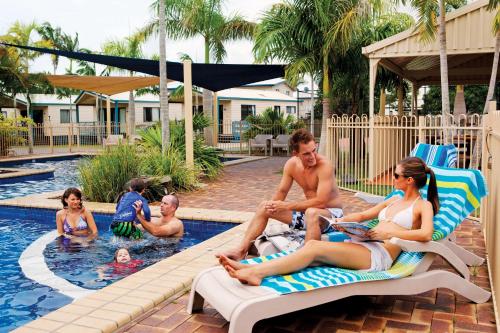 LUXURY
There are beautiful water views at Oaks Hervey Bay, and you'll also appreciate the lagoon pools and apartment-style rooms.
Day 3
Hervey Bay – Bundaberg
1h 30m of driving (120 km)
Bundaberg is not traditionally much of a tourist destination, but when you look a bit deeper, you'll find there's actually a treasure trove of things to do here. It's a foodie's paradise, with a sweet sugar cane heritage – plus you're right on the tip of the Great Barrier Reef.
As you drive up the coast from Hervey Bay towards North Queensland, it's worth making a couple of overnight stops to break up the journey and discover some of the variety of the state.
However, particularly if you're in a hurry, an option here is to skip Bundaberg and continue straight to Rockhampton, about 4h 30m from Hervey Bay.
On today's drive…
This is the shortest leg of the Brisbane to Cairns road trip and you probably won't need to stop along the way for a rest. But… if you have time, I definitely think it's worth having a look around Childers, rather than driving straight through.
There are lots of things to do in Childers and it's becoming a bit of a destination in its own right, full of heritage buildings in the main part of town, with local producers on the outskirts – including macadamia farmers, ice cream makers, and even wineries (?!).
There are also a couple of impressive attractions in town – the Flying High Bird Park and Snakes Downunder Reptile Park – which you may want to leave time for.
One of the things Bundaberg is best known for is its rum, and doing a tour of the Bundaberg Rum Distillery is a must when you're here. Even if you don't like rum, it's such an important part of the region's sugar cane culture.
The turtle sanctuary at Mon Repos is also a highlight of a visit to Bundaberg, and it's worth booking in to see the turtles laying eggs, or the babies hatching, from November to March.
Bundaberg is also a base to fly over to Lady Elliot Island for a day trip (or overnight stay), or take a cruise to Lady Musgrave Island for your first taste of the Great Barrier Reef.
You can see some more ideas in my story about the best things to do in Bundaberg.
THE BEST ACCOMMODATION IN BUNDABERG
You won't really find any fancy hotels here, but there's a solid selection of motels and other friendly accommodation options.
BACKPACKER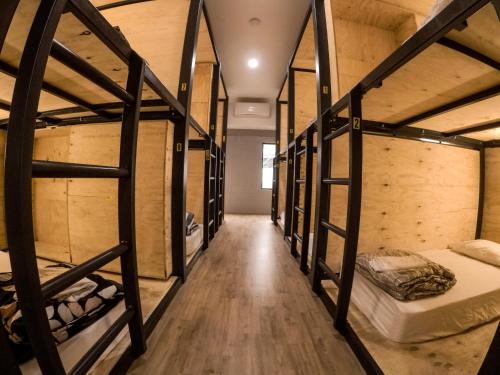 MOTEL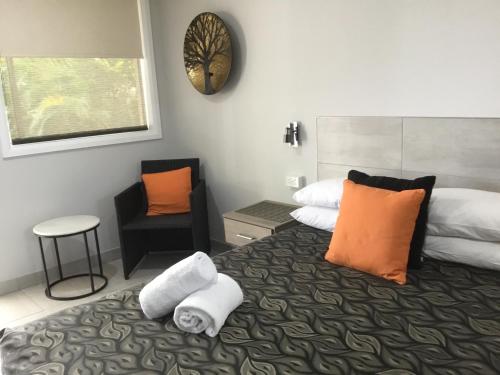 There are lots of motels in Bundaberg, but Golden Palms Motor Inn is clean, comfortable, and has the best value, I reckon.
BED & BREAKFAST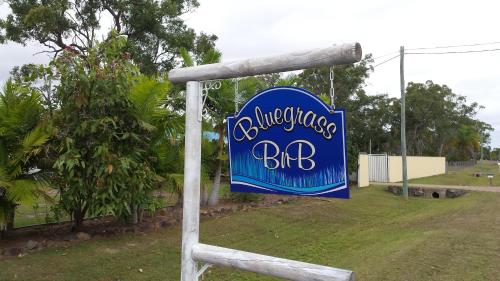 For a more personal experience, the Bluegrass BnB has a warm welcome and fantastic breakfast (but it's slightly out of town).
SELF-CONTAINED
If you're travelling as a family or a group, the 2 and 3 bedroom options at Alexandra Apartments give you plenty of space.
Day 4
Bundaberg – Yeppoon
3h 50m of driving (290 km)
Apologies in advance if this offends anyone, but I think the stretch from Bundaberg to Mackay is the most boring part of the Queensland coast. The reality is that it just doesn't have any of the iconic landmarks that you'll find to the south – or particularly to the north.
But, it's a long drive to do in one day (at least seven hours without stops), so I would recommend spending the night somewhere along the way to have a rest. This is, after all, a holiday, right?
And luckily there is somewhere worth stopping, a bit of a jewel in the Capricorn Coast – the small seaside town of Yeppoon.
On today's drive…
This stretch of driving takes you through the fields of sugar cane, with agricultural land dominating the landscape for most of the trip. The coast is a fair way off, so don't expect any water views.
There is nowhere in particular I would recommend for a stop along the way – these small rural communities each have a bit of personality, so stop when you want and grab a pie from the bakery or pop into the pub for lunch.
Just before Yeppoon, you'll pass through the commercial hub of Rockhampton. It's known as Queensland's beef capital and has a bit of a cowboy feel to it. There are a few sights to see if you're interested, particularly the heritage buildings and the riverfront precinct.
Yeppoon feels like it was made for visitors, a coastal escape from the business-oriented cities and large pastoral areas in the region. For locals and tourists, it offers a gateway to the water.
There's the enormous lagoon right on the beach, plus the beach itself. There's fishing, surfing, and other water sports. And a popular excursion is the boat over the Great Keppel Island.
In town, the impressive street art is a bit of a surprise, and there are plenty of good restaurants and cafes (I guess it helps when so much fresh produce is grown in the area). There's also easy access to some national parks that have fantastic hiking and views.
THE BEST ACCOMMODATION IN YEPPOON
Because it's such a holiday destination, there are quite a few places to stay in Yeppoon, including some lovely modern hotels.
BACKPACKER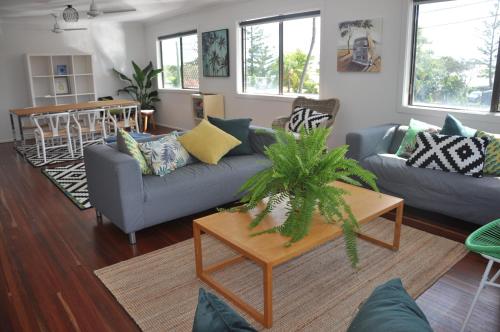 Even though it's a hostel, Yeppoon Beachhouse feels more like a holiday home and has a fantastic friendly atmosphere.
SELF-CONTAINED
BOUTIQUE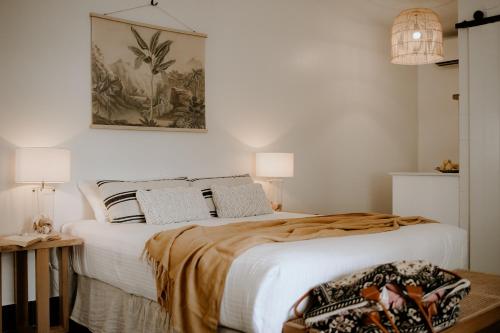 A boutique makeover has brought a cool design feel to Yeppoon Surfside Motel, with a pool and a great location near the beach and lagoon.
LUXURY
The luxurious apartments at Salt Yeppoon have great views and comfortable modern rooms, with attentive service.
Day 5
Yeppoon – Cape Hillsborough
4h 30m of driving (380 km)
You can start to feel the climate change as you head into North Queensland and everything gets a bit more tropical, from the rainforest that's now appearing, to the animals looking a bit more dangerous!
The next major city up the coast that you'll reach is Mackay and it's a bit of a hidden gem, with a relaxed vibe and the best collection of art deco buildings in Queensland.
But the two highlights I would recommend in the region are Eungella National Park (where you can see platypus playing), and Cape Hillsborough, where kangaroos gather on the beach at sunrise.
I've recommended staying at Cape Hillsborough specifically for this special morning experience, which is a really memorable Australian moment. As the sun begins to rise, a huge group of kangaroos and wallabies will come down to be fed by the rangers, and then hang out on the beach for a while.
It takes places right next to the Cape Hillsborough Nature Tourist Park, which is the perfect place to stay. From here, there are also some walks you can do for beautiful views of the region.
If that doesn't interest you, though, you could spend the night in Mackay instead, or just continue straight through to Airlie Beach, which is only about 1h 30m further on.
Day 6
Cape Hillsborough – Airlie Beach
1h 40m of driving (130 km)
It's just a short drive from Cape Hillsborough up to Airlie Beach, the gateway to the Whitsundays, and one of the most popular destinations in North Queensland. This is certainly not a stop to skip, unless you've done it all before. (And, even then, the Whitsundays always deserve another visit.)
There are lots of different ways to spend your time in the Whitsundays, but the first thing to say is that you'll need more than a night. At the very least, you'll want to stay two nights at Airlie Beach so you can do a day excursion out to the islands. You'll probably find you want even more, though.
Many people also stay overnight out on one of the islands. There are some uber-luxury resorts, which would break the bank for most people, but there are also some affordable options, so don't be afraid to look for something on Hamilton Island or Long Island.
However long you choose to stay, I've got some suggestions here for things to do in Airlie Beach, including boat trips to the islands.
Whitsunday Island is magnificent and is home to the famous Whitehaven Beach, so I recommend heading out there, and this full-day tour is one of the best. A scenic flight out over the reef to see, among other things, Heart Island is a special experience, plus you can hang around the bustling atmosphere of town.
THE BEST ACCOMMODATION IN AIRLIE BEACH
You don't need to be on one of the islands of the Whitsundays to find beautiful accommodation with a coastal view. There's plenty here on Airlie Beach.
BUDGET
Set amongst tropical gardens, Nomads Airlie Beach may not be the most modern, but it's got a fun coastal feel to it.
GUESTHOUSE
It's the friendly welcome that makes Airlie Guest House so popular – but the homely vibe and beautiful views certainly help too.
SELF-CONTAINED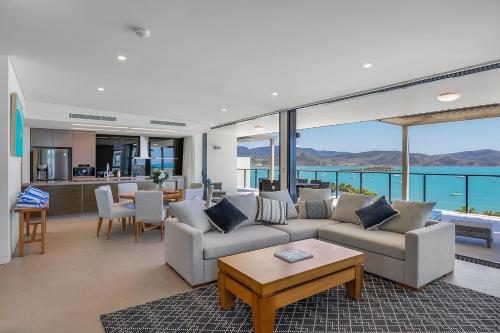 You'll have the best of everything at Mirage Whitsundays, with self-contained apartments in one of the most luxurious accommodations.
LUXURY
The location is perfect and the pool is divine at the Coral Sea Marina Resort, which has a luxury – but casual – atmosphere.
Day 7
Airlie Beach – Townsville
3h 30m of driving (280 km)
By now, you probably have a love/hate relationship with the Bruce Highway, the main route that does just what we're doing – going from Brisbane to Cairns by road.
This is quite a nice stretch of the Bruce Highway, where you usually tend not to get stuck behind trucks for too long, and there's quite a lot to see out the window as the road skirts close to the coast, crosses rivers, runs through farms, and even past mountains.
Today's destination, Townsville is a convenient place to stop – but it also has more to offer than you may expect. It's also from where you can access Magnetic Island, which is one of my favourite stops on this whole road trip to Cairns!
On today's drive…
An hour out of Airlie Beach, you'll come close to Bowen, and the short detour off the highway to see it is worth the effort.
The main town of Bowen was once planned to be the capital of North Queensland and, although that didn't eventuate, it still has the wide roads and a few grand buildings. But it's the beaches that are the highlight here, and you might want to have a dip – or just see them.
I've got more details about why you might want to visit in my article about the best things to do in Bowen.
At first glance, Townsville may appear to just be a large commercial hub – which is not a surprise when you consider it's the largest city in northern Australia. But once you start to explore, you'll realise there are actually lots of things to do in Townsville.
Head down to The Strand to see the parks, beaches, and heritage along the waterfront. Climb Castle Hill for amazing views from the lookout. Discover the street art on the walls in the CBD.
But the best experience here is to catch the ferry over to Magnetic Island. This peaceful little outcrop has roads connecting some areas, or you can hike between beaches (look out for koalas along the way), or take a boat ride around the coast.
There are heaps of things to do on Magnetic Island and you'll need at least the whole day there – lots of people like to stay a couple of nights to relax and explore properly.
THE BEST ACCOMMODATION IN TOWNSVILLE
I think the best approach is to find accommodation (preferably with a pool) in the centre of Townsville so the main sights are in easy reach. You'll have to drive to places out of town anyway.
BACKPACKER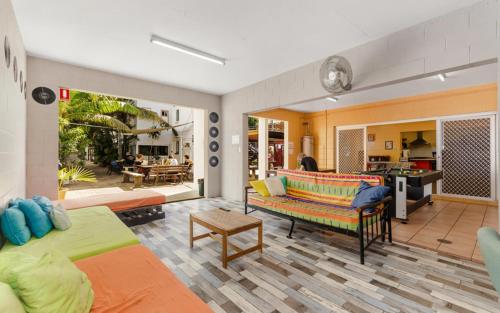 It's clearly a hostel aimed at the international backpacker market, so Civic Guest House has a fun and relaxed atmosphere.
MOTEL
For an affordable option – but still modern and comfortable – I think Motel on Mitchell is the best value in town.
ICONIC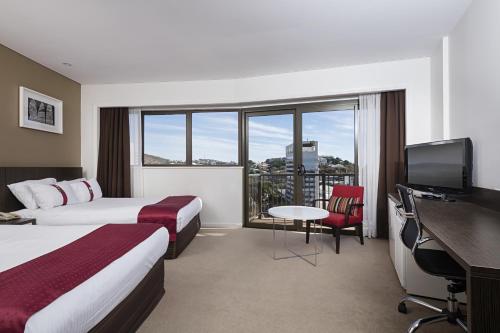 Known as the Sugar Shaker, the Hotel Grand Chancellor is a Townsville icon and has a rooftop pool with an awesome view.
LUXURY
Recently redeveloped, with beautiful rooms and an incredible pool area, The Ville Resort is the nicest accommodation in Townsville.
Day 8
Townsville – Mission Beach
3 hours of driving (235 km)
Today, we're really getting into Far North Queensland, a region that doesn't have a strict boundary but is even more tropical than the North Queensland area you've been in for the past few days.
The rainforest is lush and humid, and there's less agriculture on the side of the roads. The settlements are further apart and become more remote. You can feel it in the air, and you'll notice that life slows down even further.
It is possible today to drive all the way to Cairns from Townsville, which is about 4h 30m on the road. But I'm suggesting a stop in Mission Beach because it's a wonderfully relaxing haven before you get to the big city. Plus, it gives you time to do a few things along the way.
On today's drive…
If you have time, you may like to take a long detour into one of the national parks that form the southernmost point of Queensland's Wet Tropics World Heritage Area (which stretches over 450 kilometres from Townsville to Cooktown).
First, there's Paluma Range National Park, with incredible views amongst the thick tropical forest that has rivers cascading down boulders.
Or there's Girringun National Park, which has the most significant landmark – Wallaman Falls, the longest single-drop waterfall in Australia.
If you have a 4WD, there are tracks that connect the two parks, so you can drive them as a long scenic detour loop. Otherwise, I would suggest Wallaman Falls is best for a 2WD excursion (it's about a 1h 40m round trip from the turnoff at Ingham).
Mission Beach is how you might imagine a tropical escape. A long sandy stretch with few people on it, palm trees offering shade on one side, and warm turquoise water on the other.
There are a few different villages along the coast at Mission Beach, each close enough to the other that you could walk them if you really had to. And each of them has limited development, so you always feel like you're far away from the stresses of the world.
There are quite a few things to do at Mission Beach, but many visitors just like to hang at the beach, do a trip over to Dunk Island, and chill at the great cafes. Heading inland into rainforest, you can be a bit more active, if that's what you're looking for.
THE BEST ACCOMMODATION IN MISSION BEACH
I would recommend being near the beach if you don't want to be constantly jumping in the car to head to the water or restaurants.
BACKPACKER
There's always something happening at the Jackaroo Treehouse, a fun hostel surrounded by rainforest.
BED & BREAKFAST
You're likely to see a cassowary in the garden of Licuala Lodge, which has a fabulous location and feels like a home away from home.
SELF-CONTAINED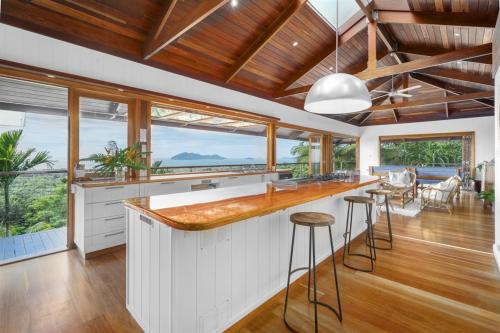 For a reasonable price, you can rent Stu's Lookout, an incredible 4-bedroom house with a modern design and an epic view!
LUXURY
The best resort-style accommodation in town, Castaways Resort has a waterfront location, a lovely pool, and a fantastic restaurant.
Day 9
Mission Beach – Cairns
2 hours of driving (140 km)
It's the final day of the Brisbane to Cairns drive – and, gosh, how did we get here so soon! After nearly 1700 kilometres, this final stretch is fairly quick, although you may start to hit some traffic heading into Cairns (remember what big cities were like?!).
Although you may want to rush to get to the final destination, there are a few cute things to see along the drive that will make it a more relaxed and enjoyable trip.
On today's drive…
As you pass through the town of Innisfail, you may like to stop for a coffee and have a look at the wonderful collection of Art Deco buildings, which paint a charming picture up here in the tropics.
A bit further north, there are Josephine Falls, which are perfect for a swim and to have a look at the beautiful series of waterfalls.
I would recommend stopping at Babinda, which is right on the highway. This delightful little town is famous for the cream buns at the Babinda Bakery.
If you head a bit further up the road to the Babinda Boulders, you can go for a swim in a large natural pool and take a walk along the path for views across the spectacular rapids.
Before you know it, you're in Cairns. The city is a tourism mecca and there are heaps of things to keep you occupied, even before you head out to the reef.
The city itself has grown up in recent years and there are nice new hotels, trendy bars, and some excellent fine dining. I think you'll enjoy basing yourself here for a couple of nights.
But, of course, the city is also famous as the base for expeditions to the Great Barrier Reef and the rainforest (such as Daintree National Park). I've got a list here of the best tours in Cairns, which also include some cool adventure activities like canyoning and white water rafting.
THE BEST ACCOMMODATION IN CAIRNS
There are lots of places to stay in Cairns and the nicer ones tend to be closer to the water, but you'll get great value further out.
BACKPACKER
You can't fault the location of Global Backpackers, right on the Esplanade in Cairns, with clean modern rooms and a sociable rooftop.
BUDGET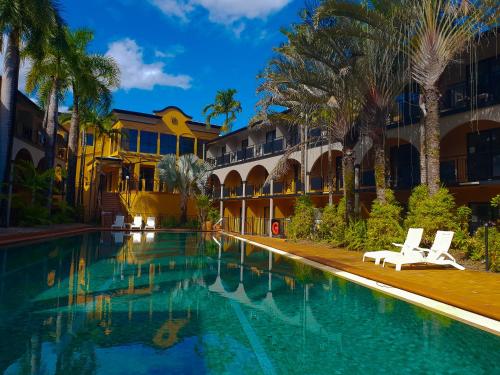 Because it's not in the centre of Cairns, Palm Royale offers great value for its large rooms and inviting pool.
BOUTIQUE
With a funky artistic design and cool technology included, Crystalbrook Bailey is a breath of fresh air in Cairns.
LUXURY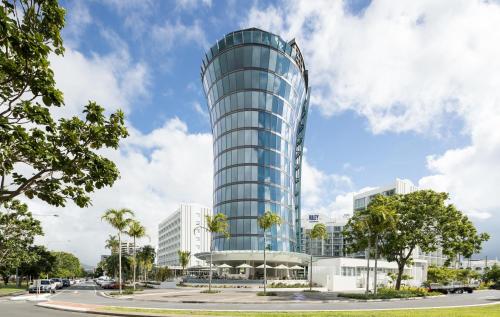 My favourite hotel in Cairns, Crystalbrook Riley has luxurious rooms, a waterfront location, and an incredible central pool.
So, as you can see, the Brisbane to Cairns road trip is pretty epic! There are so many amazing places to stop along the way to get amongst the incredible Queensland nature, and meet some of the interesting characters.
As I mentioned at the start, there is some flexibility in this Brisbane to Cairns itinerary, and you can tailor the stops a little depending on what you're interested in and how long you've got. However, if you don't have to, try not to rush.
I have only described the days when you're on the road. You'll definitely want (even need) to stay a couple of nights in some of the destinations to see them properly, so the trip will likely take longer than nine days.
It's up to you how long you want to spend driving from Brisbane to Cairns, but here is my suggested itinerary if you've got two weeks (14 days) to spare.
Final itinerary
Day 1: Drive from Brisbane to Noosa, arriving at lunchtime and spending the afternoon around the area.
Day 2: Drive from Noosa to Hervey Bay, stopping at Gympie on the way, and arriving after lunch.
Day 3: Take an all-day tour to Fraser Island.
Day 4: Drive from Hervey Bay to Bundaberg, stopping at Childers on the way. Explore Bundaberg in the afternoon.
Day 5: Drive from Bundaberg to Yeppoon, stopping at Rockhampton on the way.
Day 6: Drive from Yeppoon to Cape Hillsborough.
Day 7: Spend the morning at Cape Hillsborough then drive to Airlie Beach. See some of the sights around town in the afternoon.
Day 8: Do one of the all-day tours around the Whitsundays.
Day 9: Drive from Airlie Beach to Townsville, stopping at Bowen on the way. Have a look around Townsville in the afternoon.
Day 10: Catch the ferry to Magnetic Island for a full day of exploring.
Day 11: Drive from Townsville to Mission Beach, with a detour to Wallaman Falls.
Day 12: Spend the day relaxing at Mission Beach, seeing some of the sights on the coast and in the rainforest.
Day 13: Drive from Mission Beach to Cairns, stopping at a few places along the way.
Day 14: Head out to the Great Barrier Reef from Cairns on an all-day boat trip.
I hope all of this helps. Have a great trip!