Where's the beef? If you're taking the question literally, the answer is right here in Rockhampton. The city is considered to be the cattle capital of Queensland and agriculture is one of the biggest industries here.
Driving in from either direction on the Bruce Highway, you'll see the vast green-brown cattle farms unfolding out from the road, with the occasional Queenslander houses as homesteads.
But arriving in Rockhampton, the city is like an urban oasis amongst all farms and national parks in this part of Queensland. And it wasn't cattle that made it this way – it was gold!
Although British colonisers had started to use the land here for farming from the 1850s, and Rockhampton had become quite a busy port by the 1870s, it was the discovery of gold at nearby Mount Morgan in the 1880s that really changed the shape of the city.
Some of the best things to see in Rockhampton are still from this period, when the wealth was used to construct stately buildings in the city centre, particularly around Quay Street on the riverfront.
Although there was a time when Rockhampton was expected to become the capital of a new state of North Queensland, the city is rather underrated these days, and it's not really a popular tourist destination in itself. (When I visit, one local seems incredulous that I would make an effort to spend time here.)
It's true that most people just stop here briefly as part of a road trip along the Queensland coast, but I think you should consider staying longer, because there are actually quite a few impressive things to do in Rockhampton.
The heritage buildings are fascinating, the art gallery is one of the best regional galleries in Australia, there are some wonderful national parks, and the city is also a good base for a couple of other significant attractions near Rockhampton – the Capricorn Caves, in particular.
And as well as those main Rockhampton sights, there's quite a cool food and drink scene here, with local beers and fine dining – and, of course, some good steaks!
Whether you're driving along the coast, starting a road trip to Carnarvon Gorge, or just looking for somewhere different to holiday in Queensland, here are my tips for what to do in Rockhampton.
Historic sights
Of the main cities along the Queensland coast, Rockhampton has some of the most interesting history, and seeing some of the heritage sites in Rockhampton will give you a decent idea of how things were here more than a century ago.
Quay Street
The best place to start is Quay Street, the boulevard along the riverfront that is lined with some of the most important sights in Rockhampton. Other than a few modern constructions, most of what you see here has heritage value.
The Customs House (next to the art gallery) is one of the most striking buildings, with its circular facade topped with a dome.
Heading north from there, you'll find a series of old shopfronts before reaching the historic Criterion Hotel. Going the other way, there's the ABC building, the Heritage Hotel, and the old Harbour Board Building.
East Street
A block back from the Fitzroy River, on East Street, is another important collection of historic sights. The Supreme Court house (from 1888), and the Post Office (from 1892) are two of the most significant.
But while you're on East Street, also look out for Brahman House, the Walter Reid Warehouse Building, and the John Headrick's Building. Along with Quay Street, this was the bustling hub of Rockhampton during the Gold Rush years.
River cruise
While it's nice to wander along the streets of Rockhampton to see this heritage buildings up close, another way to get a sense of their scale is from the Fitzroy River. Joining River Cruises CQ for a trip along the water is a wonderful activity to see a bit more of the city.
I would suggest either the 90-minute sunset cruise, where you get to see the intense orange sky appear over the water, or the 60-minute evening cruise to see the city lights (many of the heritage buildings along the riverfront are lit up in the evening).
Archer Park Rail Museum
To support the burgeoning city at the end of the 19th century, a central railway station opened in Rockhampton in 1908. It was later renamed the Archer Park Railway Station and was in use until 1990 (although only as a freight terminal for the last 20 years).
The site opened as Archer Park Rail Museum in 1999 and part of the attraction is seeing the original railway station buildings that have been restored. But the main highlight, among all the renovated classic trains, is a historic Purrey Steam Tram that was used in the city from 1909 to 1939.
Culture
For a relatively obscure city (from a tourist perspective), Rockhampton has quite a lot of cultural offerings, celebrating the city and the region, through its past and its contemporary life.
Rockhampton Museum of Art
I can't speak highly enough of the Rockhampton Museum of Art, one of the best regional galleries in Australia and certainly one of the best things to do in Rockhampton. Make sure you give yourself some time to visit (and it's free, so there's no excuse!).
The redeveloped gallery opened in early 2022 and has artworks spread across several large exhibition spaces. The collection includes pieces by some of Australia's top classic artists, including Sidney Nolan, Arthur Boyd, and Russell Drysdale, as well as contemporary works, such as a painting by Ben Quilty.
But what I like about the Rockhampton Museum of Art is not just its collection, but how it's displayed. The large walls are used in unconventional ways to show creations in the foyer, and the pieces are grouped to show stories that link them and their place in the region.
Rockhampton Heritage Village
Just ten minutes' drive from the centre of the city, the Rockhampton Heritage Village is a recreation of a small Central Queensland township that shows how life might have been in the district between the 1850s and 1950s.
Cottages and homesteads give you a sense of the kind of buildings people lived in, while a blacksmiths and other shops show some of the local businesses. There's also a schoolhouse, a shearing shed, fire station and much more along the streets, where vintage vehicles are parked.
Opened in 1998, the heritage village has long been one of the most popular tourist attractions in Rockhampton although, slightly ironically, it's now starting to show its age.
Dreamtime Cultural Centre
Right next door to the heritage village, you'll find the Dreamtime Cultural Centre, an Indigenous cultural and arts centre.
The large site is landscaped with native trees and plants plus a large waterfall. A large recreation of sandstone caves helps tell the story of this region's important sandstone belt. There's also a museum area, artworks, and other cultural exhibitions.
Although you can visit independently, it's better to join one of the guided tours that the staff run, which include a didgeridoo performance, a boomerang lesson, and other activities.
It's also worth mentioning that another organisation, Darumbal Enterprises, can run cultural tours of the region – but they need to be organised in advance.
Nature
Much of the attention along the Queensland coast is on the beautiful golden beaches and the access to the reef. Although you'll find that at nearby Yeppoon, it's Rockhampton's position at the start of the state's Sandstone Belt that explains some of its best natural offerings.
Rockhampton Botanic Gardens
One of the oldest public gardens in Queensland, the Rockhampton Botanic Gardens was opened in 1873 and has grown into one of the city's main attractions, even being added to the state's heritage register.
The garden slopes down towards the Murray Lagoon, where you'll find plenty of birdlife – particularly around sunset. The lower gardens have sections dedicated to rainforest and bamboo, while the upper gardens have areas for banyan figs, pine trees, tropical fruits, and even a Japanese garden.
There are lots of things to see here, but it's also perfect for a picnic, a stroll, or just some quiet downtime.
Speaking of parklands, another spot you might be interested in is Kershaw Gardens. It's more developed and has playgrounds and walking trails – a nice place for families to hang out for a bit.
Rockhampton Zoo
Adjoining the botanic gardens, the zoo is another great family thing to do in Rockhampton. Rockhampton Zoo doesn't seem enormous but it's bigger than you might think, and is home to more than 30 species.
The resident chimpanzees are one of the most popular enclosures, but most of the animals here are Australian, including koalas, wombats, dingoes, and cassowaries. There are also a number of exotic birds.
The zoo has free entry and is easily combined with the visit to the Rockhampton Botanic Gardens.
Mount Archer
Overlooking Rockhampton, the 604-metre-high Mount Archer is one of the dominant features of the landscape here. And heading to the summit for views across the city is a great way to get your bearings.
You can drive to the main lookouts, which are particularly spectacular at sunrise and sunset, or there are several hiking trails you can take that lead you to viewpoints and other sights of interest.
The mountain is in Mount Archer National Park, which also has picnic spots and mountain biking trails amongst the eucalyptus forest and dry rainforest. A highlight is the treetop boardwalk, which extends 25 metres off the side of Mount Archer for some incredible views!
Mount Etna
Now, I know what you're thinking – isn't Mount Etna in Italy? Well, there's one near Rockhampton too, and it's one of the best spots for sunrise.
About 30 minutes' drive north of the city, Mount Etna only has a short (but steep) hike through some dry rainforest to reach the summit. There are beautiful views here all throughout the day (if you don't feel like getting up early) and a couple of other walks within Mount Etna Caves National Park.
In the evening, you can join the Bat Cleft tour run by the rangers to feel thousands of tiny bats rush past you as they leave their roost! Also within the national park are Capricorn Caves, which I'll give you some more info about in a second.
Around Rockhampton
So, as you can see, there are plenty of things to do in Rockhampton itself. But it's also an excellent base to explore some of the region – both towards the coast and further inland.
Capricorn Caves
One of the most popular attractions near Rockhampton is Capricorn Caves, a large complex of caverns and tunnels in the limestone that was once coral around volcanic islands.
You would hardly know anything was here until you go in through the small entrances in the hillsides, where the huge caves are revealed – one of the most spectacular being the Cathedral Cave, which doesn't just look like a church, but apparently has excellent acoustics.
You can only access Capricorn Caves with a tour and I would recommend booking in advance. There is this 45-minute tour to all the highlights, or this 90-minute tour that will take you to some more adventurous sections.
Mount Hay Gemstone Tourist Park
There are only a few places in Australia where you can fossick for your own thundereggs – and one of them is near Rockhampton at the Mount Hay Gemstone Tourist Park.
What is a thunderegg, I hear you ask? Good question. They are rocks, about the size of a baseball that are formed from volcanic lava flows. Inside, deposits form colourful patterns that you'll discover by cutting them open.
The land around Mount Hay is filled with them and, at the Mount Hay Gemstone Tourist Park, you can fossick through mounds of dirts to find them. There are plenty here, but you need to pay attention to make sure you're not just finding rocks.
The staff at the park will help you can then you can spend as long as you like looking – they'll then cut some of them open and polish them for you.
Mount Morgan
When gold was found here, the town of Mount Morgan was the base for many of the mine workers, and it's since retained much of its heritage charm.
In the main streets, there are lots of well preserved timber buildings, many of which you can go into because they're now being used for other businesses.
Amongst the large timber pubs (a priority for the workers!), there are also remnants of mining equipment on the streets, and other artefacts from when it was at its peak.
Just 30 minutes' drive south from Rockhampton, there's plenty to see here, including a couple of museums, lookouts, and the old mine itself.
Yeppoon
Heading to the coast from Rockhampton, it's only 40 minutes to Yeppoon, a popular beach destination that is easily more than a day trip, if you're looking for somewhere to hang out.
Aside from the beautiful golden beaches, there's a free manmade lagoon to swim in, markets with local produce, and street art.
One of the main things to do in Yeppoon is a boat trip out to the Keppel Islands (Great Keppel Island being the most famous). Cruise around to private coves and snorkel on the reefs – there's heaps of marine life and stunning scenery in every direction.
I would recommend this snorkelling trip to Great Keppel Island, or there are some more options here:
If you would prefer to stay on land, there's Capricorn Coast National Park, made up of several different sections. With coastal views, forests, mangroves, and rocky volcanic outcrops, it's easy to spend the whole day exploring!
THE BEST ACCOMMODATION IN ROCKHAMPTON
Because of its importance as a regional city, there are quite a few places to stay in Rockhampton, including lots of motels and a few self-contained apartment hotels.
MOTEL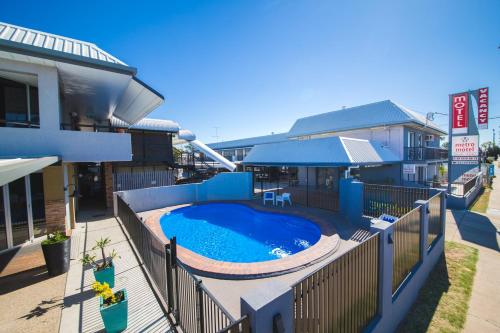 There is a good range of motels in Rockhampton, but I think Metro Motel gives you the best value with a convenient location.
FAMILY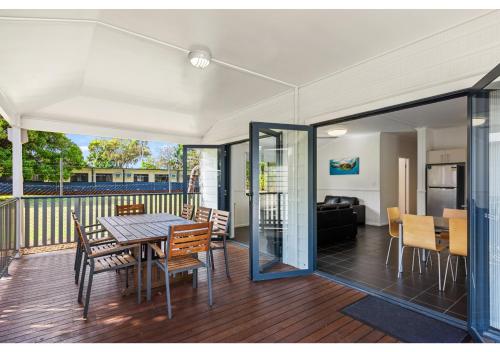 HERITAGE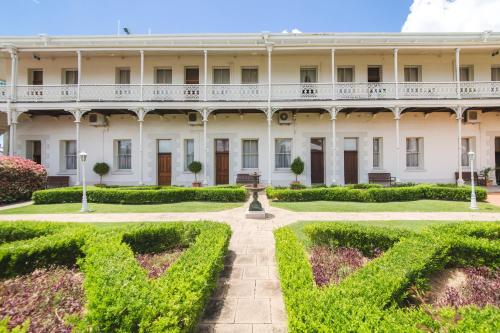 In an 1880s heritage building, Denison Boutique Hotel has old school charm with enthralling interior decorations.
SELF-CONTAINED
With well-appointed modern apartments, Quest Rockhampton has everything you need for a longer stay or a business trip.