With a population of about 60,000, Rockhampton is not a particularly large city. Considering it's also best known as an agricultural centre, it's not really where you would expect to find one of Queensland's best cultural institutions.
But the Rockhampton Museum of Art stands out as one of the best regional galleries in Australia – perhaps all because of a city mayor in the 1970s.
Founded in 1967 as the Rockhampton Art Gallery, it was just a space in the town hall at first. But the mayor, Rex Pilbeam, led an enthusiastic campaign to raise funds to buy important Australian works.
With the collection expanding, the gallery moved into new premises in 1979, to display its works from notable artists like Sidney Nolan, Russell Drysdale, Arthur Boyd and Charles Blackman.
In the decades afterwards, this passion continued and the collection became even more impressive. With so many works, and such a focus on great Australian artists, another new building was needed – which is the one you'll see today, opened in 2022.
There's a focus on Queensland artists, which I really like. Some of the landscapes that you may encounter on your travels around the region, you'll be able to see interpreted in different ways on the walls of the gallery.
For visitors to the city, I think this is one of the best things to see in Rockhampton. Even if you're just planning to drive through, I really think it's worth stopping to have a look.
What's here?
The new modern building for the Rockhampton Museum of Art opened in 2022 with a variety of spaces to show the collection and touring exhibitions in different ways.
In total, there are eight gallery spaces of different sizes across three floors.
On the ground floor, the first area you'll see is the Atrium Gallery, which uses its large height to display oversized works, including specially-commissioned ones painted right onto the white walls. The corridor stretching away from the atrium offers another flexible space.
The ground floor has the main Gallery 1, used for either a major exhibition or for the most important works from the collection. Although it is changed regularly, it often groups the collection's artworks together into themes, telling stories through their interactions.
Level 1 is mainly used for education spaces, although the corridor here can also be used for temporary exhibitions.
Level 2, on the other hand, has four spaces to show temporary exhibitions. One of the regular themes sees a local artist showcase their own works alongside pieces from the gallery's collection that they admire or are inspired by.
How to visit?
I think one of the wonderful things about the Rockhampton Museum of Art is that is has free entry, making it easily accessible to anyone. It also means you don't feel like you're not getting value if you only have time to pop in while driving through.
It's easy to find the gallery, right on the river amongst many other important heritage buildings.
Although there are numerous gallery spaces, it's not so large that you'll feel overwhelmed. I would suggest about an hour to go through and see it all at a reasonable pace.
Where is the Rockhampton Museum of Art?
You'll find the Rockhampton Museum of Art in the centre of the city, on the side of the Fitzroy River.
The official address is 220 Quay St, Rockhampton City, Queensland, 4700.
You can see it on a map here.
How do you get to the Rockhampton Museum of Art?
If you're staying in Rockhampton, you should be easily able to walk to the Rockhampton Museum of Art.
If you're driving, there's lots of parking in the streets around the museum.
When is the Rockhampton Museum of Art open?
The Rockhampton Museum of Art is open every day from 09:00 – 16:00.
It's closed on Good Friday, 25/26 December, 1 January.
What is the Rockhampton Museum of Art entrance fee?
Entrance to the Rockhampton Museum of Art is free.
You can find more details at the official website of the Rockhampton Museum of Art.
Is it worth it?
Regardless of why you've come to the city, try to make time to visit the Rockhampton Museum of Art – it's definitely worth it.
Especially if you're going to be spending some time around the Capricorn region, you may appreciate see the artworks that represent the nature and the culture here.
With regularly changing exhibitions, it's also worth coming back again, even if you've visited before. You're bound to find something new, and perhaps even some old works presented differently.
It's rare to find a collection this good outside of the major cities in Australia, so it may also be a chance to see some pieces from important artists that you haven't seen before.
Along with some of the 20th century artists I've mentioned (Sidney Nolan, Russell Drysdale, Arthur Boyd and Charles Blackman, for example), there are also more recent works by artists like Ben Quilty, Richard Bell, and Wendy Sharpe.
What's new?
There are always new exhibitions at the Rockhampton Museum of Art – that's one of the reasons they constructed the new building with extra gallery space.
If you're planning a casual visit, you may like to have a look at what's on, so you know what to expect. Or just turn up and be pleasantly surprised.
You may also like to have a look at what's happening, in case it changes your plans for what day you would like to visit Rockhampton.
Some key events this year are:
5 August to 2 October – I, Object: An exhibition considering the many complex relationships Indigenous artists continue to have with objects, from the histories informing their creation to the social and cultural consequences of their collection.
14 October to 26 November – The Bayton Award 2023: An art prize and exhibition open to all forms of art media created by Central Queensland artists.
18 November to 18 February – Richard Bell, Bell's Theorem: One of Australia's most important contemporary artists, Richard Bell's lifetime of activism of Aboriginal land rights is a key theme in this large solo exhibition.
As well as exhibitions, there are also regular events, including free volunteer-led tours of the gallery.
What else?
There are lots of other things to do in Rockhampton aside from the gallery.
I suggest having a look at the beautiful heritage buildings along Quay Street, which give you some insight into life in the late 1800s when gold was discovered nearby.
You can also take a cruise on the Fitzroy River, visit the Rockhampton Botanic Gardens, and head up Mount Archer for terrific views.
If you've got some time, a real highlight in the region is Capricorn Caves, a large complex of caverns and tunnels in the limestone that was once coral around volcanic islands.
You can only access Capricorn Caves with a tour and I would recommend booking in advance. There is this 45-minute tour to all the highlights, or this 90-minute tour that will take you to some more adventurous sections.
THE BEST ACCOMMODATION IN ROCKHAMPTON
Because of its importance as a regional city, there are quite a few places to stay in Rockhampton, including lots of motels and a few self-contained apartment hotels.
MOTEL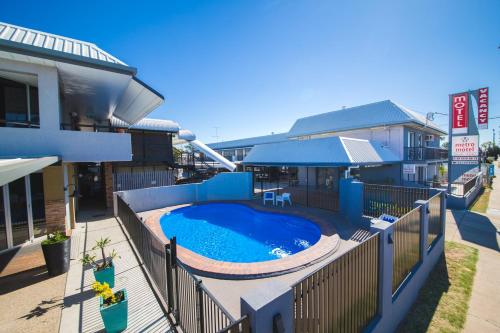 There is a good range of motels in Rockhampton, but I think Metro Motel gives you the best value with a convenient location.
FAMILY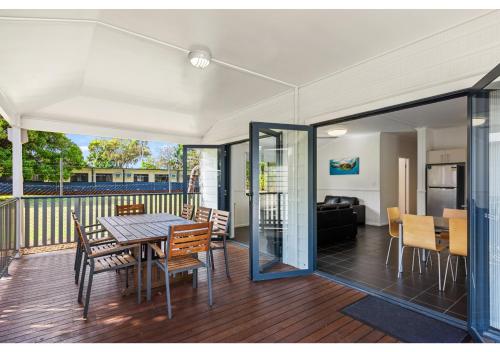 HERITAGE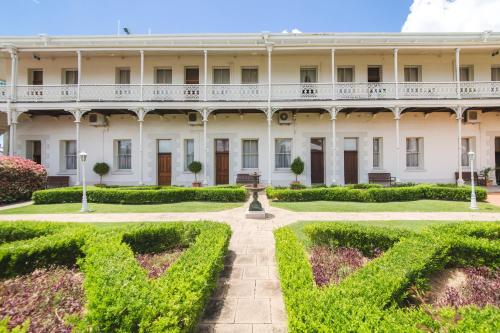 In an 1880s heritage building, Denison Boutique Hotel has old school charm with enthralling interior decorations.
SELF-CONTAINED
With well-appointed modern apartments, Quest Rockhampton has everything you need for a longer stay or a business trip.