Of all the Sunshine Coast beaches, perhaps none evokes the atmosphere of a coastal escape as much as Noosa. It has the (possibly contradictory) attributes of feeling like a quiet village and being full of action. There are lots of things to do in Noosa, but it's also a beautiful place to relax.
Over the years, Noosa has certainly become the poshest places on the Sunshine Coast. In the centre of Noosa Heads, at Hastings Street, you'll find restaurants and bars that wouldn't look out of place in the fanciest suburbs of Sydney or Melbourne (and with the price tag to go with them).
But you don't need to look far to discover more relaxed and affordable options, if that's what you prefer. Some of the less crowded beaches of the Noosa region are just as beautiful, and there are some amazing hidden delights in the hinterland.
What exactly is Noosa?
At first, the exact definition of Noosa can seem a bit confusing. Some people think the term just refers to the busy area around Hastings Street and Main Beach, but technically this is a suburb called Noosa Heads.
When we talk about Noosa, we are really talking about the small region of the Sunshine Coast that's made up of a few different suburbs. It's not big, but each little bit has its own official name.
It includes the coastal suburb of Sunshine Beach and a couple of smaller beaches along that stretch. And it also includes the development that goes up the Noosa River through Noosaville and Tewantin.
Also part of the region is Noosa North Shore, on the northern side of the river, although here there's very little development and a lot of natural areas.
Staying in Noosa, or visiting Noosa from another part of the Sunshine Coast, offers something for everyone.
You can go shopping in the boutique stores – or explore the local markets.
Relax on the beach – or go hiking in the national park.
Borrow a kayak for a leisurely paddle – or take a thrill ride on a speedboat.
With fancy wine bars, cool local breweries, excellent food wherever you go, and some great local produce, there are more things to do in Noosa than you'll ever be able to fit into one holiday. I guess that's one of the reasons it's so popular!
Things can get busy in Noosa Heads and around Hastings Street, in particular. Finding a spot to park the car can be a nightmare some days and the traffic often gets really congested. But, again, there are plenty of other options.
So, let's have a look at some of the best things to do in Noosa.
Around town
For many people who visit Noosa, you will naturally gravitate to the centre of town, where some of the best Noosa attractions are to be found. Although it's busy, you'll quickly realise why this is one of the most popular regions of the Sunshine Coast.
Hastings Street
My top tip for Noosa is to avoid Hastings Street as much as possible. But that's purely because it gets really busy and I find the stress of the traffic and the crowds is not what you come to the Sunshine Coast for!
Having said, it is still a highlight of Noosa – it does have great restaurants and bars, so you'll probably want to visit at some point. (And if you're staying in the centre, the traffic and parking is not something you'll need to worry about.)
For something to eat, you can go casual at the Noosa Surf Club, get a range of favourite meals from pasta to sandwiches at Aromas, or try one of the best in town – the Noosa Beach House Restaurant Peter Kuruvita.
For drinks, head to Moonstruck or Miss Moneypenny's. But, of course, a lot of the dining spots along Hastings Street are also good for just drinks – and Locale and Cafe Le Monde are a couple of popular options.
And there's also the shopping along Hastings Street. I'm not going to suggest any particular stores, partly because I have terrible fashion sense, but also because part of the fun is just browsing anyway. It's not a very long stretch, so you'll find everything.
Noosa National Park
Noosa National Park covers the headland just next to Noosa Heads and it's one of the highlights of the region. Easy to access (you can walk there from Hastings Street in less than 15 minutes), you'll feel like you're in the middle of nowhere.
Noosa National Park a popular spot for hiking and there are plenty of possible routes. There are five main trails and more than 15 kilometres of tracks. You can do a short leisurely walk along the coast, or tackle one of the long trails up the hills for spectacular views.
There are also beaches along the way, viewpoints, and spots where you can stop for a lunch, so it's easy to make it a day or half-day experience.
Hit the beach
Of course, you're going to want to hit the beach – it's one of the main things you do in Noosa. But there are lots of options, and they each have their own advantages. So what is the best beach in Noosa for you?
Well, right in Noosa Heads, there is Noosa Main Beach, which is generally quite calm and is well-patrolled. (It does have a couple of good spots for surfing, though). It's definitely one of the easiest and safest beaches.
Within the National Park, there are a few smaller beaches that have good surf spots and can often be a bit quieter, if you want to escape the crowds. There's Tea Tree Bay on the north and Alexandria Beach on the east. You have to walk, but it's worth it.
Slightly less busy than Main Beach, but still with a surf club and shops, is Sunshine Beach. It's a long stretch of sand that has different sections – one is dog friendly, one is patrolled, some are better for surfers than other.
And if you keep going south along Sunshine Beach, it changes into Castaways Beach and then Perigian Beach. Both feel a bit more remote (even though Perigian is only 15 minutes' drive from Hastings St) and can be nice for a picnic or a family outing.
Local breweries
If the trendy bars of Hastings Street are not your thing, then perhaps you would be more interested in the local craft beer scene? In recent years, the industry has been booming and there are some great local breweries in Noosa that you can visit.
I would recommend popping in for a tasting at Land and Sea, or Heads of Noosa, or Boiling Pot. They're all easy to access within Noosa.
There's also Copperhead Brewery out at Cooroy, Eumundi Brewery at Eumundi, and Eco Brewing Co at Habitat (which I'll share more details about shortly). Plus there are lots more along the Sunshine Coast, if you want to really get into it.
A fun way to visit a few of them (and not worry about the logistics or who's going to drive), is with a craft beer tour of Noosa. You'll get all the inside info and tips of the best brews. Check out the details of this 5-hour brewery tour that will take you to four different places.
Along the coast
Head in either direction along the coast from the centre of Noosa and you'll soon find some pretty special sights. You don't need to go far but you'll get a whole different perspective of the region from the top of a mountain or on a tree-lined waterway.
Climb Mount Coolum
After all those breweries, you may need a bit of exercise, and one of the most iconic natural sights along the Sunshine Coast is Mount Coolum. It's not technically in Noosa, but it's only about 20 kilometres away, so it's easy enough to pop down to see it.
There's a trail that leads to the summit of the mountain, 208 metres high, and you'll get incredible views at the top and on the way up. You can see right along the coast and up into the hinterland. It's really special.
The climb only takes about 45 minutes in each way, but it is quite steep in parts, so you'll need a good amount of fitness to tackle the climb.
Noosa Everglades
It's easy to spot Mount Coolum and everyone knows it's there. But one of the region's other natural wonders is much more of a hidden gem. It's the Noosa Everglades and, if there's one thing I recommend you do other than the obvious, it's this!
You may have heard of the Everglades in the US. Well, this is the only other one in the world. It's a beautiful network of wetlands and waterways with stunning scenery and a fascinating ecosystem.
The best way to experience the Noosa Everglades is in a kayak or canoe, slowly floating along the river system that is stained with tannin and so reflects the paperbark trees like a mirror. It's quite a sight!
There are two great companies you can use for a tour and both have complimentary transfers from Noosa. There's this self-guided kayak trip that lets you explore at your own pace. Or you can join this canoe trip from Habitat, where you'll have a guide and a hot lunch is also included!
As a side note, Habitat is a great ecocamp that you could consider for your accommodation – meaning you can just rent a kayak and explore the everglades however you want!
Teewah Beach
You may have heard about the coloured sands of Rainbow Beach, which is a bit further up the coast, near Fraser Island. Although you can drive up there as a day trip from Noosa, it's quite a long trip.
Which is why I would recommend a much closer spot that has some of the same elements – Teewah Beach. It not only has some of the beautiful colours in the sand dunes (created by dyes from vegetation and iron oxide), but there's also a feature called Red Canyon that has vibrant colours in its sandy walls and great views of the beach from the top.
The journey is half the fun because the easiest way to get to Teewah Beach from Noosa is to take the short car ferry from Tewantin. If you get a vehicle pass in advance, you can also drive along the sand at the beach (make sure you've got an appropriate vehicle).
If you don't have a 4WD yourself, don't worry, you can join this Rainbow Beach drive tour and have an expert guide show you all the highlights.
Skydiving
Anyone can see the Sunshine Coast from the ground – but do you have what it takes to see it as you're falling through the air?!
Skydiving is a lot of fun, no matter where you're doing it, but it's particularly special around Noosa because the views you get here are absolutely spectacular. You may be too busy screaming for the first 60 seconds of freefall, but there's plenty of time as you float down with the parachute to enjoy the scenery.
For a really special experience, you can book your tandem skydiving experience here… if you're brave enough, that is!
On the water
Of course, the water is one of the highlights of Noosa, so there are lots of different ways to make the most of it, beyond just heading to the beach for a swim. Whether you're looking for a thrill ride or a relaxing paddle, being out on the water is one of the best things to do in Noosa.
Noosa Ocean Rider
Even if you're having a relaxing holiday, breaking it up with a little bit of excitement can be just the thing you need, and one of the most exhilarating (but safe and family-friendly) things to do in Noosa is the Ocean Rider.
This rubber speed boat can travel up to 80 km/h and it makes the most of that on a thrill ride along the river and out into the ocean, where it crashes into waves and races in circles.
You'll see a bit of the landscapes along the river and the coast on the thrill ride, but if that's your priority, there are also some slower tours to show you the region. You can even go out spotting dolphins.
The Noosa Ferry
For an even slower boat ride, there's the Noosa Ferry, which heads along the Noosa River, stopping at several locations along the way.
It goes from Hastings Street to Tewantin, passing through Noosaville. It means that you can use it as a form of public transportation to get between the different areas (convenient if you want to have a drink with a meal, for instance). Or you can just jump on board for the vistas.
Another option is to join a sunset cruise, a lovely way to see a bit more of the Noosa River from the water.
The Noosa River
The ferry isn't the only way to see the Noosa River, and it can be a lot of fun to head out on the water for half a day and be in control yourself.
There are quite a few places in town where you can rent a kayak or a paddle board, for instance, and just explore the river. For something a bit different, you can hire a water bike for a couple of hours and pedal, not paddle (my bad joke, not theirs).
In fact, there are lots of options, depending on your preference. Hire a boat, a jet ski, or any number of other watercraft. The calm river is perfect for any skill level.
Tours and lessons
If you want some help learning something new, or perhaps would like a local guide to ensure the best experience, there are a few tours and lessons you can join. (It also takes the hassle out of organising the equipment and planning what to do.)
A fun activity I would recommend is learning to surf. This two-hour surfing lesson on Noosa Main Beach is easy to join and a good way to have some experienced surfers help you get up on the board.
Speaking of getting up on the board, another popular activity these days is stand up paddle boarding, but it can be a bit intimidating at first. This stand up lesson and tour doesn't just teach you how to do it, it'll also take you to the beautiful Double Island that's normally only accessible by 4WD.
And another activity I would suggest is this kayak tour, where you will have an instructor to help, but is good even for experienced paddlers. That's because you'll be heading out to Rainbow Beach for impressive landscapes and hopefully to spot a few dolphins!
In the hinterland
Despite the name, the Sunshine Coast is much more than just the coast, and some of the best things to do around Noosa are in the hinterland. Head up into the lush green hills to discover a different kind of nature, as well as some charming historic towns and amazing local produce.
Eumundi Markets
Just a 20-minute drive from Noosa is Eumundi, a lovely hinterland town that has a relaxed artisitic vibe and a good country pub (with a brewery).
But the highlight of Eumundi is the famous markets that have been held here since 1979. There are hundreds of stalls, with local producers selling food, clothes, homewares, and all sorts of other things.
The Eumundi Markets are held every Wednesday and Saturday and it's certainly a good spot to pick up some souvenirs or presents. But it's also a fun place just to hang out, grab something to eat, listen to the musicians, and do some window shopping.
Another option closer to town is the Noosa Farmers Market, which is held every Sunday morning.
Heritage towns
Some communities in the Noosa hinterland were founded long ago to support the timber and farming industries. Unlike the larger towns on the coast (many of which came later), they haven't had large scale development. It means you can find some delightful pockets of heritage in these villages.
One of the best Noosa hinterland villages to visit is Kin Kin, which was once a large community hub, but now has just a few original buildings on its small main street. The pub has a lot of character and you'll find excellent food at Black Ant Gourmet in the old general store.
Pomona is a bit bigger and has more options to eat and drink. A new business that has been attracting visitors from across the region is the Pomona Distilling Co, which makes gin but also has an excellent menu and a large outdoor dining area.
In nearby Cooroy, there is a large selection of places to eat. You'll notice a creative edge to the town as well – partly because of the Cooroy Mill Place Precinct that has the Butter Factory Arts Centre and a library and ceramics workshop.
Heading out for a drive through these towns and discovering their unique characteristics is a great way to spend the day. If you don't want to do any of the organising (or prefer not to drive), you can even join this small-group tour that heads to some of the other highlights of the Sunshine Coast hinterland.
THE BEST ACCOMMODATION IN NOOSA
There's a decent range of accommodation in Dubbo and, although there are a lot of motels, you'll also find some charming bed and breakfasts just out of the centre.
BACKPACKER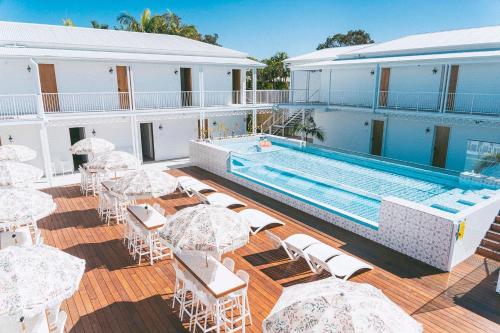 You're unlikely to have seen a hostel quite as nice as Bounce Noosa, which feels like a trendy beach club.
FAMILY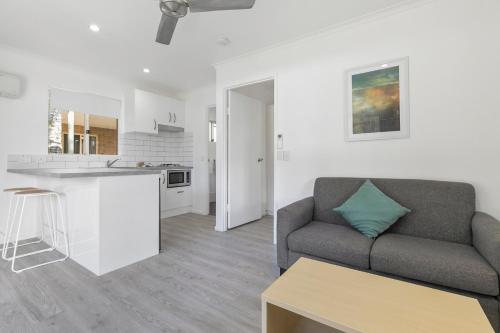 With one, two, and three bedroom villas, Ingenia Holidays has plenty of space for the family, who will enjoy the pool and games spaces.
BUNGALOW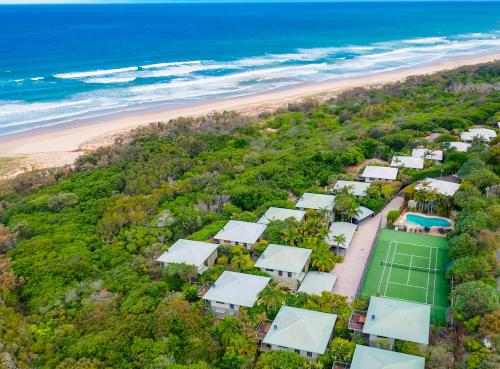 Although the Retreat Beach Houses is a bit out of town, that's the point, because these bungalows are set amongst forest right on the sand.
LUXURY