I don't really have a choice but to like Bundaberg, do I? It is, after all, the 'town of turtles', home to the largest turtle colony on the coast of eastern Australia.
But luckily it's pretty easy to like the place anyway because there are lots of wonderful things to do in Bundaberg – perhaps more than you might realise at first.
The city is rather large but it tends to have a reputation as a stopover, rather than a destination, particularly for people doing a road trip from Brisbane to Cairns. But, as the southernmost point of the Great Barrier Reef, there are some great opportunities to get out on – and in – the water to see the marine life here.
There are more things to do in Bundaberg than that, though.
Bundaberg was colonised by Europeans in the 1840s for farmland, violently displacing the Indigenous Taribelang people. Although sheep farms were the first attempt, the settlers found cattle did better – and sugarcane did even better than that.
It's why you'll find Australia's most famous rum-maker, the Bundaberg Rum Distillery, here – as well as lots of other local producers who make the most of the excellent growing conditions. Tasting some of the local specialities is a must when you visit Bundaberg!
And beyond that, the city has a number of cultural institutions, natural attractions, and beaches. You certainly shouldn't have any trouble working out what to do in Bundaberg.
It's worth spending a bit of time here, surrounded by the beautiful scenery and the relaxed Queensland atmosphere. To help you pass the time, here are my top tips for the best things to do in Bundaberg.
Local drinks
Let's start with the thing Bundaberg is perhaps the most famous for – the rum! Although, the city has become quite a magnet for drink producers, so there are some other terrific places to pop into for tastings.
Bundaberg Rum
The volcanic soil around Bundaberg was perfect for growing sugarcane but there was a lot of organic byproduct from the industry, and it was this that seven locals used to start their distillery in 1888.
More than 130 years later, the Bundaberg Rum Distillery is still making its Original product, which is popular across Australia (and the world), but there are other spirits made here now too.
The distillery offers Bundaberg Rum tours of the site, which includes information about the history and the process, as well as a look at the fermentation tanks and the barrel house.
Bundaberg Brewed Drinks
After the rum, the city is also famous for another drink – ginger beer (the non-alcoholic type) – and that's made at Bundaberg Brewed Drinks.
Founded in the 1960s as a family company, Bundaberg Brewed Drinks originally just catered for the region. But in the 1980s, it expanded around the country, and then internationally.
To learn more, you can visit The Barrel, where there are guided tastings, a self-guided tour of the gallery, and plenty of opportunities to buy some drinks (you can even put your face on the labels!).
Kalki Moon
While Bundaberg Rum is known for mass production, a more artisan alternative is Kalki Moon Distilling and Brewing Company. As well as rum, they make gin, vodka, and liqueurs.
You can pop in for a tasting at the cellar door anytime, but there are also two tours a day, which guide visitors through the different stages of the distilling process.
Bargara Brewery
Even though it's named for the nearby beach, Bargara Brewery is right in the centre of Bundaberg and can be found in its own venue called the Brewhouse. The large shed has been converted into a cool pub atmosphere with comfortable furniture and a bit of industrial chic.
For craft-beer lovers, there are some fantastic brews to taste here. I would of course recommend the one called Thirsty Turtle.
Ohana Winery
It may seem a bit odd to have a winery in this climate, but there are actually a couple in the region (you can read more about the others in my story on things to do in Childers). But Ohana Winery is one that's truly embraced the tropical weather in its approach.
Don't expect Chardonnay or Shiraz – the wines here are made with local fruits, so you'll find things like Strawberry Moscato and Mango Moscato. They've also move into making ciders, and this is perhaps where you'll find the best things to taste when you settle in to the winery's bar in East Bundaberg.
Around town
Some of the best things to do in Bundaberg tend to be along the coast or in the natural areas around the city – but that doesn't mean it's not worth taking some time to have a look around town, where you'll certainly find a few highlights.
Heritage buildings
Like many of the communities that were settled in this part of Queensland for farming, the main streets are full of heritage buildings from a time when the wealth flowed from the agricultural properties to the commercial centres.
From the middle of the 19th century onwards, grand buildings started to appear – churches, halls, and shopfronts. Although there are dozens of heritage-listed locations in Bundaberg, some will be of particular interest to visitors. You can see them on this map here:
Have a look out for the Post Office and it's clock tower, the Holy Rosary Church, the School of Arts, and the Linden Clinic.
Hinkler Hall of Aviation
Bert Hinkler was born in Bundaberg in 1892 and went on to become a pioneering aviator, as the first person to fly solo from England to Australia, and across the Southern Atlantic Ocean. He died at the age of 39 in a plane crash in Italy.
Hinkler has had lots of things named after him (including one of Qantas's A380s), but there's something special about this tribute in his hometown. His house has been rebuilt and next to it is a museum called the Hinkler Hall of Aviation, with plenty of memorabilia and interactive displays.
Bundaberg Regional Art Gallery
You're sure to notice the Bundaberg Regional Art Gallery (often just called BRAG) because of its colourful facade in the centre of the city. But make sure you go inside, because the vibrancy doesn't stop at the entrance.
The art exhibitions at the gallery change constantly throughout the year and celebrate local artists as well as host touring national shows. There are some excellent regional art galleries in Australia and this is up there amongst them.
Natural sites
It's the Queensland coast, so of course there are some great natural attractions in Bundaberg – but one stands out in particular as a really special experience.
Mon Repos Turtle Centre
The conservation park on the coast at Mon Repos is a highlight of a visit to Bundaberg. It has the largest concentration of nesting marine turtles in eastern Australia and is the most significant loggerhead turtle nesting population in the South Pacific.
During the nesting season from November to late March, the rangers here run special tours in the evening down to the sand to watch the turtles lay the eggs (early in the season) and then see the babies hatch from the eggs (later in the season). The beach is closed off to other people, so the Mon Repos Turtle Encounter is the only way to see them.
The Mon Repos Turtle Centre, just back from the beach, is open all year round. Its exhibitions have lots of information about the turtles and the conservation work undertaken here.
Bundaberg Botanic Gardens
Across the Burnett River from the main part of town, you'll find the Bundaberg Botanic Gardens, a large park with exquisite landscaping. There's a Chinese and Japanese Garden, an orchard of rare fruit trees, some rainforest, and much more.
The gardens are also home to some of Bundaberg's most interesting cultural attractions. There's the Hinkler Hall of Aviation, which I've already mentioned, plus a sugar cane railway and the Bundaberg and District Historical Museum.
I think the Fairymead House Sugar Museum is particularly interesting, with and an 1800s-style bungalow offering an insight into life on a sugar cane plantation.
Baldwin Swamp Environment Park
A short walk from the centre of the city, the Baldwin Swamp Environment Park is a protected piece of land covered in wetlands and rainforest habitat. It has walking trails and boardwalks so you can explore it.
It won't take too long to walk around but you're sure to spot birds and other wildlife. With the water and the eucalyptus, it's been dubbed "Bundaberg's Kakadu" – and it's certainly much easier to reach!
Beaches
The other natural sights in Bundaberg that you're going to be naturally drawn to are the beaches – and there are some wonderful options here. There are 15 of them here and Bundaberg's beaches have something to offer every type of visitor.
Rather than list them all, here are my top four beaches in Bundaberg.
Bargara Beach
The city centre of Bundaberg is inland, along a river, so you have to drive from town to any of the beaches. The easiest to reach is Bargara, about 15 minutes away. It's also the most developed, with restaurants and shops along the road facing the sand, plus a boardwalk and a playground for the kids.
Bargara Beach is particularly popular with families because of all the facilities, including BBQs. There are surf parts of the beach, as well as some still water areas.
Kelly's Beach
Just along the coast from Bargara is Kelly's Beach, which still has a fair amount of development, but it's dominated more by holiday homes than restaurants. For this reason it can get quite busy, particularly on weekends.
But Kelly's Beach is one of the prettiest along this stretch, with trees right down to the sand, a calm lagoon, and a surf beach that's patrolled by lifesavers.
Elliot Heads Beach
To start to get away from the crowds, head a bit further south to Elliott Heads Beach, with has some of the whitest sand you'll see, sweeping alongside the clear waters. Bring a snorkel and head out to see some fringing reef and rock pools.
Because of the river mouth here, there are calm waters as well as the surf beach. And there are some facilities like BBQs and toilet blocks.
Moore Park Beach
For something a bit more remote, head north to Moore Park Beach, which stretches for more than 16 kilometres. Some parts of the beach are patrolled by surf lifesavers, and there are some accommodations along the way, but you'll easily be able to find a patch of sand to yourself.
Behind the sand dunes is Bicentennial Lagoon, with an artificial island that is popular with birdlife.
Great Barrier Reef
Bundaberg is the southern gateway to the Great Barrier Reef and you can get out amongst the coral and the fish from here. There may not be quite as many reef experiences as places like Cairns or the Whitsundays, but the ones on offer are really special, and a trip to one of the islands is one of the most memorable things to do in Bundaberg.
Lady Musgrave Island
One of the most popular Great Barrier Reef tours from Bundaberg – because it's one of the most spectacular – is the boat ride to Lady Musgrave Island, about 50 kilometres off the coast.
Lady Musgrave Island is more than just an island, though. On the surface, it may look like a little patch of land covered in sand and trees. But just beneath the surface of the water is a huge arc of reef that creates a protected lagoon full of marine life. You'll often find turtles and manta rays amongst the vibrant tropical fish.
Lady Musgrave Experience is the only operator that runs trips, and you can see their tour here. It's also possible to camp overnight on the island.
Lady Elliot Island
Another fantastic island close to Bundaberg is Lady Elliot Island, the southernmost coral cay in the Great Barrier Reef. It's been developed as a small eco resort and, although the accommodation books out early, you can still easily visit as a day trip.
The day trip to Lady Elliot is done by plane, so you'll get an amazing scenic view of the reef as you fly over the water. On land, the day includes a glass-bottom boat trip with snorkelling, lunch, and a chance to explore the island and water.
It's quite remarkable how much sea life you will see under the water here at Lady Elliot Island. It's quite common for turtles to hang out here (maybe grab a selfie?) plus there are sometimes also dolphins.
Diving
Of course, with the reef on the doorstep, Bundaberg also has a good dive centre. One of the best is Turtle Town Scuba, which has excellent courses to learn to dive, if you would like to get your PADI certification.
If you're ready to head out on a dive, they also offer trips and even multi-day liveaboard trips to some of the best places in the southern Great Barrier Reef.
Unique experiences
Many of the things to do in Bundaberg are quite similar to things you'll find in other Queensland towns and cities – heritage buildings, an art gallery, local produce, and beaches. (That's not to say there's anything wrong with them – they are all interesting places and each slightly different in their own way.)
But it's interesting to have a look at the things you can do here that are particularly special or unique. Mon Repos, which I've mentioned, definitely falls into that category, as do the following place.
Splitters Farm
A very important part of the story of Bundaberg relates to agriculture. It was the reason settlers originally came here and took the land from Indigenous people, it's still the main industry, and it permeates every part of the culture.
Getting a hands-on agricultural experience is a fantastic way to see the local side of Bundaberg, and you can do that at Splitters Farm, an ecotourism opportunity just out of town.
There are guided tours of the farm, where you'll taste honey, collect eggs, and go out into the paddocks. You can also look around by yourself, if you prefer.
The large property has lots of other activities, from walks to kayaking, fishing and even go-karting. There are even camp sites if you want to stay overnight!
Tinaberries
For another farm experience, one that's a bit smaller and sweeter, head to Tinaberries. It's a strawberry farm where you can buy fresh fruit or pick your own (during the season), and try some of the real fruit ice cream that's available all year.
Tinaberries a cute farm that's perfect for the kids and a wonderful place to hang out when the strawberry picking experience is available, getting hands on with the fruit that's so important for the Bundaberg region.
HMAS Tobruk
Finally, I want to offer another suggestion for scuba diving – one that is beyond just the normal reef experience.
I'm talking about HMAS Tobruk, a huge Australian Navy vessel (127 metres long) that was in operation for 34 years. After it was decommissioned, it was brought to the coast just off Bundaberg and sunk so it could become a dive site. It officially opened in 2019.
This is a technical dive, but you can actually go inside the wreck and swim through it for more than 100 metres, seeing different rooms and areas of the ship.
If you're looking for an operator to take you, I would recommend Bundaberg Aqua Scuba.
THE BEST ACCOMMODATION IN BUNDABERG
You won't really find any fancy hotels here, but there's a solid selection of motels and other friendly accommodation options.
BACKPACKER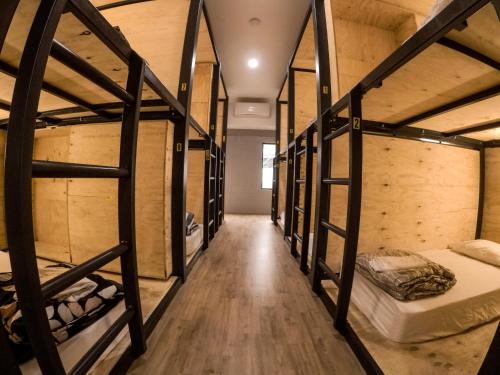 MOTEL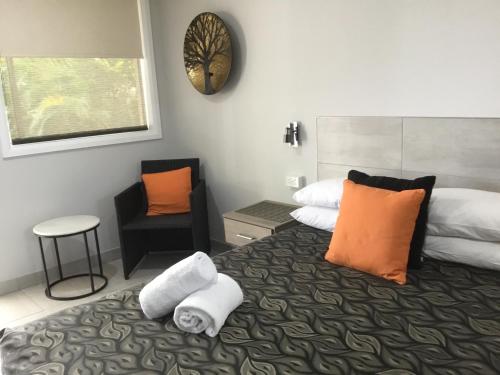 There are lots of motels in Bundaberg, but Golden Palms Motor Inn is clean, comfortable, and has the best value, I reckon.
BED & BREAKFAST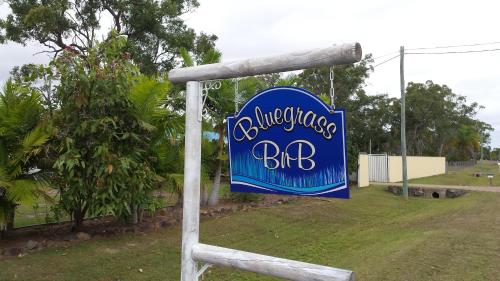 For a more personal experience, the Bluegrass BnB has a warm welcome and fantastic breakfast (but it's slightly out of town).
SELF-CONTAINED
If you're travelling as a family or a group, the 2 and 3 bedroom options at Alexandra Apartments give you plenty of space.