Russia has its vodka, Japan has its sake, and Australia has its rum. Not just any old rum, though. One brand in particular captures the spirit of Australia: Bundaberg Rum.
Growing up in Australia, I never drank a lot of it personally, but it was everywhere you went. "A bundy and coke," would be the order over the bar and everyone would know exactly what that meant.
Bundaberg Rum is by far Australia's highest-selling spirit – yet it is barely known outside the country. Only about three per cent of the rum produced is exported internationally and most of that is to New Zealand.
For Australians, though, it is almost a divine elixir, an important part of the national culture even for those who never drink it. It's why visiting the distillery where it is made is a form of pilgrimage.
And the site is right in the middle of – you guessed it – Bundaberg, here on the Queensland coast. For visitors, it's one of the best things to do in Bundaberg, and I think it has just as much to offer international travellers as domestic visitors.
Are there tours of the Bundaberg Rum Distillery?
Yes, there are regular Bundaberg Rum tours that will take you behind the scenes of the distillery. I recommend booking in advance to guarantee a spot.
Before I get into some of the details of what you'll see at the Bundaberg Rum Distillery, let's have a look at its story.
What is the Bundaberg Rum Distillery?
This part of Queensland, about five hours' drive north of Brisbane, is an important agricultural region, and one of the main products here is sugarcane.
The leftover product from the sugar extraction is called molasses and it used to literally flow through the streets when production was at its peak. The people of Bundaberg needed to work out what to do with it all and, being Australians, they decided to make booze.
The Bundaberg Rum Distillery was founded in 1888, although back then it only had five people working on it.
The first batch of the dark liquor was ready to drink a year later, in 1889, and it proved to be quite popular straight away. Within a couple more years, it was being sent for sale in Sydney, Melbourne, and even Perth.
Although the distillery has faced everything from fires and floods over the years, requiring it to be rebuilt, it has perserved to become one of the most famous Aussie drinks, with a whole range of products now, including aged spiced rum and a banana and toffee liqueur.
Obviously things have modernised since 1888, but there's still a lot about the process that has stayed the same. On a behind-the-scenes Bun
The first rum was produced in Bundaberg in 1888 and although the process has been modernised over the years, it's remarkably similar today to how it all started out. On a behind-the-scenes tour of the Bundaberg Rum Distillery, it's interesting to see how basic the whole operation is for such a big brand.
What do you see on a Bundaberg Rum tour?
The pit of molasses is huge — almost the size of an Olympic swimming pool… although you wouldn't want to go swimming in it. The tour guide warns me that it's so thick you would basically sink and have trouble moving. Like a huge pit of quicksand.
It's just one of the stops on the Bundaberg Rum tour, that takes us from the historic reception building, back into the large warehouse and factory structures behind.
Each step of the process to make the rum can be seen in the different areas. Although extracting the alcohol from the molasses can be quite technical (hence the required expertise), it's done in just a few large containers.
There's the fermentation to start and then a few procedures to get it to the right level. Pipes connect the various tanks where the distilling occurs.
The tour is not just about seeing – it's also about learning, of course, and there are good explanations about what you're seeing (which is important, considering a lot of it just looks like tanks and pipes). If you're interested in this side of things, you'll get a lot out of the tour.
And there's also the factory where a small and carefully automated production line cleans bottles, fills and closes them, labels are applied and the bottles are packed into boxes.
A few workers oversee this step but, in theory, the robots and machines do the whole job. It's strange to see the whole length of the production line take up just the space of a tennis court. Considering so much Bundaberg Rum is drunk every day, you would expect much more.
Unfortunately I wasn't able to take any photos inside the distillery. Because the alcohol is so flammable, anything that could cause a spark (including electronics like phones and cameras) has to be left outside in a locker.
However, it's a thorough tour, run every hour each day, with lots to discover. The guides are energetic and well-informed and happy to answer any questions.
At the end, there's an opportunity to taste some of the top shelf rums, to get a hands-on (mouths-on?) chance to see how it comes together. You really do come away from the visit with a much better understanding of the textures of the drink.
What else can you do at the Bundaberg Rum Distillery?
For many people visiting the Bundaberg Rum Distillery, the tour of the factory area will be the highlight – but there are actually a few other things to do here.
Museum exhibition
The other main section for visitors is the museum experience, which runs you through the history of the drink and some of the interesting moments in its story.
Located in an old bondstore, the museum is self-guided and has exhibits you can touch, smell, and taste. There are some cool examples of advertising and packaging over the years.
If you're taking the distillery tour, then the museum is included in your ticket price. Or you can pay just to see the museum if you don't want to do the tour (or you haven't booked in advance and it's full).
Blend your own rum
The other cool opportunity is the 'blend your own rum experience', which lets you make some rum by yourself, mixing together some of the different types that are being aged here.
You'll spend an hour with a guide tasting rum straight from the barrel, choosing your favourites, and then blending them into your own personal style. You'll even go home with two large bottles of it.
The blending experience is quite expensive ($250 per person, adults only) but it's quite good value seeing as you'll also have plenty to drink.
For more information, have a look at the official website of Bundaberg Rum.
Where is the Bundaberg Rum Distillery?
The distillery is in the east of the city, about three kilometres from central Bundaberg. The address is Hills Street, Bundaberg QLD 4670.
How do you get to the Bundaberg Rum Distillery?
The distillery is a short drive from most parts of Bundaberg and there is parking on site. If you're takin public transport, catch the number 4 bus to Princess Street and it's a 10-minute walk from there.
The bus timetable and route is here.
When is the Bundaberg Rum Distillery open?
The museum experience at the Bundaberg Rum Distillery is open at the following times:
Monday to Friday: 09:30 – 15:30
Weekends/public holidays: 09:30 – 14:30
The distillery tours run on the hour every hour at these times:
Monday to Friday: 10:00 – 15:00
Weekends/public holidays: 10:00 – 14:00
How much does it cost to visit the Bundaberg Rum Distillery?
The combined ticket for the distillery tour and museum experience costs $30 for an adult, $25 for a senior, $15 for a child, and $75 for a family (two adults and up to three children).
The ticket for just the museum experience costs $20 for an adult, $15 for a senior, $10 for a child, and $50 for a family.
IMPORTANT: Although you should be able to join a tour if there's space on one when you arrive, I would definitely recommend booking in advance to make sure you've got a spot guaranteed. You can book a Bundaberg Rum tour here.
Is Bundaberg Rum the same as Bundaberg Ginger Beer?
Something that can be very confusing for visitors to Bundaberg is that there are two drinks companies with very similar names.
There's obviously Bundaberg Rum, which we've just been talking about. But there's also Bundaberg Brewed Drinks, which makes the famous Bundaberg Ginger Beer (along with a whole range of other soft drinks).
The two companies are completely different, but they both offer experiences for people visiting Bundaberg.
Bundaberg Brewed Drinks was founded in the 1960s as a family company but expanded in the 1980s and its products can now be found around the world. Made from real fruit, the drinks are really popular and worth trying!
To learn more about it, you can visit The Barrel, where there are guided tastings, a self-guided tour of the gallery, and plenty of opportunities to buy some drinks (you can even put your face on the labels!).
Just like the distillery, I would recommend booking in advance, and you can do that here.
THE BEST ACCOMMODATION IN BUNDABERG
You won't really find any fancy hotels here, but there's a solid selection of motels and other friendly accommodation options.
BACKPACKER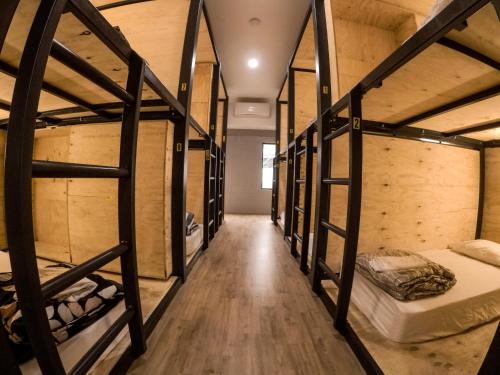 MOTEL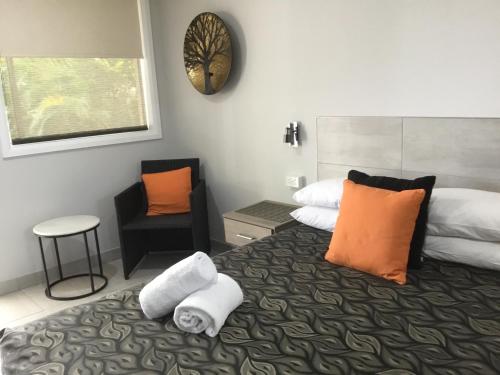 There are lots of motels in Bundaberg, but Golden Palms Motor Inn is clean, comfortable, and has the best value, I reckon.
BED & BREAKFAST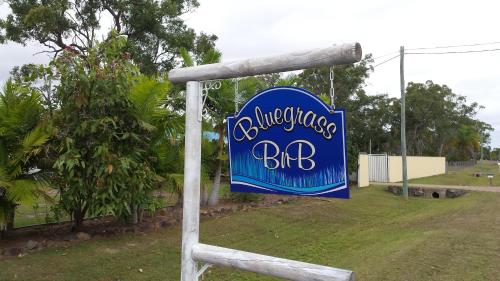 For a more personal experience, the Bluegrass BnB has a warm welcome and fantastic breakfast (but it's slightly out of town).
SELF-CONTAINED
If you're travelling as a family or a group, the 2 and 3 bedroom options at Alexandra Apartments give you plenty of space.