It's not something you would ever expect to see at a school, yet Stanthorpe State High School here in Queensland has its own vineyards and wine-making facilities on campus.
The fact that students who are not legally old enough to drink alcohol are already making wine shows you how important viticulture is to the local communities here. 
The town of Stanthorpe, with a population of about 5000 people, is the centre of a winemaking region called the Granite Belt, which has existed for decades but has only been making a name for itself in recent years.
As it turns out, there are lots of things to do in the Granite Belt – more than enough to justify the trip from Brisbane.
The vineyard at the local high school is not the strangest thing.
That wine is being made in Queensland at all is what is most extraordinary. The hot and humid state should be far from ideal for wine, but there's something a bit special about the conditions around Stanthorpe and the Granite Belt.
It's officially the coldest part of Queensland, partly because it's right at the southern end of the state, and partly because it has an elevation of about 1000 metres. But it also has a particular terroir, defined by the granite that makes up the landscape here (and obviously gives the region its name).
These growing conditions are perfect for certain types of grapes – and are also optimal for a whole range of produce. The Stanthorpe region is particularly famous for apples and, in fact, more apples are grown in the Granite Belt than anywhere else in Australia.
But, as you drive around and explore the land here, you'll realise the land is used for a huge variety of crops – strawberries, stone fruits, tomatoes, broccoli, zucchini, and much more. With fertile soil and passionate producers, it is one of the most important food bowls in Queensland.
Visiting the Granite Belt
What good is all this food and wine if it isn't eaten and drunk, though? Of course, much of it is exported around the country, but there's also plenty that stays in the region.
Over recent years, local communities have seen how tourism is the perfect companion to food and wine production, and the Granite Belt region around Stanthorpe has created the infrastructure to be the new Hunter Valley or Barossa – just more charming and understated.
With so many things to do in the Granite Belt, I found all the elements for a delightful weekend away from Brisbane. Or a good reason to visit southeast Queensland, for an indulgent getaway of good food and wine, with a little twist of the quirkiness that you find in the personalities here.
I start my visit to the Granite Belt at Sutton's Juice Factory, which is famous for its apple pies. These huge juicy pies are made with apples that come from the orchard out back – you can't get mush fresher than that.
Inside the cafe, which has the rustic feel of a corrugated iron shed, there are shelves lined with bottles of apple juice and cider. The coffee machine is working overtime, but it's the pies that are the main attraction.
Eating in, a slice with spiced cider ice cream is $14.90. You can also get a whole pie to takeaway for $65. But be warned – they are big!
At the Jamworks Gourmet Foods & Larder, on the other side of Stanthorpe, you can also get a coffee and something to eat. But, as the name may suggest, it's the jams that are the highlight here. Well, the jams AND the relishes, AND the chutneys, AND much more.
Jamworks makes more than 120 preserves and condiments on site, using some of the techniques that co-owner Steph learned from her parents, who began making some of the products for a small market stall in the 1980s and founded the original Jamworks in 2001.
You can do a tasting of many of the products at the shop before you buy and, trust me, there's plenty to choose from! Or why not have a meal cooked by the other co-owner (and chef), Christine, where each dish incorporates a local condiment or preserve.
There's going to be a lot of eating and drinking on this trip – that's sort of the point – but at least at Ashbern Farms I can feel like I'm earning my delicious treats.
The strawberry farm has been operating since 2008 and you can pop in and buy some fruit or have a dessert that's been made with them. But, to make it all a bit more fun, you can go out amongst the crops and pick some strawberries for yourself.
When I choose a row to walk along, then stoop down and push the green leaves aside, I find a clump of juicy red fruit waiting just for me! You're supposed to collect them in a container and pay back at the cafe ($12 a kilo)… but I can't resist popping one into my mouth straight away (sorry).
The big juicy strawberries are a reminder of how fertile the soil is, how lush the food is, and how everything in the Granite Belt revolves around good quality fresh produce.
Drought and bushfires on the Granite Belt
And that's why the region has been so badly affected over the past couple of years by drought and then bushfires.
When the water started to dry up, it had an effect on most of the farming in the Granite Belt region around Stanthorpe. As the months went on, some farmers had to remove a proportion of their trees so the rest would have enough water. Plans to increase or diversify crops were put on hold.
Towards the end of 2019, the area was also hit by bushfires. They weren't as serious as many of the others that hit Australia that summer – no homes or lives were lost on the Granite Belt – but it was another blow to many of the producers.
Ultimately it's only rain – lots of it – that will get the Granite Belt back to its full potential. And that will come one day. But in the meantime, it's tourism that will help the region get through until the water arrives. Because for visitors like me (and you), there's just as much as usual to see, do… and drink!
Stanthorpe wineries
There are certainly plenty of opportunities to drink here in the Granite Belt – and the Stanthorpe wineries are reason enough to visit. The Granite Belt may not have the same name recognition or prestige as other Australia wine regions like Margaret River or the Yarra Valley, but that's part of its charm.
Queensland is not somewhere you would expect to find vineyards. The first ones weren't planted because there are ideal growing conditions here – they were planted by Italian immigrants in the 1900s who just wanted to make their own cheap table wine (it was nicknamed the 'rough red').
But in the past couple of decades, more commercially-minded winemakers realised that the unusual conditions here could actually be used to make… unusual wines.
So, although you will find grape varieties like shiraz and chardonnay being grown here, it's the alternative varieties that the Stanthorpe wineries are most proud of.
The local industry has even given them a special name – the Strange Birds. These are grapes that make up less than 1% of Australian production but grow particularly well here in southern Queensland. Things like chenin blanc, viognier, tempranillo, and sangiovese.
At the Ridgemill Estate, owner Martin Cooper pours me a tasting glass of saperavi, a red grape from Georgia that's said to be over 8000 years old.
It's one of the Strange Bird wines he's most proud of, and I can see why. It's absolutely stunning, with hints of dark chocolate, liquorice, and spices. It's another Granite Belt surprise (at least, to me) because this is not where I expected to find one of Australia's top wines.
There are about 30 wineries around Stanthorpe that you can visit for tastings. At least a dozen of them are open every day, while the rest will open just a few days a week (or just on weekends).
At the wineries, you'll find a mixture of traditional grapes with the Strange Birds. All of them, though, have the elegance and complexity that come from the longer growing season and granite soil.
I would recommend all of the wineries that I visited on my trip. Each has an excellent selection of wines to taste, along with some interesting stories from the owners and winemakers (I think it takes a certain type of character to come and set up a winery on the Granite Belt).
So you won't go wrong with any of these wineries:
The Granite Belt has also been making a name for itself recently by winning a number of awards at national and international wine competitions. (All of the wineries I visited and recommend above have won awards.)
While gold medals are not the only factor in determining a good drop, you may like to try some of the wines that have been recognised this way. These are some of the best:
I should point out that it's worth remembering that, unlike most Australian wine regions, almost all of the wineries on the Granite Belt are owned by individual families. None are owned by big companies and none are listed on the stock exchange.
So, if you do some tastings, it's normally courtesy to buy something that you like. You'll find that some of the wineries charge a small fee for a tasting, but it's refundable when you buy a bottle.
Things to do in Stanthorpe
There's no shortage of things to do around Stanthorpe and the Granite Belt – certainly more than you'll be able to fit in during a few-days visit.
One of the best ways to approach a trip to the region is to pop into a range of different local business to get a good taste of the region (as opposed to good tastings, which you'll find everywhere).
Pop into Heavenly Chocolates, for example, where you'll find some unusual flavours and some quirky designs. The butterscotch chocolate in the shape of the local Ballandean Pyramid is one of the crowd favourites.
I would also suggest you visit Washpool, a wellness store with handmade soaps and other body products. Most of the items are made on site, using natural ingredients (and they smell incredible).
You can even arrange a full day workshop to make your own products, if you're interested.
And then there's one of my favourite spots in the region – the Granite Belt Brewery.
All the beers here are hand-crafted in the microbrewery, nine barrels at a time. There's a good range of styles, including an IPA and a pale ale – and, of course, there's a cider!
The bar itself seems perfect for the setting, the wooden interiors make it warm and comforting when the temperature drops outside, while the deck is available for the sunny summer afternoons.
And then, on top of all of this, there are also the natural escapes on the Granite Belt. Girraween National Park is the obvious choice, with its striking granite boulder landscapes and hikes for the adventurous.
But there's also the nearby Sundown National Park, with gorges and sharp ridges, offering another contrasting vista.
Accommodation in Stanthorpe
Of course, the Granite Belt is not somewhere you visit for just a day. Even from Brisbane, it's at least and overnight trip, which means you'll need somewhere to stay.
The great news is that there is some wonderful accommodation in Stanthorpe and the region. From motels to yurts, from secluded cabins to luxury cottages, there's a huge range to choose from.
Many of the options are associated with a winery (or the brewery) or some of the other local businesses, so staying overnight is a good way to support the region.
And, ultimately, that's one of the messages about the Granite Belt that's so important to convey at the moment. The people here are doing it tough, but they're soldiering on. For tourists, though, it's as good a time to visit as ever.
If you are able to come, eat the treats, taste the wine, hike amongst the granite boulders, then you're not just giving yourself a great weekend away, you're also supporting a community that's just trying to offer something special.
I'll leave you with a few accommodation options for Stanthorpe, to help you start your planning!
THE BEST ACCOMMODATION IN THE GRANITE BELT
Basing yourself in Stanthorpe is very convenient, but some of the farms have beautiful accommodation onsite for something quieter.
MOTEL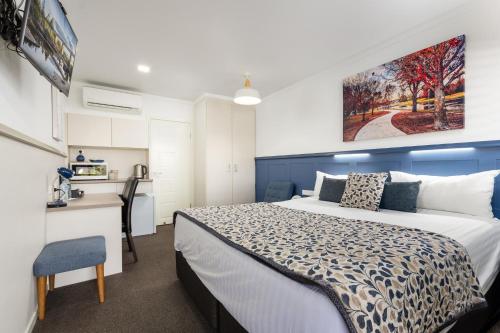 BREWERY
WINERY
GUESTHOUSE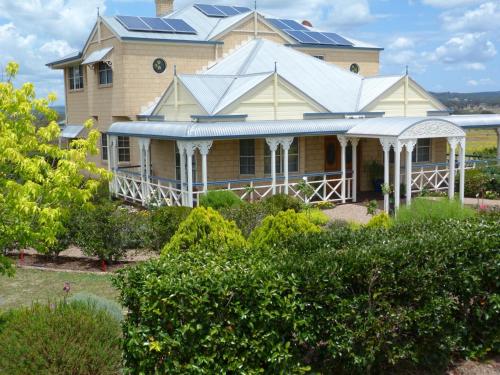 Time Travel Turtle was a guest of Granite Belt Wine Country and Tourism and Events Queensland but the opinions, over-written descriptions and bad jokes are his own.