The humid days make Darwin the kind of place where it feels natural to spend your afternoons cooling down over a beer or two. The pubs here are part of the community and a pub crawl in Darwin is a great way to see this side of the city.
But the Top End is known for its extremes, so, perhaps it's no surprise that the most adventurous visitors can find an epic way to grab a few drinks – and it comes in the form of Darwin's helicopter pub crawl!
From the banks of a croc-infested river, to the beautiful beaches of a waterside resort, travelling by helicopter means you can reach places that would otherwise be quite inaccessible. You certainly wouldn't be able to visit all of them in a day by car.
At the pubs, you'll find the quirky characters you might expect to drink at (and run) these remote pubs around Darwin. Sit back with a beer, spin a yarn, and hear about life in the Top End.
And of course, let's not forget that it's just bloody fun to be in a helicopter up in the air, swooping over the Northern Territory landscapes, spotting herds of feral buffalo, and watching the colours change from the green-blue tropical inlets to the more ochre soil inland.
I think a helicopter pub crawl is one of the best things to do in Darwin. But, if you're wondering if it's right for you, I want to share my experience so you have a good idea of what to expect.
What is the helicopter pub crawl in Darwin
So, what is a helicopter pub crawl? Well, the name says it all. It's like any normal pub crawl – you'll visit a number of pubs and have a drink (or more) at each one. But rather than walking or driving between them, a helicopter will take you between each one.
For a full day tour, you'll visit either four or five pubs. The flight times between the pubs are an average of about 20 minutes or more, so you're up in the air seeing the views for a total of about two hours.
There's also the option to do a half-day tour (which is only slightly cheaper) and visit three pubs instead – but I would only recommend that if you're actually short of time, because it will feel a bit rushed otherwise.
At each pub, you'll have about an hour to enjoy your beers and food and have a look around. The drinks and meals aren't included in the price, but they're standard prices. (Personally, I think the tour probably should include a drink per pub, but still…)
And, before I go any further, it's also worth noting that there are two companies in Darwin that offer a pub crawl by helicopter, but both tours are so similar that my descriptions here will apply to both.
If you're ready to book, you could go with either this Heli Pub Crawl with Nautilus Aviation, or this Heli Pub Crawl with Airborne Solutions.
My day on a Darwin helicopter pub crawl
Soaring above the landscapes, I look down to see the tropical green trees whizzing past. I'm in the front seat of the chopper and there's no door here. It feels safe but the pilot has warned me the wind is fast and to be careful if I stick my hand out if I'm holding a camera or a beer. Apparently quite a few cans have been lost this way.
I'm just on a half-day tour, which is probably a bit short because there's actually a lot of flying time and a lot of ground to cover. But it's a great taste of the epic adventures you can have with a beer in your hand and a helicopter at your disposal!
We go to three pubs (while the full-day tour goes to four or five pubs, heads even further from Darwin, and has a bit more flexibility for longer stops, if needed.)
Goat Island
Our first landing site is at Goat Island, a small island in the Adelaide River that's owned by Kai Hansen, who has built a pub here. It's officially called Casey's Bar, named after a 'friendly' crocodile called Casey who used to visit. (Casey hasn't been seen for a while and the theory is she's been eaten by a new crocodile called Fred. We don't like Fred, apparently.)
Kai is certainly a character – but what do you expect from someone who would live alone (except for a dog) in the middle of a river filled with crocs. A sign at the entrance warns you that he's politically incorrect and his jokes are definitely borderline offensive – most of the time it's funny, but a thick skin is advised!
You can't get here by road, so most people arrive by boat. The river here is popular for fishing and boating and so it makes sense to pop in for a beer and to say hi to Kai, who certainly has quite a few regulars who come to see him. The bar he's built here has a large deck, a perfect vantage point to see Fred, who is half-submerged at the edge of the river, watching us closely!
Darwin River Tavern
The Darwin River Tavern is about 60 kilometres from the centre of Darwin but the locals will still drive out here for the meals, which are some of the best pub food you'll find in the Northern Territory. The surf and turf is particularly popular.
We touch down in the chopper right in front of the pub, in a parking spot near the front entrance. This is not getting old, and I love feeling like a rock star making an entrance!
The main bar of the Darwin River Tavern feels a bit like the Outback, with a red stone floor, hand-crafted wooden tables, and even a natural stone feature behind the bar.
In a glass atrium there is the pub's pet freshwater crocodile. "You're in the Badlands now!" one of the local drinkers jokes with me. But, in reality, this can be a comfortable family pub.
Crab Claw Island Resort
Compared to the Darwin River Tavern, the next stop is a big change, like swapping Crocodile Dundee for Paul Hogan.
The Crab Claw Island Resort is on a beach in a quiet and remote inlet west of the city centre. We land right on the sand, next to a sign warning about crocodiles in the water, with accommodation bungalows nearby.
Up on the deck, I eat calamari and drink a beer, watching as the sun starts to go down. There are quite a few people staying here and I can understand why you would come here for a holiday – it feels a bit like a Pacific Island or Southeast Asia.
In typical Territory style, things are still a bit quirky. There's a pet emu who liked to eat bok choy, and a cockatoo that sits on a railing and bristles its feathers when I walk past. But it's also quite incredible to think about the variety of places we've been on this pub crawl because we have a helicopter.
Should you do a Darwin helicopter pub crawl?
I can give you a really easy answer to this question – yes, definitely!
But to explain, let me put it this way. The things you see from the air are quite spectacular – the city centre of Darwin, the beautiful blue waterways, the tropical wetlands, and the orange dirt. It would be worth doing the helicopter ride just for the scenic aspect.
On top of that, though, you get to visit a fantastic variety of pubs that really do give you an insight into the Top End culture. Kai is certainly a character, and perhaps not typical of your average local, but he's a good example of how people don't taker life too seriously up here.
At the other pubs, you'll see the mix of land-locked earthy bars and waterfront holiday-style decks. With good food and cold drinks, you'll also come to appreciate why pubs are such an important part of life around Darwin.
There's also the logistics that a helicopter pub crawl helps with. It would be at least a half-day trek to get to a single one of these pubs – potentially even longer. (Driving from Darwin to Crab Claw Island Resort would take almost two hours each way, for instance.) So, if you're on a holiday in Darwin, this allows you to pack a lot into a single day.
And then, finally, this is an epic adventure, one of those dream experiences, that you will be talking about for a long time. Each time I tell somebody the story of doing a Top End pub crawl by helicopter, their eyes light up and they want to know every little detail. It's a unique Aussie experience that you won't regret.
How to book a Darwin helicopter pub crawl
So, with all of that in mind, let me tell you how you can organise a helicopter pub crawl in Darwin.
There are actually two companies in Darwin that offer helicopter pub crawls and both of the tours go to almost exactly the same places. In fact, there's very little difference between what they offer.
The first option is this Heli Pub Crawl with Nautilus Aviation, or you can book the Heli Pub Crawl with Airborne Solutions.
A helicopter can carry a maximum of three people, but you can do the tour with just two people. If there are more than three of you, don't worry – they can use extra helicopters to take larger groups. You'll just fly in a convoy (which is fun because you get a good view of the other guys!)
There are lots of things to do in Darwin and I certainly recommend spending a few days exploring the city. If you can fit this into your visit, wow, what an epic trip!
THE BEST ACCOMMODATION IN DARWIN
Unfortunately there isn't a huge range of decent accommodation in Darwin and it can be overpriced, so it's worth booking in advance to secure something good.
BACKPACKER
It's unashamedly a party hostel so there's a great atmosphere at the popular Youth Shack Backpackers in the city centre.
BUDGET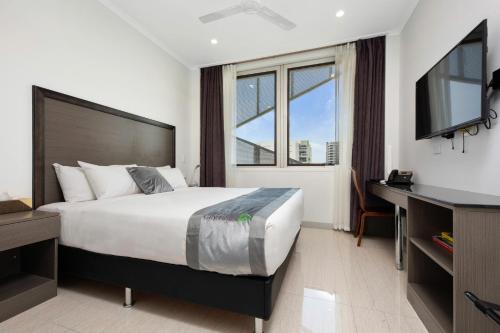 Considering it's in the centre of town and has comfortable rooms, the Darwin City Hotel is great value for a budget option.
SELF-CONTAINED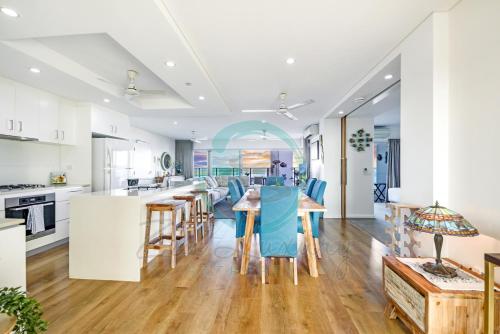 If you're travelling in a large group and want some room, the Zen Towers Penthouse has three bedrooms spread across a luxurious space.
LUXURY
I think the Adina Apartment Hotel is probably the nicest in Darwin, with modern rooms and a great view across the waterfront.