One of the main reasons visitors come to the Top End is to see the dramatic landscapes and nature of northern Australia – and Litchfield National Park has it all within easy reach.
Steep red escarpments with waterfalls cascading over them, enormous termite mounds that soar above any human, lush rainforest, pristine swimming holes, and so much more. You'll find all of it within Litchfield National Park and it makes a perfect day trip from Darwin (although you can spend much longer here – more on that shortly).
You might wonder whether you have to choose between Litchfield National Park and Kakadu National Park, the other magnificent park that's accessed from Darwin. But I don't think it's an either/or situation. They have similar terrain and features but they are completely different beasts and you'll have a unique and incredible time in both of them.
What Litchfield offers is a perfect little taster of a variety of ecosystems.
You can spend your time admiring the waterfalls from a distance and then going for a swim beneath them.
You can hit the hiking trails – either short loops to see a bit of the landscape or long (even multi-day) ones to challenge yourself.
You can explore a bit of the heritage here, through Indigenous culture or more recent colonial infrastructure.
And you can do all of it in the one visit, spending more time on your particular interests and just dipping your toe in the others.
Visiting Litchfield National Park
Litchfield National Park is a popular excursion for locals – particularly on the weekends – for a swim in one of the waterholes. When it's hot in the city, it can feel a bit cooler in some parts out here (but hotter in others, such is the nature of the varied landscapes).
But if you're a visitor from elsewhere, I would recommend you view Litchfield National Park as more than just a fun place for a dip. You should certainly do that – the water is heavenly – but it's also such a fascinating area, that I suggest you take some time to learn a bit more about what you're seeing.
There are lots of excellent information signs throughout the park that will tell you more. You could also take a tour with an expert guide. I'll go into more detail later, but the best one to really learn about the park is with Ethical Adventures.
A tour can also make the logistics much easier. But, if you have a car, you can reach most of the top things to do in Litchfield National Park on sealed roads.
However, there are parts of the park that are only accessible by 4WD and they are much more adventurous. If you're looking for some rough and fun driving and bit more of an exploring vibe, you'll find that along those unsealed roads.
Whatever car you have, it is certainly possible to do Litchfield yourself and it's certainly possible to do it in a day. But I would suggest at least considering whether you should stay longer.
There are lots of lovely campsites within the park and there are other accommodation options just outside the boundary. It means you can see more, be a bit more relaxed, and have an overnight outback experience.
Make sure you bring enough water with you. If you're relying on the water available in Litchfield National Park, it is untreated so you'll need to sterilise it first.
With all this in mind, I want to share some advice for how to visit Litchfield National Park from Darwin. I hope you find this guide useful for planning a trip.
Getting from Darwin to Litchfield National Park
Visiting Litchfield National Park is one of the best things to do in Darwin. The city has lots of interesting attractions and experiences, but there's nothing quite like hitting the road and seeing the landscapes.
Luckily it's easy to get from Darwin to Litchfield National Park if you have a car. The drive through Batchelor and in through the eastern side of the park is all on unsealed roads and will take about an hour and a half.
There is an alternate route that goes through Berry Springs and comes in through the northwestern side of the park. At the moment, some of that road is unsealed (although it's being upgraded) but the conditions are good in dry weather.
Assuming your car can go on both sealed and unsealed roads, one of the routes may be better if you're heading for a particular spot. I would also recommend doing a trip as a loop to avoid doubling back, if you're able.
There is no petrol available in Litchfield National Park so I would recommend having a full tank before you leave Darwin. The closest petrol station to the park is at Batchelor.
Unfortunately public transport isn't an option. There is no bus from Darwin to Litchfield National Park, for instance. And, even if there was, you wouldn't be able to get around to the different areas once you were there.
If you don't have a car, don't panic. There are a few tour options and some of them are relatively simple and just take you to a selection of the main things to do in Litchfield National Park – so you can join one of those tours and treat it like public transport.
Litchfield National Park map
If you're sticking to the sealed roads (as in, you're not going to go exploring on a 4WD track) then you won't need to regularly consult a map when you visit Litchfield National Park. There is a single road that goes through the park and the highlights are just short diversions of this main road.
But of course it's useful to get a sense of the park from the map so you can plan your day, if you're doing it independently.
Check out the official fact sheet and map on the Parks & Wildlife Commission of the Northern Territory website. It gives a good representation of where everything is and the main facilities at each stop.
Things to do in Litchfield National Park
Although it's not enormous and is much more manageable than Kakadu, there are still lots of things to do in Litchfield National Park, from majestic waterfalls and swimming spots, to hikes and heritage.
You'll need to make some decisions about which ones to focus on. That's why I thought it would be useful to give you a quick rundown of what's on offer and what the highlights are.
I'll run through these options in the order that you'll reach them if you're driving into the park through the main entrance from Batchelor.
Magnetic Termite Mounds
You'll find quite a few spots throughout the park where you can see the magnetic termite mounds, but there's a specific viewing area marked near the main entrance that's a good a place as any to stop,
The magnetic termite mounds are huge – some can get up to about 4 metres high – and they are grey, wide, and thin (as opposed to the orange cathedral termite mounds that look more like towers).
What makes these mounds so special is that the long edge is aligned along the north-south axis. How those clever little termites worked that out, I'm not sure (presumably scientists know how) but it's done so that the sun will better regulate the temperature inside the mound.
Florence Falls
I think Florence Falls is one of the best spots in Litchfield National Park and I definitely recommend you stop here. The swimming hole here is gorgeous – just small enough that you feel like you're in a rock pool but big enough that you can actually swim around. The red rock ringing it and the waterfalls coming over the edge make it so scenic.
It does get very busy, though, because it's so pretty and the easiest to access from Darwin. If you can get there early or late without the crowds, it will be even more pleasant.
There is also a pleasant walking trail here that's longer than the direct path from the carpark to the falls. It's only one kilometres but has 160 stairs so make take you 20 minutes or more. But the path goes along a river through monsoon forest and amongst some open woodland.
Buley Rockhole
Nearby to Florence Falls is Buley Rockhole and, although it has its own carpark, there's also a 3.2km hiking trail between the two, which may be of interest if you want to explore a bit and have a couple of swims.
Buley Rockhole is different to Florence Falls, in that it's not a big pool surrounded by rock walls. Instead, it feels more like a section of river where the water collects into a nice large space for swimming.
There are small rapids here bringing fresh water and the surroundings with the green trees growing out from the red rock is beautiful. It's another spot that's very popular with locals because, as well as the swimming, there's lots of space to hang out on the rocks.
The Lost City (4WD only)
Unfortunately a lot of visitors don't get to see the Lost City because this is at the end of road that's only accessible by 4WD. But, in some ways, that just makes the adventure seem even more worthwhile!
There's no human construction here – the 'city' in its name refers to large sandstone outcrops that have been eroded over many years to leave pillars that create the effect of a maze of alleys. It's quite a remarkable sight and a highlight, if you can get there.
The 4WD track from the main road is only about 10 kilometres long but it's very rough and rocky and is just a single lane. There are some tour operators that head out here too, which is a fun trip to do.
Tolmer Falls
No need to grab your towel, this isn't a swimming spot, but Tolmer Falls is definitely worth the stop for the incredible views.
This is probably the most dramatic of the waterfalls in Litchfield National Park, with the river cascading over two high escarpments and down into a pool. Steep stone cliffs either side create a canyon that the water then flows down amongst the trees.
There are two viewing platforms here that are just a few minutes' walk from the parking. One will let you look over to the falls, while the other gives you a great vista across the wide landscape of the region.
If you are looking for a bit more than just the short stroll from the car park to the viewing platforms, there's a 1.6km loop trail that will take you through some of the beautiful sandstone country in this part of the park. There are even information signs to give you some context for what you're seeing.
Blyth Homestead (4WD only)
Another spot within the park that you can only reach with a 4WD is Blyth Homestead. But, it's only 7 kilometres from the main road so, if you've got the right car, it's a relatively easy detour.
Don't let the word 'homestead' fool you – this isn't some luxurious family mansion. The small corrugated iron shelter was built in 1928 and was used by the Sargent family when they needed to graze cattle on the land around here – normally 4 or 5 of the children at a time would use it (there were 14 kids in the family!)
It's a really interesting little insight into the life up here before modernity caught up with the Top End (the homestead was abandoned in the 1960s). There are good information panels at the site.
If you want to continue further down the Reynolds River 4WD Track, you'll find some basic facilities at Tjaynera Falls and Surprise Creek Falls, where you can swim and camp (if you're prepared).
Wangi Falls
The most famous spot in Litchfield National Park is Wangi Falls and you really can't come here and not visit. Although, because all the tour buses stop here, it doesn't feel quite as remote and outback as some of the other spots.
There's a large lawn and a cafe when you arrive (quite different to other parts of the park) but take a stroll a bit further and you'll find a huge pool with a background of steep cliff with two majestic waterfalls cascading over the top.
You can go for a swim and get up close to the waterfalls, or just float near the shore, where there's lush monsoon rainforest. It is one of the most photographed spots in the park and there are a few viewpoints where you can get different angles.
From here, you can do the 800-metre return walk up to the Treetop Deck for a nice view, or you could do the Wangi Loop Walk, which is 1.7 kilometres and takes you further on up the plateau behind the falls.
Cascades
If you are keen to get away from the crowds, then the Cascades is a great option. It's a short drive further on from Wangi Falls but a lot of day-trippers don't bother making the extra effort (and it's not a simple walk once you're there, which puts some people off).
The Cascades refers to a stretch of a stream that flows across a rock platform, gradually dropping down layers, creating a series of small waterfalls, until it turns into a river. There are hiking trails that go alongside it and lots of opportunities to jump in the water for a dip.
From the car park, there is a 2.6km return walk on the Lower Cascades which is a pleasant hike along the river to a series of nice swimming holes. Alternatively, there's a 3.3km loop on the Upper Cascades that will lead you up the plateau for some nice views.
If you've got time and would like a bit more of a rough trail walk with a bit of easy scrambling, I would definitely recommend coming out here.
Bamboo Creek Tin Mine
The area here hasn't always been a national park and at the start of the 20th century some of it was used for mining. You can see the remnants of this time at the Bamboo Creek Tin Mine, which was established around 1906 and was in use until 1955.
The hole in the rock that the miners would crawl into has been closed up for safety reasons, but you can just imagine how hard the work would've been. Nearby is the equipment for ore extraction and processing.
Right next to the equipment are the remains of the accommodation. It certainly wasn't a long commute but there's nothing luxurious here. The information signs here are very good and there's a lot to learn about the industrial heritage of the park.
The Tabletop Track
Although there are lots of other little things to do in Litchfield National Park that I haven't mentioned, I do want to tell you about the Tabletop Track.
The track is a long multi-day bushwalk that takes you through the park and shows you the best of the landscapes, from woodlands to waterfalls. You'll pass some sites where there are tourists, but most of the time you'll be in quite remote wilderness.
The circuit is 39 kilometres long and you'll need to carry most things with you. Officially, the trail is designed to take between 3 and 5 days, depending on your speed.
You will need to camp along the way and you need to stay at designated campground. There are three campgrounds specifically for the track, plus you'll pass more commonly-used ones at places like Wangi Falls and Florence Falls.
If you're looking for a special adventure in the park, it's something to consider!
THE BEST ACCOMMODATION IN DARWIN
Unfortunately there isn't a huge range of decent accommodation in Darwin and it can be overpriced, so it's worth booking in advance to secure something good.
BACKPACKER
It's unashamedly a party hostel so there's a great atmosphere at the popular Youth Shack Backpackers in the city centre.
BUDGET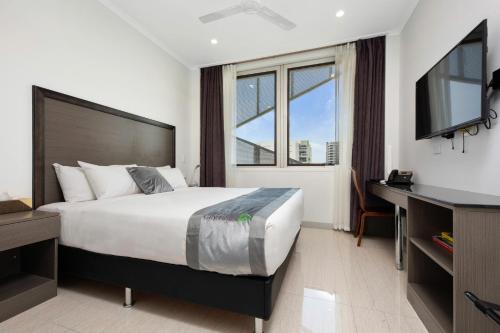 Considering it's in the centre of town and has comfortable rooms, the Darwin City Hotel is great value for a budget option.
SELF-CONTAINED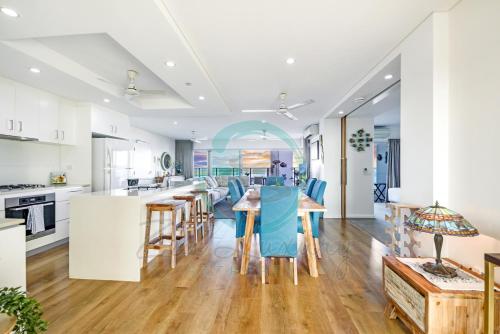 If you're travelling in a large group and want some room, the Zen Towers Penthouse has three bedrooms spread across a luxurious space.
LUXURY
I think the Adina Apartment Hotel is probably the nicest in Darwin, with modern rooms and a great view across the waterfront.