Australia's northern capital is often seen as just a staging point for bigger adventures around the territory – but you don't need to look too hard to find lots of things to do in Darwin itself.
Across the city, Darwin's attractions offer an insight into the heritage of the Top End and a taste of the natural beauty of the region. You can visit a military museum in the morning and be swimming underneath a waterfall by the afternoon, for example.
Darwin is small, with a population of only about 150,000 people – and I think it actually feels even smaller than that because of the way that it's spread out. Most visitors will spend the majority of their time in the city centre, which is less than two kilometres long.
There's a laidback atmosphere, which is one of the reasons locals love living here. I've had quite a few friends who have moved to Darwin for short term work opportunities and have then stayed for years.
As a visitor, you'll get more out of your time here if you relax into the slow pace and enjoy a small selection of activities, rather than rush to fill your time with lots of attractions. There may be plenty of things to do in Darwin, but that doesn't mean you need to see them all!
The weather is also a factor. Whether you visit Darwin in the dry season or the wet season, it will be quite hot and humid, so it's nice to regularly sit and have a break. Thankfully there are some cool new bars, cafes, and restaurants in Darwin to take a breather.
The best things to do in Darwin
To help you plan a trip to Darwin, I've put together this list of the best things to do in Darwin. As you'll see, there's quite a variety – and plenty of fun things that are quintessential Top End!!
In the city
Although you may think you've come for the nature and the water around Darwin, there's lots to see around the city, possibly just a short walk from your accommodation.
Museum and Art Gallery of the Northern Territory
It might make sense to begin your trip at the Museum and Art Gallery of the Northern Territory (MAGNT) to get a good overview of the city and some of the history (plus it has great air conditioning to help you acclimatise).
There are a few permanent exhibitions that give you a nice introduction to Darwin, including the natural history section, where you can see the evolution of some of the local flora and fauna.
There's also an excellent section about Cyclone Tracy in 1974, that really changed the shape of the city. And, of course, there's Sweetheart, the famous 5.1-metre crocodile that terrorised boats in the 1970s but is now stuffed and on display.
Botanic Gardens
The Botanic Gardens (officially called George Brown Darwin Botanic Gardens) is close to the museum and art gallery and it might make sense to combine the two.
You wouldn't realise from driving past, but there are quite a few features and different environments within the gardens. One of the highlights is the rainforest, which has a waterfall inside it.
There are some lovely leisurely walks through the botanic gardens and a cafe to get some food and drink. You don't need to spend too long here, but it's a nice bit of nature within the city.
Darwin Street Art
Back in the city centre, one of the best free things to do in Darwin these days is explore the street art. The Darwin Street Art Festival began in 2017 and runs annually, meaning there are now more than 50 large murals on walls in the CBD.
There's a map on the website, but you'll find most of them if you explore the alleys around the wall. Some of them are enormous and are so beautiful in their detailed depictions of local characters and heritage.
I always think you can tell a lot about the soul of the city from its street art, and these murals show that Darwin has a lot of interesting stories to share.
Markets
Darwin is known for its markets and they're a fantastic way to discover local produce and taste some incredible food. Of course, there's a huge selection of multicultural dishes (and plenty of different types of laksa).
One of the best markets in Darwin is the Mindil Beach Sunset Markets, held in a park next to the beach on Sundays in the Dry Season (late April to late October). There are more than 200 stalls – a third of which serve food – and a beautiful view of the sunset from the sand.
Another popular market that runs all year round is the Parap Village Markets, held on Saturday mornings. The food is the focus here and, although everything is good, you'll easily be able to spot the local favourites by the long lines (especially at Mary's famous laksa).
Other markets in Darwin worth checking out are Malak Marketplace (Saturdays from June – October), Rapid Creek Markets (every Saturday and Sunday), and Nightcliff Markets (every Sunday).
Other museums
Royal Flying Doctor Service Darwin Tourist Facility
One of the best museums in Darwin is the Royal Flying Doctor Service Darwin Tourist Facility, which you'll find at the end of the wharf at the Darwin Waterfront.
This centre uses new technology like virtual reality and life-size holograms to tell two iconic stories about the Top End. The first is about the Royal Flying Doctor Service, including how it was established and the important work that it does in remote areas of the Northern Territory.
The other story is about the Bombing of Darwin, which took place in 1942 during the Second World War. It's a dramatic enough event but, coupled with the video content, the drama is heightened even further in this retelling.
You can buy tickets in advance here to save yourself time.
World War II Oil Storage Tunnels
Near the RFDS and Darwin Bombing museums, on the edge of the Waterfront, is a related site – the World War II Oil Storage Tunnels.
Construction started on these tunnels in 1942, which were designed to store oil within the escarpment so they couldn't be attacked (Japanese air raids had already destroyed seven above-ground tanks). 400 labourers worked on the project, digging hundreds of metres by hand.
You can walk through a couple of them to discover the result of the huge engineering project. There are some information panels, but they're relatively basic. That doesn't really matter, though, because it's the tunnels themselves that you've come to see.
It's great that they have been well preserved and offer a good perspective into this period of the city's history. You can learn more about the time with this WWII Reflections tour, or even with this Bombing of Darwin Cruise.
Darwin Military Museum
And, continuing the theme, another site of interest is the Darwin Military Museum at East Point, about a 10-minute drive from the centre of town.
The museum was founded in the 1960s and has been collecting memorabilia from across the NT ever since. While there's an exhibition focused on the Bombing of Darwin, other aspects of the territory's military history is also covered.
There's an indoor section that has been set up inside an original concrete command post bunker, but there are also lots of vehicles and armaments on display in the outdoor area around it.
Darwin Aviation Museum
The Darwin Aviation Museum was established in 1976 with the initial aim of preserving aircraft and other artefacts from the Second World War. So, it's probably no great surprise that the museum has displays about the Bombing of Darwin (everyone does, right?) but that's just a small part of the exhibitions.
There are also fascinating displays about parts of Darwin history that you may not have heard of before – such as the race from London to Darwin in 1919 that was won by brothers Ross and Keith Smith.
The highlight for many visitors to the museum, though, is the enormous B52 bomber, the only one of its kind on display in the Southern Hemisphere.
Fannie Bay Gaol
As Darwin's main prison for about a century, from 1883 to 1979, Fannie Bay Gaol has certainly got lots of stories to tell!
It's now a historic site and you can visit it for free on Saturdays to see the heritage buildings. There's the female block with a small garden, maximum security wings added in the 1950s, and the watch tower.
The heritage site is about halfway between MAGNT and the Darwin Military Museum, so it's easy to include in your sightseeing.
Animal encounters
OK, I get it, you've come to Darwin so you want to see a croc. The good news is that it's not hard to do and there are quite a few options. Plus, there are some other interesting animals to see while you're at it.
Crocosaurus Cove
You can't come to the Top End without having some kind of crocodile encounter – hopefully on your own terms! If you want to get up close to these magnificent creatures, then you can do that right in the centre of the city at Crocosaurus Cove.
You can see some adult crocodiles being fed, you can feed some juvenile ones yourself, and you can even hold some baby crocodiles. For the most adventurous, you can 'swim' with the crocodiles, with just glass separating you from these ancient killers.
Obviously everything is carefully managed and you certainly feel like you're at a tourist attraction – but it's a fun and easy way to get a quick croc fix.
Crocodylus Park and Zoo
Another option to see crocodiles is Crocodylus Park and Zoo, about 15 minutes out of town. There are about a thousand crocodiles here, from hatchlings to adults, and you can see shows or even feed them yourself.
There are other animals here – some which are endemic to the region and some from around the world (leopards and tigers, for example). This is because the park also operates as a wildlife research centre.
Territory Wildlife Park
And, while we're on the topic, there's also Territory Wildlife Park, which is about 45 minutes out of the city centre (near Berry Springs and Barramundi Adventures, which I'll mention soon).
It's quite a large park that is divided into different habitats, like a billabong, rocky ridge, or monsoon forest. You can walk around it, or there is a shuttle bus that drives around the loop.
The focus is on animals from the Top End, so it's a great way to learn more about the region. You'll see echidnas, wallaroos, quolls, emus… And, of course, crocodiles!
On the water
Darwin has water all around it and, although it's not really thought of as a beach destination, that doesn't mean there aren't ways to make the most of it.
Darwin Waterfront
The Darwin Waterfront is a modern entertainment precinct that was developed on reclaimed land previously used for industrial purposes. It has lively bars and restaurants and is easy to reach on foot from the centre of Darwin.
On the shoreline, there's a lagoon where you can swim for free (although the water isn't that nice, to be honest) and sun beds to relax on the sand or the grass. The nearby Wave Lagoon, which has an entry fee, is much nicer and more fun because of the artificial waves.
The Darwin Waterfront is a great place to hang out on hot days because it tends to feel a bit cooler – and the large terraces and beer gardens are perfect places to sit in the shade and have a drink. In the evening, you'll find excellent restaurants and bars here, and it's often busier than the city centre.
Stokes Hill Wharf
Across the lagoon from the Darwin Waterfront is Stokes Hill Wharf, where there's been a wharf for the city since 1885. The current one was built here in 1956 and it's still used by some boats, such as pearlers.
Much of the space on the wharf is now used for restaurants, cafes, and food courts. There are some great places to eat here with spectacular views across the water. One of the most popular restaurants is Crustaceans on the Wharf, but there are other options to choose from.
This is also where you'll find the Royal Flying Doctor Service Darwin Tourist Facility, which I mentioned earlier.
Sunset cruise
The sunset cruises leave from Stokes Hill Wharf and they're one of the best things you can do in Darwin. The sunsets here are spectacular and seeing them from out on the water is awesome.
You'll also get a different perspective of Darwin from the boat – and it's a pretty city. The cruises don't go too far along the coast, but they go far enough that you'll see a few sights along the way.
There are different cruise options and you can choose from just the trip, right up to dinner and some drinks included. For a cruise without dinner, I would recommend this one on a large boat. Or there's a smaller and faster boat that offers this sunset cruise with a fish and chips dinner.
Jet ski
If you're a bit more active, then you might be interested in hitting the water on a jetski. Well, luckily there's just the thing for you with OOSeven Jet Ski Adventures!
You will get your own jet ski to use (unless you would prefer to share with someone) and a guide will lead you out on a course through the waters around Darwin.
As well as some thrilling curves and high speeds, you'll also get to see a bit of the landscapes around the city – and possibly even a crocodile! Don't worry, though, you'll be looked after well!
Wetlands cruise
Speaking of crocodiles (as I know we've done a few times now), one of the best areas to spot them in the wild around Darwin is the wetlands just inland from the city. While the sunset cruise is about relaxing and the jet ski is about adventure, a wetlands cruise is a really good way to see the region's flora and fauna.
Crocodiles are one of the big attractions, and some operators will have tricks to encourage them to jump out of the water, while others will just let you see everything more naturally.
There are a few options which, to be honest, are all quite similar – but one might suit your budget, time, or style a bit better. There's this short tour out to the Corroboree Billabong, there's this half-day afternoon tour out to the Adelaide River, then there's this longer morning tour which goes to the Mary River.
Exploring around Darwin
If you can stand the humidity, you can actually walk around the centre of Darwin to a lot of the places that I've mentioned – it's not that big. But there are some other things to do in Darwin that are a little bit further out and are definitely worth considering.
Hop-On Hop-Off Bus
If you don't have a car but want to get out to places like the Darwin Military Museum or Fannie Bay, then a useful option could be the Hop-On Hop-Off Bus. It goes through the middle of the city, past the main sights, and then to some of the outlying Darwin attractions.
It's very similar to most buses like this – and I know that people either love them or hate them. But it can be a good way to see lots of spots without having to pay for a taxi each time.
You can book a ticket in advance here, and you can see the route map here.
Helicopter ride
If you're looking for an epic experience and a serious braggable activity, then why not take a helicopter ride over Darwin. You'll get some of the best views of the city and the surrounding landscape.
It's a super cool way to get a different perspective of the Top End, and you'll be surprised with how so many things look different from up here! You can book a helicopter ride here.
If you want to add another layer of coolness to the experience – how about this Darwin pub crawl by helicopter. How epic is that?! You can read my review of the helicopter pub crawl here.
Barramundi Adventures
One of the most iconic things you can do in this part of Australia is catch a barramundi – but it can sometimes be a bit of a hassle to get everything organised and get to a good spot.
That's why Barramundi Adventures is such a cool idea. Just out of town, in a huge dam, there are a heap of barramundi just waiting to be caught (well, they may not realise that). Still, you can cast in a line and, regardless of your experience, you're bound to eventually catch something.
There's a comfortable space at Barramundi Adventures, with food and drink and space to play, so it's a great activity for people of all ages.
Berry Springs Nature Park
Not far from Barramundi Adventures is a bit of an unknown gem (unless you're a local – then you know about it). Berry Springs Nature Park is a wonderful little park that has some beautiful flora, as well as lots of wildlife.
There are hiking trails, good birdwatching, and picnic facilities. But the best thing to do at Berry Springs Nature Park is take a dip in the swimming pools. The water is nice and clear, so you can even bring some goggles to have a look at what's going on with the fish beneath the surface.
It's one of the closest nature parks to Darwin, so is much quicker to reach than other places like Litchfield National Park.
Day trips
Although there are lots of things to do in Darwin, it's also an excellent place to base yourself to explore a bit of the Top End. Here are my suggestions for some good day trips from Darwin.
Litchfield National Park
One of the best day trips from Darwin that you can do is to Litchfield National Park, a beautiful expanse of Top End landscapes just one and a half hour's drive the city centre.
There is a variety of ecosystems in the park, but one of the highlights for visitors are the swimming pools, with crystal clear water surrounded by orange cliffs and lush vegetation. Many of them are fed by waterfalls, adding to the beauty of the locations.
I've put together a guide to visiting Litchfield National Park that has lots of information about some of the other things you can do here. There are hikes over the escarpment, trails that lead through more tropical areas, great viewpoints, and some fantastic sights like the large termite mounds and old heritage buildings.
If you would like to go on a tour, to make things easier to see all the highlights, there are a few good ones. My favourite is this excellent tour that is much more than the typical cookie-cutter itinerary. There's also quite a fun tour that includes a river cruise. And there's this more traditional tour that goes to all the main spots.
A Litchfield National Park day trip is a great thing to do, but it's worth noting that you can stay overnight either by camping in the park or at accommodation just outside the boundary.
Tiwi Islands
North of Darwin, about 50 kilometres across the water, the Tiwi Islands offer visitors an incredible experience. On the two main islands – Bathurst and Melville Islands – there's a strong Indigenous culture that evolved relatively separately from those on the mainland.
The Indigenous people on the island are known for their art scene, and there are galleries where you can see (and buy) some of the works and meet artists. But the other favourite activity for the locals is football, and the matches (particularly the annual grand final) are big events.
There are a few ways you can visit the Tiwi Islands, including relaxing at the Tiwi Island Retreat for a couple of nights, or joining a fishing charter for a few days.
But to visit as a day trip from Darwin, the best way is to take the SeaLink ferry and included tour to the community of Wurrumiyanga, where you'll get a good taste of the culture and heritage.
Kakadu National Park
And, of course, there's Kakadu National Park. I actually really recommend you don't visit Kakadu as a day trip, but I'm going to mention it here anyway because it is possible to do that.
If you want to do a quick trip to Kakadu, there's this day tour from Darwin. It will show you some of the easily-accessible highlights, but you're still doing about three hours driving each way.
Kakadu National Park is a vast wilderness with landscapes the range from wetlands to stone country. There are stunning waterfalls, fascinating rock art, and plenty of wildlife. It's worth a few days at least.
If you're planning a trip, you can check out my visitor guide to Kakadu National Park to get all the info you need on what to see and how to do it properly.
THE BEST ACCOMMODATION IN DARWIN
Unfortunately there isn't a huge range of decent accommodation in Darwin and it can be overpriced, so it's worth booking in advance to secure something good.
BACKPACKER
It's unashamedly a party hostel so there's a great atmosphere at the popular Youth Shack Backpackers in the city centre.
BUDGET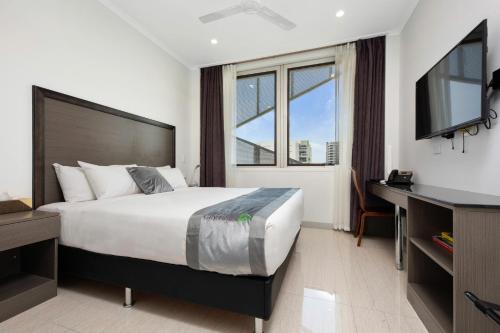 Considering it's in the centre of town and has comfortable rooms, the Darwin City Hotel is great value for a budget option.
SELF-CONTAINED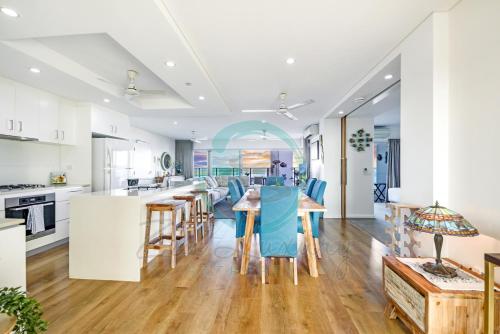 If you're travelling in a large group and want some room, the Zen Towers Penthouse has three bedrooms spread across a luxurious space.
LUXURY
I think the Adina Apartment Hotel is probably the nicest in Darwin, with modern rooms and a great view across the waterfront.