There are few landmarks in Australia as iconic as Uluṟu, the imposing stone monolith in the centre of the country. And, while some tourists will just fly in directly to see it, you'll get a much deeper appreciation if you drive from Alice Springs to Uluṟu.
Travelling through the red desert, with the vast dry landscapes stretching out on either side, gives you a sense of the vibrancy of the region – plus you'll have the opportunity to also see some of region's other dramatic rock complexes.
That's because the road trip from Alice Springs can be done as a loop, taking in not just Uluṟu but also two of Central Australia's other main attractions – Kings Canyon and the West MacDonnell Ranges.
This driving loop is called The Red Centre Way and I think it's one of Australia's best road trips. In this article, I'm going to share my itinerary for the Red Centre Way, including some tips on what to do at each of the stops.
Driving the Red Centre Way takes you through millions of years of geology, from the unique rock formations at Uluṟu and Kata Tjuṯa, to the breathtaking rim of Kings Canyon, and then on to the natural playground of the West MacDonnell Ranges.
As well as the incredible landscapes, driving from Alice Springs to Uluṟu is a journey through the history of the local Indigenous people and a gateway to their culture, which is still alive in many parts of Central Australia.
Plus, as you would expect in the Northern Territory, you'll come across your fair share of interesting characters and quirky stops along the Red Centre Way – things you miss if you just fly in and out.
The drive from Alice Springs to Uluṟu (and beyond) is one of my favourite road trips in Australia and you can't help but feel the energy of this part of the country. There's a reason so many people describe it as the beating heart of the country.
It's a really special drive and it's my pleasure to be able to share this Red Centre Way itinerary with you.
How do you get from Alice Springs to Uluṟu?
The easiest way to get from Alice Springs to Uluṟu is to drive. It's about 450 kilometres away and takes about 4.5 hours by car (in one direction).
If you don't have a car, it is possible to get this luxury bus transfer from Alice Springs to Uluṟu, or this slightly cheaper option. Unfortunately, there is no other public transport to Uluṟu.
How long is the Red Centre Way?
If you driving the whole loop, the Red Centre Way is about 1,100 kilometres long and will take about 11.5 hours of driving in total.
I would recommend doing the Red Centre Way road trip over six days, although it's possible to do it in just four days, if you don't spend too long at each destination (I wouldn't suggest this, though). Most people extend the trip to a total of seven days, including some time in Alice Springs.
Do you need a 4WD for the Red Centre Way?
Most of the Red Centre Way is on sealed roads that can be done with any car, but there is one section of the drive that is unsealed – a stretch of about 140 kilometres known as the Mereenie Loop Road between Kings Canyon and the West MacDonnell Ranges.
If it's possible to use a 4WD (or at least an SUV with all-wheel-drive and good ground clearance) then that's certainly recommended. However, there are times when it's possible to use a 2WD, if the road has been recently graded and there's been good weather.
If you do want to risk driving with a 2WD (and, again, I don't recommend it), then you'll definitely need to check the conditions with the local visitor centre before you set out (and be prepared not to do it, if you're advised the road is in a bad condition).
This Red Centre Way itinerary begins in Alice Springs and takes you through the highlights of the Red Centre. Unlike some of the road trips on the East Coast, where there are lots of options for where to stop, this drive from Alice Springs to Uluṟu and beyond is pretty straightforward, because the destinations are obvious.
What you do need to decide is how long you want to spend in each location. With the road trip itinerary that I've put together, I've suggested the minimum time that I think you should stay, but you might like to extend – especially at Uluṟu or Glen Helen, where an extra day would give you more time to see a few more things.
You can see the route for the Red Centre Way on this map here:
You can do this Red Centre Way itinerary in either direction, but I recommend the way that I will describe below – Uluṟu, then Kings Canyon, then the West MacDonnell Ranges. This is because you've got a bit more flexibility with timings at Kings Canyon and the West Macs, so it's easier to shorten or extend the trip if you need to.
Before I get into those details, just a few important points to keep in mind:
Make sure you have water in the car with you. Supermarkets like Coles and Woolworths sell 10-litre containers for about $4, so grab a couple of them before you head off.
I recommend also bringing some food with you. Not just to eat on the drive or in case of emergency, but because it's more convenient to have a packed lunch (or breakfast) with you when you're exploring the national parks, because most of them don't have easy food options.
Petrol will get more expensive the further you go from Alice Springs. There will also be long stretches with no petrol stations. I suggest you fill up when you get down to about half a tank.
There will be plenty of traffic on the road from Alice Springs to Uluṟu, and a fair amount to Kings Canyon. But the unsealed stretch from Kings Canyon to Glen Helen is not as well-travelled. Phone reception isn't available the whole time, so make sure you have packed anything you might need in an emergency or breakdown.
Don't let these reminders worry you, though. They're just sensible precautions to take because you're driving through quite a remote part of the country. Generally, the Red Centre Way is a very safe and well-travelled route and you're unlikely to run into any major problems.
So, let's get into the adventure and begin this journey into the heart of Australia.
Day 1
Alice Springs – Uluru
4.5 hours of driving (450 km)
The drive from Alice Springs to Uluṟu will be the longest of the whole road trip and, with some breaks, will take somewhere between five and six hours.
I don't think you need to start particularly early because it's unlikely you'll want to do anything at Uluṟu in the afternoon heat. My suggestion is to head off mid-morning with a plan to arrive at about 3pm so you can have a rest before doing something at sunset.
Once you leave town, you'll find yourself on the long roads with the Outback desert stretching out in both directions. At first you may think it all looks quite similar, covered in spinifex grasslands and saltbush scrub, but the longer you look at the landscape, the more you'll appreciate its desolate beauty and its slowly changing hues as you get closer to Uluṟu.
On today's drive…
There aren't many places to stop along today's drive, so have a good breakfast in Alice Springs before you set off. (I reckon the best brekkie is at Page 27 Cafe.)
If you need petrol or a toilet break, the first decent stop you'll get to after about an hour is the Stuarts Well Roadhouse, a small and rustic outfit. If you can hang on a bit longer, there's better food and coffee at the next stop.
About two hours' drive from Alice Springs is a great halfway stop, the Erldunda Roadhouse. The coffee is good and so's the food. The bonus here is that there are a bunch of cheeky emus that you can feed.
And about 3.5 hours from Alice Springs you'll reach the Mount Conner Lookout, on the left hand side of the road. From here, you can stop to take photos of Mount Conner, which is also known as 'Fool-uru' because a lot of people think it's Uluṟu when they first see it! (There's also a drop toilet here.)
Once you arrive at Uluṟu, I suggest settling in and having a rest – or grab lunch at Geckos Cafe at Ayers Rock Resort, if you're hungry.
Regardless of how long you're going to spend at Uluṟu, I recommend planning your time in advance because there's a fair amount of driving between the sites, so you don't want to be backtracking too much. Also, the sunsets and sunrises are the most important times of the day, and it's worth having an idea of what you'll do for them.
With that in mind, try to do something for this first sunset, even if you're tired. I've got some suggestions here of things to do at Uluṟu, but a good option for the first night would be the Field of Light.
THE BEST ACCOMMODATION AT ULURU
Most of the places to stay at Uluṟu are centred around the resort area, but there is a range to choose from to suit your style.
HOTEL
APARTMENT
If you're travelling as a family or looking to self-cater, the Emu Walk Apartments might be a better fit for you!
LUXURY
With a higher level of service and nicer rooms, Sails in the Desert is the luxury option within the Ayers Rock Resort.
Day 2
Uluru
With just one full day in Uluṟu, there are so many options of how to spend your time. I'm going to suggest an itinerary of how to spend a day, but you could also create your own plan with my tips of things to do at Uluṟu.
To make the most of your time here, I would suggest the morning at Uluṟu and the afternoon at Kata Tjuṯa.
You will need to buy a parks pass for entry to Uluṟu-Kata Tjuṯa National Park. It costs $38 for an adult and is free for children (17 years and under). The pass lasts for three days and you can buy it at the entry station on the way in or save some time by buying it in advance here.
For the morning, start with sunrise at Talinguṟu Nyakunytjaku, also known as the 'sunrise viewing area. If you're after something a bit more special, there are some options for sunrise experiences here:
After sunrise, while it's still cool, head off on one of the walks around the base of Uluṟu. The whole 10.6 kilometres of the Base Walk is definitely worth doing if you have time, otherwise the Mala Walk is probably my favourite (there's a free ranger-guided walk each morning, so that could be an option for you too.
The Kuniya Walk is another good one to do, or head to the Cultural Centre to see the art and grab a coffee if you need a break from the sun.
In the afternoon, head to Kata Tjuṯa, which is about 50 kilometres away. While 'The Rock' gets most of the attention, these beautiful red domed formation have their own special beauty and offer quite a different experience.
There's this 3-hour afternoon small-group tour, which is one of the best experiences to get up close to all the domes. Or there are some other options at different times of the day here:
If you time things right, you'll be able to do sunset at Kata Tjuṯa, or head back to the Ayers Rock Resort for one of their special evening dining experiences.
Day 3
Uluru – Kings Canyon
3 hours of driving (300 km)
If you're going to give yourself a full day in Kings Canyon tomorrow, then there's no rush to leave Uluṟu first thing in the morning and you can probably squeeze in another sunrise or base walk before you head off. (Or just have a sleep in!)
The drive from Uluṟu to Kings Canyon takes you back along the road you came in on, before turning left and heading north towards Petermann.
This section of the Red Centre Way starts to offer more dramatic landscapes as the drive approaches the stone country of Watarrka National Park. Rocky hills appear on the horizon and the earth seems to turn an even darker red.
On today's drive…
Hopefully you've still got some snacks from your supermarket stock-up in Alice Springs. If not, you might want to get some things in Yulara before you head off because there's not much along the way. (Make sure you've got enough petrol too!)
As you approach Kings Canyon, I suggest stopping at Kings Creek Station for lunch (it may also possibly be your accommodation). They do decent hot meals and are famous for their camel burgers… just try not to look at the camels in the stable nearby while you eat it!
With a day and a half, you'll be able to cover most of the main things to do at Kings Canyon. The majority of activities involve hiking in the national park, but it's also worth making time for the special Aboriginal Cultural Experience at Karrke.
There's lots to learn about the local Indigenous culture and the family at Karrke will lead you through it with hands-on demonstrations and lots of stories. The tour is run just a few times a day so have a look at the details here and see if it makes sense to do it this afternoon on your way in.
THE BEST ACCOMMODATION AT KINGS CANYON
For most visitors who aren't camping or vanning, the choice of where to stay at Kings Canyon will be between two places.
STATION
RESORT
After its recent renovation, the Kings Canyon Resort offers some pretty luxurious rooms out here in the Outback.
Day 4
Kings Canyon
Kings Canyon is magical any time of the day, but it takes on an ethereal shine at sunrise. If there's one strong recommendation I have for you, it's to get up early and hike to the rim of the canyon for sunrise!
If you go clockwise, you'll be able to see the sunrise from the north side of the canyon and then continue for the whole Kings Canyon Rim Walk (which can only be done in that direction). The downside is that it will be relatively crowded.
The other option is to go anti-clockwise and see sunrise from the south side. It's possible nobody else will be here, which makes the experience even more special. The only issue is that you'll have to head back down the South Wall return walk the way you came up.
There's nowhere to buy food and drink in the national park, so I recommend bringing plenty of water and some food with you, because you might end up walking for at least a few hours.
Some people tend to rush a visit to Kings Canyon. They think once they've popped in and seen it, then it's done and they can move on. But, a bit like Uluṟu, Kings Canyon is best appreciated from different angles and at different times of the day.
There are a few hiking trails that you can choose from. If you do the South Wall in the morning, for instance, perhaps you could do the main Rim Walk near sunset. There's also the Creek Walk that leads through the middle of the gorge, and the Kathleen Springs Walk goes to a charming water hole.
If you would prefer to have a guide show you the best spots, there is this walking tour that includes transfers from the Kings Canyon Resort. For an aerial view, this helicopter flight gives you an incredible perspective of the canyon. Plus the main accommodation options also offer their own activities.
Day 5
Kings Canyon – Glen Helen
2.5 hours of driving (240 km)
This stretch of drive from Kings Canyon to the West MacDonnell Ranges is the one that you need to be most careful about because it goes along the Mereenie Loop Road, which has about 140 kilometres of unsealed road.
As I discussed earlier, it really is better to have a 4WD (or at the very least an AWD with good ground clearance). There are times that you might be able to get through with a 2WD, but I certainly recommend getting the latest road conditions from the locals before you attempt that.
But assuming you can drive along the Mereenie Loop Road, you're going to find some beautiful Outback countryside, as the red dirt is slowly replaced with eucalypt trees and denser flora as you get closer to the water sources in the ranges.
On today's drive…
There's not much of note along the drive until you get to the West MacDonnell Ranges, although the views can be quite spectacular, so don't be afraid to stop for photos along the way!
Although the drive is not that long, it is quite remote and doesn't have a lot of traffic, so it would be wise to make sure you have food and water, in case of any breakdowns or other incidents.
Once you reach the West Macs, there's probably no need to check in to your accommodation straight away, because you'll find some things to do on the way.
The West MacDonnell Ranges stretch for about 160 kilometres, creating a natural playground with gorges and waterholes spread out along the length, and hiking trails around them – or even between them!
Don't think of the West Macs as somewhere that you have to tick off all the sights, because it's more about experiencing the attraction here, rather than seeing as many as possible. Choose a couple of waterholes to visit for a swim, and then perhaps another site for a walk.
Assuming you're going to stay at Glen Helen (it's really the only decent accommodation unless you're camping or have a caravan), you might want to concentrate on the sites to the west of it today, such as Redbank Gorge and Ormiston Gorge.
You could also see some of the sights to the east of Glen Helen today, but that'll involve some backtracking with the driving. You could save spots like Serpentine Gorge, Standley Chasm, and Simpsons Gap until the drive back to Alice Springs tomorrow, if you have time.
THE BEST ACCOMMODATION IN THE WEST MACS
There are some campsites in the West MacDonnell Ranges, but otherwise there's really only one place I would recommend.
HOMESTEAD
With amazing views and a recent renovation, the Glen Helen Lodge is a wonderful spot to base yourself for a couple of nights.
Day 6
Glen Helen – Alice Springs
1.5 hours of driving (130 km)
This final stretch of the Red Centre Way back to Alice Springs is quick and easy. It's all along good roads and you'll be able to drive quite fast.
If you haven't seen some of the sights along the stretch that continues through the West MacDonnell Ranges, you might want to leave time to see some of them along the way. Otherwise, you'll be able to get to Alice Springs quickly and do some things there in the afternoon.
It's definitely worth spending at least a day in town because there are lots of things to do in Alice Springs. I would suggest giving yourself a night at either end of your Red Centre Way road trip to relax and see some of the sights.
ANZAC Hill gives you a great view across the city, and there are important institutions to visit like the Royal Flying Doctor Service, School of the Air, and the Alice Springs Telegraph Station. Get a dose of the culture at the Araluen Arts Centre, and a dose of cuteness at the Kangaroo Sanctuary.
THE BEST ACCOMMODATION IN ALICE SPRINGS
Although there isn't lots of accommodation, at least there's a wide range. Have a look at my detailed story about where to stay in Alice Springs, or I've got a few of the top suggestions here.
BACKPACKER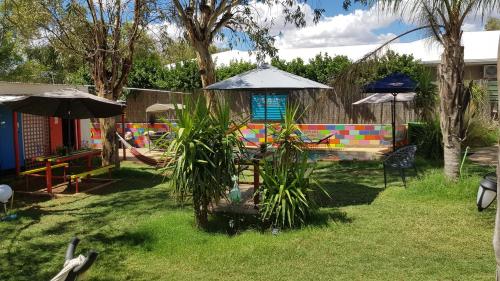 SELF-CONTAINED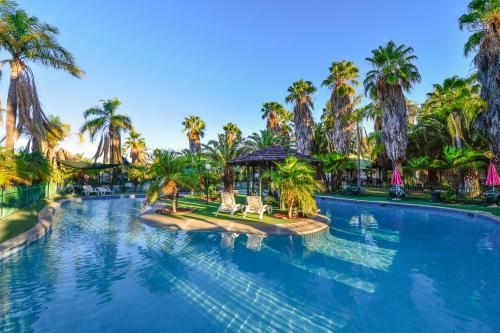 UNIQUE
Although it's a bit of a drive from town, the Ooraminna Homestead offers a really special Outback experience.
LUXURY
Of the nicer hotels in the city, I think the DoubleTree by Hilton has the most to offer, including a more secure complex.
And that brings you to the end of the Red Centre Way itinerary, a drive of 1,100 kilometres in total! Congratulations!
I've outlined the number of days I would recommend for the trip, but it's certainly possible to do it a bit shorter (don't cut out too much, though) or longer, which means you can go a bit slower and relax more at the destinations.
This is one of the best road trips in Australia, a journey into the spiritual heart of the country – through Indigenous cultures, ancient landscapes, and some of the Outback quirks that the Northern Territory is famous for.