Gradually, Alice Springs is becoming more popular as a destination in itself, with an interesting collections of sights and a vibrant arts scene – not to mention some great festivals in the shoulder seasons.
But for most people, the reality is that Alice Springs is still a stopping point or a base to explore some of the incredible highlights of the Red Centre – like Uluru, Kings Canyon, or the West MacDonnell Ranges.
Regardless of why people are coming, there are always lots of people coming, which means there's a large range of Alice Springs accommodation available. Still, there are some limits to what you'll find here.
The best places to stay in Alice Springs tend to be the luxury hotels along Barrett Drive, but they can be a bit pricey sometimes and can also book out.
Looking at other options for where to stay in Alice Springs, there's sometimes a bit of a compromise to be made, between what you're willing to spend, the location, and the quality.
Backpackers have some hostels (although none of them modern) and families and corporate visitors will find some places they're used to. But there's a bit of a gap in the mid-range market, I think.
For all these reasons, it's worth doing a bit of research on where to stay in Alice Springs and booking something as soon as you can.
Coming up, I've got my top tips for the best Alice Springs accommodation. But first, you can see what's available for your dates on this map:
The good thing about Alice Springs, though, is that it's a small city and everything is quite close to each other. If you've got a car with you to head out further in the Red Centre, then that gives you even more flexibility.
Staying in the centre of the city makes sense for logistics because that's where a lot of the food and services are. But as long as you can drive, don't worry too much about being a bit further out.
With all that in mind, let's have a look at some of the best places to stay in Alice Springs.
Best overall
For my top recommendation of where to stay in Alice Springs, I've chosen one of the luxury hotels, because it offers the most comfortable and secure experience, in a city where nothing in the mid-range really compares.
There are a few nice hotels on the same strip of road, but I think the DoubleTree by Hilton has a slight edge in almost every aspect that is important for tourists.
The large reception area gives you an immediate sense that you've come to one of the top hotels in Alice Springs. Off to either side are excellent restaurants that are a treat even for locals (my favourite is Hanuman) while straight ahead is the large pool area.
Just two kilometres from the centre of town, the DoubleTree by Hilton feels quiet and somewhat isolated, set alongside the (usually dry) Todd River with ochre hills as a scenic backdrop. Many of the rooms have the beautiful landscape as their view.
One of the things I particularly like about the DoubleTree by Hilton is the secure fencing that surrounds it, with car park behind gates that can only be accessed with a key card (the neighbouring Crowne Plaza, for instance, is relatively open.
The rooms range from a double deluxe to a king premier suite, with large comfortable beds, a fresh modern decor, and a good range of conveniences. The rooms are quiet and I got a fantastic night's sleep when I stayed!
Probably the only downside is that the price of rooms can be quite expensive at the height of the tourist season, particularly if you're booking last minute – but that's the same with much of the Red Centre and you can get a better deal with some early planning.
I'm not the only one who thinks this is the best accommodation in Alice Springs so it can fill up quickly during peak periods (tour groups often reserve quite a few rooms), so I recommend booking as early as possible.
Best backpacker
Alice Springs is a popular stop for backpackers heading to Uluru or exploring other parts of Central Australia, so there's a good selection of hostels.
While none of them are particularly modern, they've generally got a fun and helpful vibe.
BEST: Alice's Secret Travellers Inn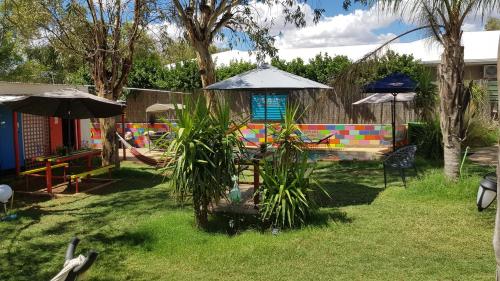 Alice Springs YHA
One of the fun things about the Alice Springs YHA is that it's set within a historic outdoor cinema – but it's also got a pool, bbq, and a great location.
Alice Lodge Backpackers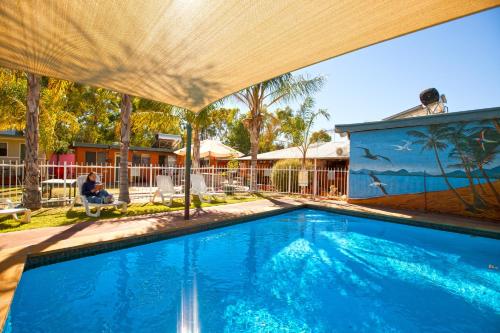 A bit further out of town, Alice Lodge Backpackers has basic but comfortable rooms and plenty of outdoor space to hang out.
Best self-contained
Catering for both travellers and temporary workers, Alice Springs has got quite a few self-contained apartment complexes, some more corporate and some with a bit more of a holiday atmosphere.
If you're looking for places to stay in Alice Springs that will let you cook for a group and perhaps save some money on eating out, then one of these options should work well.
Quest
Modern and upmarket, the Quest in Alice Springs is a great option and feels the most like a typical corporate serviced apartment.
Discovery Parks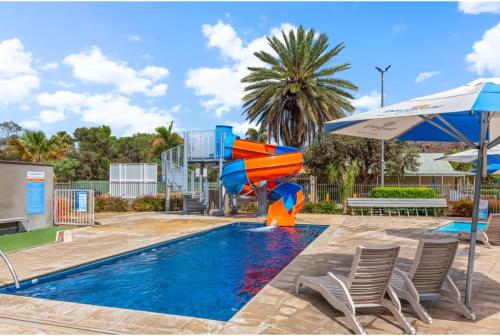 Aimed at families, the Discovery Parks has various sizes of cabins and lots of play equipment (including a waterslide into the pool).
Best unique
Although most people will choose to stay in a hotel in the city, there are a few unusual options that offer a different kind of accommodation in Alice Springs.
If you're looking for an experience a little less ordinary, you might like one of these places to stay in Alice Springs.
BEST: Ooraminna Homestead
Although it's a bit of a drive from town, the Ooraminna Homestead offers a really special Outback experience.
Squeakywindmill Boutique Tent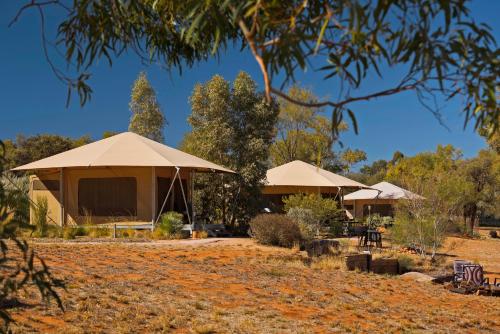 Wilmots on Dixon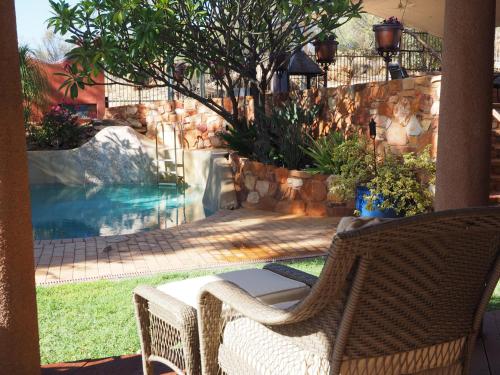 You'll feel like you're staying at a friend's home at Wilmots on Dixon, an old-school B&B within a large local house.
Best luxury
I'm using the term 'luxury' quite loosely here. The city doesn't have five-star hotels, but there is a handful of Alice Springs accommodation that is considered to be much nicer than the rest.
These tend to be the best Alice Springs hotels for people looking for comfort, security and in-house restaurants, slightly away from the centre of town.
BEST: DoubleTree by Hilton
Of the nicer hotels, I think the DoubleTree by Hilton has the most to offer, including a more secure complex and the best food.
Crowne Plaza
With an on-site restaurant, bar, and fitness centre, the Crowne Plaza is a close second for the nicest hotels in Alice Springs.
Mercure Alice Springs Resort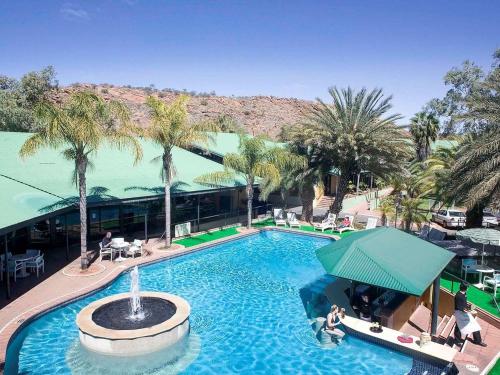 With a bit more of a resort feel (as the name suggests), the Mercure Alice Springs Resort is another lovely option with a good buffet breakfast.
Although I've already mentioned it a couple of times, I'll finish with this reminder. Although there's a fair range of good accommodation in Alice Springs, it does get very crowded during the peak tourist season and you often can't get the hotel you want.
As soon as you know your dates, I would recommend booking somewhere. Hopefully my suggestions have helped you with that, and given you a bit of an idea of where to stay in Alice Springs.