The Red Centre offers so much for visitors, with sites like Uluru and Kings Canyon rightfully being seen as the highlights.
Alice Springs itself is often seen as just a jumping-off point, but as I explain in my story about things to do in Alice Springs, the city has plenty of interesting attractions in itself.
But beyond that, there are also some fantastic day trips from Alice Springs that justify spending some extra time here.
Driving into the MacDonnell Ranges to hike amongst ochre hills and swim in pristine water holes.
Learning from Indigenous traditional owners about life in Central Australia.
Visiting art centres to see incredible works and meet the artists evolving desert styles.
Taking 4WD tracks deep into isolated national parks where the calls of the birds are the only sounds you'll hear.
These are some of the special experiences available to you on trips around Alice Springs and I think they show a deeper and more textured side of the city and its surrounds.
If you have a car, then it's easy to head to some of the places I'm going to recommend – although a couple of them will need a 4WD or equivalent.
But don't worry if you don't have your own vehicle – many of these destinations are also covered by local tour operators who will be able to organise all the logistics and show you some of the best local spots you might miss on your own.
If you're planning a trip to Central Australia, hopefully you have a bit of time to head out on one or more of these day trips from Alice Springs, to experience the vibrant colours of the landscapes and hear the stories that have been passed down by generations.
West MacDonnell Ranges
For one of the best (and easiest) day trips from Alice Springs, head into the West MacDonnell Ranges, also known as Tjoritja.
The orange mountains on this side of the city stretch for about 160 kilometres, with beautiful rock faces sculpted by the elements, water holes at their bases, providing a home for local wildlife.
There are lots of place to stop on the drive through the hills and you won't be able to fit them all into a single day (especially if you take your time to enjoy the spots you do choose to visit).
For beautiful scenery that's not too far into the ranges, there's Simpsons Gap. And for swimming, I would recommend either Ellery Creek Big Hole or Ormiston Gorge.
If you would prefer a local to take you to all the best places, there are some good options for guided tours here:
There are some excellent walking trails in the West MacDonnell Ranges – including the 223-kilometre Larapinta Trail, which you can do sections of.
Most of the water hole stops have some walks you can do in the area, including Redbank Gorge and Serpentine Gorge.
For a more difficult hike, you might want to consider Mount Sonder, where you'll get panoramic views from the peak.
Standley Chasm
Although it's located in the West MacDonnell Ranges, I'm mentioning Standley Chasm (Angkerle Atwatye) separately because it's not part of the national park, like the other stops.
Standley Chasm is privately owned by the traditional owners and there's an entry fee. But, for the admission price, what you get is a lot more interpretation about the cultural significance to the Western Arrernte people.
The landscape is beautiful, with a path between the ochre hills leading along a creek until you reach the most iconic part – a narrow passage cut by the elements through 80-metre-high rust-stained rock.
But it's also worth considering a guided tour, to learn about the creation stories and how they fit into the geography. Local David McCormack showed me around and included a lot of tastings of native bush tucker.
If you've got a car, it's easy to visit Standley Chasm independently. Otherwise, there's this great tour that will visit it as part of a day trip in the West Macs.
East MacDonnell Ranges
Like the western side, these ancient mountains were once taller than the Himalayas but have been eroded down to their current height over many millions of years.
One of the main creation stories of the local Western Arrernte people involves three types of caterpillars – and when you see the shapes of the MacDonnell Ranges, you can almost imagine the hills are their bodies in their typical processional arrangement.
Heading into the East MacDonnell Ranges is a lovely way to escape the crowds, because you'll still find plenty of sights but not too many tourists.
The first 75 kilometres are on a sealed road, and then you'll need a 4WD to go further and discover the beautiful gaps, gorges, water holes, nature parks, and cultural heritage.
Just like the western hills, there are walking trails here to explore the scenery and some significant Aboriginal art sites. But you'll also find a bush pub for an Outback feed.
Finke Gorge National Park
In a region where Uluru and Kings Canyon dominate, another national park, Finke Gorge, doesn't get much attention. But this protected area near Hermannsburg has incredible landscapes that you're likely to have all to yourself.
The centrepiece is the Finke River, first formed about 350 million years ago and thought to be the one of the world's oldest rivers.
Following the path of an offshoot will lead you into Palm Valley, the park's most popular hike, full of cycads and tall palms that are ancient remnants of when this was a tropical forest.
You'll need a 4WD to get all the way to Palm Valley. Alternatively, you can join this fantastic tour that will take you into the park, as well as stop at Hermannsburg.
Hermannsburg
The township of Hermannsburg, about 120 kilometres west of Alice Springs, is known these days for its art scene.
It was the home of Albert Namatjira who started a whole new art movement in Central Australia with his watercolour paintings of the region's landscapes. Now, it's the Hermannsburg Potters who are the stars.
They paint their pots with scenes inspired by Namatjira's style – although, of course, each artist has their own unique style as well. You can pop into the studio to meet the artists as they work and have a look at some of their pieces.
But exploring the heritage of Hermannsburg is just as colourful. Established in 1877 as a Lutheran mission, much of the original infrastructure is here, offering an insight into a life that brought Indigenous and European cultures together.
There are information signs at the Hermannsburg Historic Precinct that explain life here from different viewpoints (although it's worth noting that there's a general consensus that this was one of the better missions created in Australia during this period).
Finke River Cultural Tours is run by descendants of the Aboriginal people who lived here and offers an interesting perspective on the legacy of the missionaries.
Rainbow Valley
Many of the popular day trips from Alice Springs head west, or even east. Very few go south. But that's what makes this one feel a bit adventurous.
Take the Stuart Highway south, before going offroad to Rainbow Valley, a natural artwork where sandstone bluffs and cliffs have bands of different coloured rocks. In the morning or late afternoon, it's even more vibrant as the ochre red turns to orange and purple.
Walks in the reserve will lead you past other sites decorated by majestic trees or wind-chiselled bluffs. And through it all, like everywhere else you'll visit in the Red Centre, is an ancient heritage of creation stories, sacred sites, and continuous culture.
This trip can also be combined with Chambers Pillar to make a full day of the journey.
Ulu
r

u

I wouldn't actually recommend Uluru as day trip for most people. For starters, there are so many things to do at Uluru – from the rock itself, to Kata Tjuta, plus all the other cultural experiences – that you can't fit it into one day.

On top of that, it's about a 4.5-hour drive each way, so most of your day will just be spent sitting on the road.

But, having said all of that, I understand that not everybody has lots of time. And it does seem a shame to come all the way to the Red Centre and not see the region's most famous landmark.
If you don't have a car (or don't want to do nine hours of driving in a day!) then I would recommend this excellent day trip to Uluru from Alice Springs.
If you do have a bit more time, though, try to spend your days in Alice Springs seeing some of the closer sights that I've talked about here.
And then maybe consider driving the Red Centre Way, which will take you on a loop to Uluru, Kings Canyon, and through the West MacDonnell Ranges.
THE BEST ACCOMMODATION IN ALICE SPRINGS
Although there isn't lots of accommodation, at least there's a wide range. Have a look at my detailed story about where to stay in Alice Springs, or I've got a few of the top suggestions here.
BACKPACKER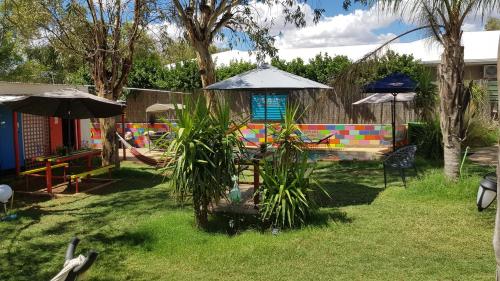 SELF-CONTAINED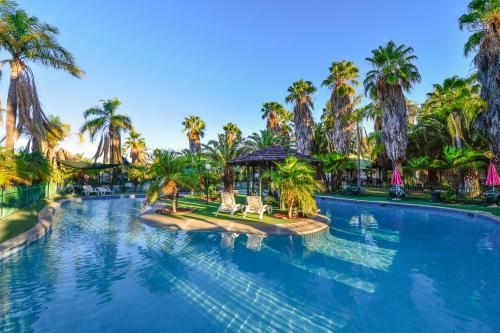 UNIQUE
Although it's a bit of a drive from town, the Ooraminna Homestead offers a really special Outback experience.
LUXURY
Of the nicer hotels in the city, I think the DoubleTree by Hilton has the most to offer, including a more secure complex.